OVERVIEW
This page is dedicated to tracing the arteries of the body back to the aorta.
AORTA
The aorta is the largest artery in the body. This page is organized by arteries that branch directly off of the aorta. These branches (in order) are found below: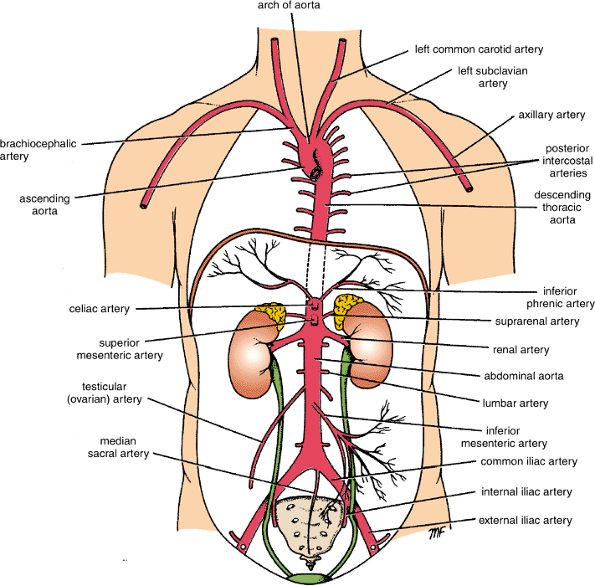 RIGHT CORONARY ARTERY (RCA)
The right coronary artery branches into the posterior descending artery and the right marginal artery
LEFT CORONARY ARTERY (LCA)
BRACHIOCEPHALIC ARTERY
The brachiocephalic artery branches into the right common carotid artery and the right subclavian artery
LEFT COMMON CAROTID ARTERY
The common carotid artery splits into both the internal carotid artery and external carotid artery.
LEFT SUBCLAVIAN ARTERY
The left subclavian artery is a direct branch of the aorta.
INFERIOR PHRENIC ARTERY
The inferior phrenic arteries are present on each side so there is a right inferior phrenic artery and a left inferior phrenic artery. Often they arise from the front of the aorta right above the celiac artery (they can share a common trunk), however it is important to note that there are often some variations to their origin.
CELIAC ARTERY
The celiac artery is a direct branch off of the aorta that itself has some important branches:
SUPERIOR MESENTERIC ARTERY
The superior mesenteric artery (SMA) gives rise to the following important branches:
RENAL ARTERY
The renal artery
TESTICULAR/OVARIAN ARTERY
In males this will be the testicular artery.
In females this will be the ovarian artery.
INFERIOR MESENTERIC ARTERY
The inferior mesenteric artery (IMA) gives rise to the following important branches:
MEDIAN SACRAL
COMMON ILLIAC ARTERY
The aorta terminally bifurcates into the right and left common iliac arteries. Each Illiac artery then splits into: