OVERVIEW
This page will cover a systematic approach for how to evaluate for a pulmonary embolus on a CT PE study (as well as the next steps one should take after detecting a PE).
Disclaimer: It is important to remember that many different versions of a search pattern for this study exist. Factors that may influence a search pattern may include: the preference of the person interpreting the scan, the amount of time available to read the scan, the study question, the software being used for image interpretation, the amount of monitors being used during the reading, as well as many others.
This page just provides one example in a specific context of how to apply a specific search pattern. The goal is to provide a foundation to learners so that they will be in a better position to craft their own search pattern(s).
BEFORE YOU START BE FAMILIAR WITH WINDOWING
This page, and the associated videos, assume that the reader is familiar with the concept of CT windowing and how to use different types of windowing settings for image interpretation. This page provides a good review of CT windowing if needed.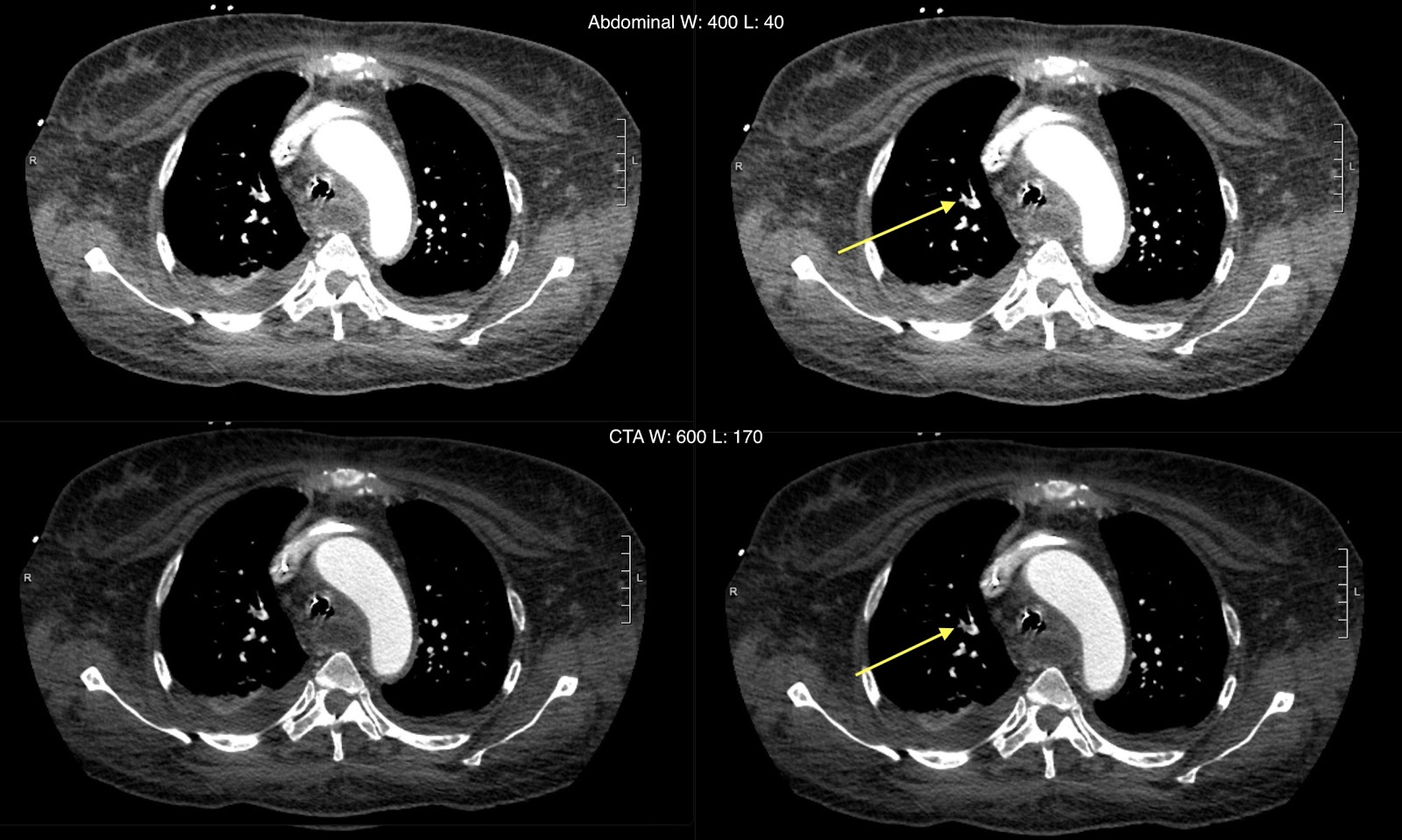 It is important to pick a good window for evaluating the pulmonary artery. Often an abdominal preset is used (W:400 L:40) and manually adjusted by widening the window and increasing the level. Using a CTA/angio window (W:600 L: 170). The figure above and video below shows how a proper window makes it significantly easier to detect a PE. 
QUALITY CONTROL: MAKING SURE THE PULMONARY ARTERY IS WELL OPACIFIED
In addition to making sure the whole chest is scanned, it can be useful to check the density of the main pulmonary artery is appropriately opacified. Typically it is ideal for the main pulmonary artery to have a density above 200-250 HU, however the most important thing is to assess for opacification of the pulmonary arteries to be enough to detect filling defects. 
CO-LOCALIZING ANATOMY USING MULTIPLE PLANES
Before beginning to evaluate pulmonary arterial anatomy it can be helpful to use reformats to co-localize findings easily.
TRACING PULMONARY ARTERIES SYSTEMATICALLY
Start from the main pulmonary artery (PA) and try to trace out at least all lobar and segmental PA branches on each side. The pulmonary artery follows the airways to each portion of the lung. If there is no PE to the segmental level, chances are anything more subsegmental will likely be hemodynamically insignificant.
WHAT TO DO WHEN YOU NOTICE A FILLING DEFECT (EVALUATE FOR ARTIFACT)
It is important to realize that not every filling defect. A true acute PE will classically appear as a central low-density (i.e. around or below 40-60 HU ) filling defect that can be seen on multiple CT slices (be wary of calling a 1 slice finding on any study). 
Streak artifacts from dense contrast in the SVC can cause lots of fake-outs around it (can also cause one to MISS filling defects near it. Below is a good example of a real PE.
WHAT TO DO WHEN YOU NOTICE A FILLING DEFECT (SIGNS OF ELEVATED RIGHT HEART PRESSURES)
It is great to be able to detect a  PE, however it is important to not stop here. An important question (which dictates clinical management) is if there are CT signs of elevated right heart pressures. Please be wary that while related this is not the same as right heart strain. Right heart strain is a clinical diagnosis and is not reported on imaging studies.
As discussed in the video above, here are the signs of elevated right heart pressures:
Enlarged main pulmonary artery/pulmonary artery trunk:

this is defined as a cross sectional diameter greater than 3.4 cm at the level of the ascending aorta and represents pulmonary hypertension. 

Flattening/leftward bowing of the interventricular septum:

a bit more subjective, however typically in a normal heart the interventricular septum will be bowed toward the right (given higher pressures in the left ventricle). As right heart pressures increase this phenomenon will be flattened/reversed. 

Enlarged right ventricle:

related to changes in the interventricular septum, as right heart pressure increases the ventricle can become more enlarged.  A good rule is to measure the intraventricular diameter of the right ventricle, and compare it to that of the left. If this measurement is larger on the right compared to the left, there is clearly an enlarged right ventricle. This is also called the RV/LV ratio and when it is above 1 it is considered to be elevated. 

Reflux of contrast into the hepatic veins:

as pressure increases in the right side of the heart, contrast may reflux back down the IVC and into the hepatic veins.
EVALUATING FOR PULMONARY INFARCT(S)
There are other complications that can occur as a result of pulmonary embolism to keep an eye out for such as pulmonary infarct(s).
Page Updated: 05.03.2020