WHAT IS IT? 
Diabetes mellitus (type 2)/type 2 DM is an acquired condition that is characterized by the development of insulin resistance and eventual β-cell failure. This can be caused by elevated dietary intake of carbohydrates/sugars.
WHY IS IT A PROBLEM?
Insulin resistance refers to the inability of the body to respond to endogenous insulin signaling.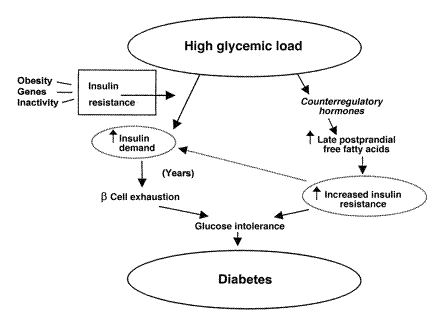 If high levels of simple sugars are eaten with regularity (blood sugar is spiked constantly) the metabolic pathways in place will eventually "fail" due to overuse (i.e. insulin resistance). This will result in chronically elevated levels of blood glucose that can cause:
Direct damage of structures in the body by glucose binding to various compounds
Increased presence of glucose in the filtrate of the kidney leading to osmotic diuresis
Ketogenic states (due to the fact cells are unable to uptake glucose)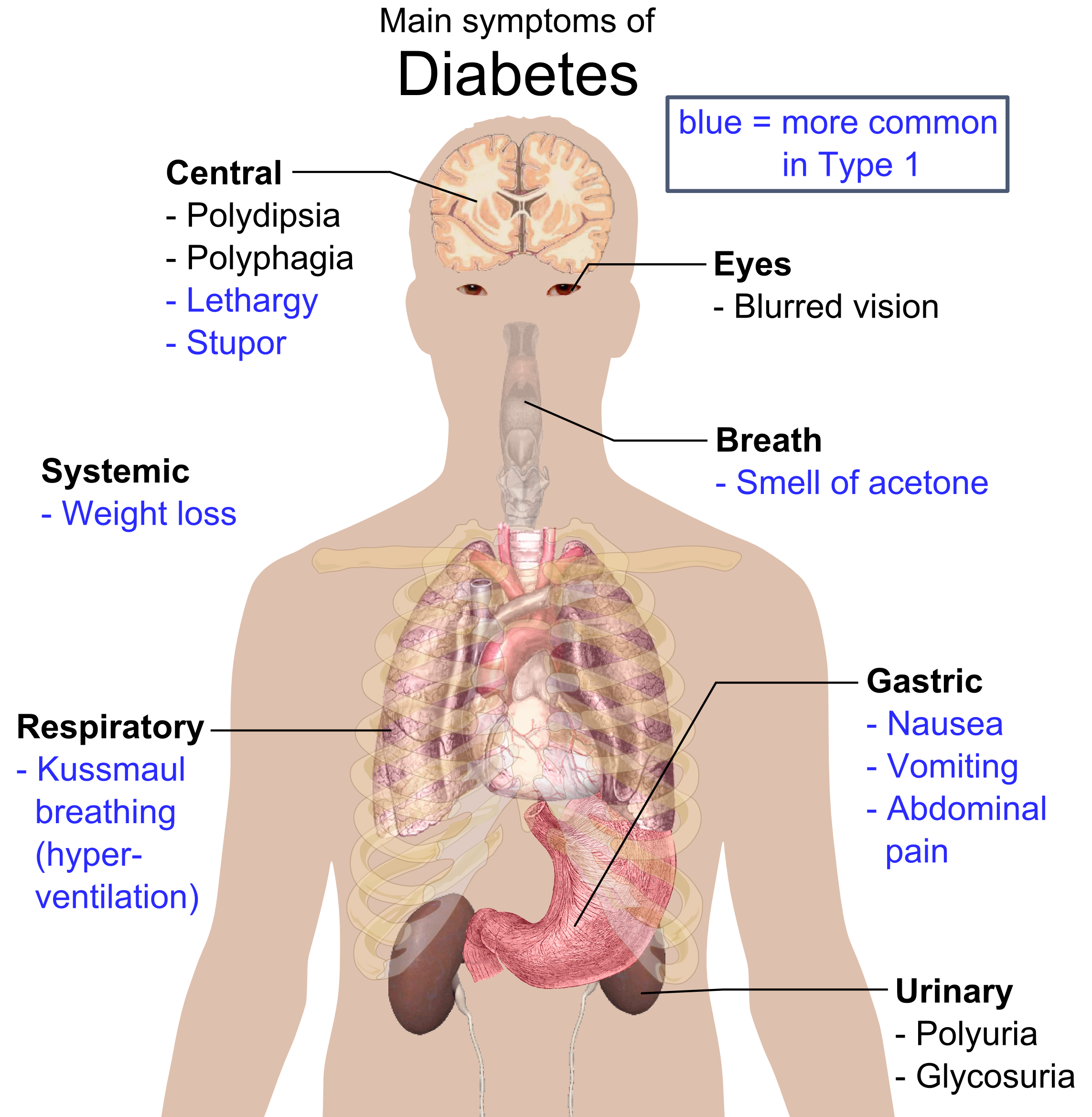 WHAT MAKES US SUSPECT IT?
Risk factors: obesity, onset in older age, family history
*Often asymptomatic in patients 
Classic symptoms: polyuria, polydipsia, are sometimes present (not as common as in those with type 1 DM)
Neurological findings: patients with longstanding hyperglycemia may have peripheral neuropathy (decreased sensation in the lower limbs/feet common).
HOW DO WE CONFIRM A DIAGNOSIS?
Serum analysis:
Insulin levels are variable because early on in the disease they will be elevated (compensatory mechanisms are in full effect) and after beta-cell destruction insulin levels will drop.
Histology: Islet amyloid polypeptide (IAPP) deposits can be seen in type 2 DM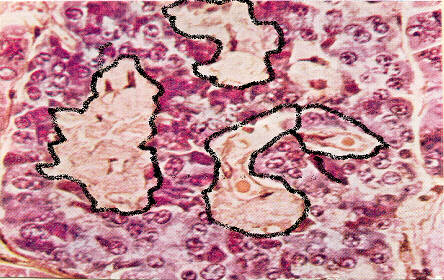 Type 2 DM Diagnostic Criteria (American Diabetes Association, source): one of these 4 criteria must be met on TWO separate days
Random plasma glucose ≥ 200 mg/dL in tandem with symptoms of diabetes (polyuria, polydipsia)
Fasting plasma glucose ≥ 126 mg/dL
Glucose tolerance test: two-hour plasma glucose level after 75 g of oral glucose administered
HbA1c of 6.5% or higher
HOW DO WE RULE OTHER DIAGNOSES OUT?
Diabetes insipidus can present similarly to DM, however urine analysis can demonstrate the presence of glucose which is specific to DM.
HOW DO WE TREAT IT? 
Dietary intervention is an important first step in managing patients. Restricting foods with a high glycemic index is critical for proper management of the disease.
Exercise: exercise will promote the clearance of blood glucose though non-insluin mediated means (which will lower serum glucose levels/diminish symptoms)
Oral hypoglycemics (exact treatment regiments will vary)
Metformin has a relatively unknown mechanism but decreases gluconeogenesis, increases glycolysis, increases perisperhal glucose uptake, and increases insulin sensitivity.
Sulfonylureas (glyburide) these work to stimulate the release of endogenous insulin
Exogenous insulin can be given after endogenous insulin stores have been exhausted.
HOW WELL DO THE PATIENTS DO?
The prognosis of the patient depends entirely on how well there blood sugar is managed via lifestyle changes/medical intervention.
WAS THERE A WAY TO PREVENT IT? 
Type 2 DM does seem to be (in part) preventible with healthy diet and exercise.
WHAT ELSE ARE WE WORRIED ABOUT? 
****DIABETES HAS MANY ASSOCIATED COMPLICATIONS! Not all of them will be listed on this page, however there is a specific section dedicated to diabetic complications on the USMLE outline (seen in the endocrinological section)****
Diabetic ketoacidosis is a serious complication (rare in type  that can occur in those who have very low levels of intracellular glucose
Hyperosmolar non-ketotic coma: very high glucose (above 500 mg/dL) can lead to life threatening diuresis with hypotension and eventual coma. In this clinical scenario ketones are absent due to the presence of circulating insulin.
OTHER HY FACTS?
Type 2 DM has a higher genetic concordance (via twin studies) then type 1 DM.
Type 2 DM is the most common type of diabetes (by a very large margin). It affects a sizable portion of the U.S. population.
Obesity leads to decreased numbers of insulin receptors (feedback).
FURTHER READING
Page Updated: 02.16.2016