WHAT IS IT? 
Diabetes mellitus (type 1)/type 1 DM is an autoimmune disorder where anti-glutamic acid decarboxylase (GAD-65) auto-antibodies destroy pancreatic tissue (β cells specifically).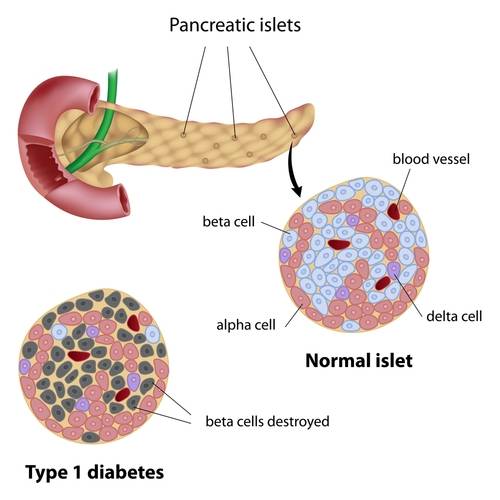 WHY IS IT A PROBLEM?
If the β cells of the pancreas become destroyed, then the bodies ability to produce insulin is impaired, leading to poorly regulated blood sugar. Insulin has many different types of activity within the body, but as one example, the ability of cells to uptake glucose from the blood stream is greatly impaired in the absence of insulin. This leads to chronicly elevated levels of blood glucose that can cause:
Direct damage of structures in the body by glucose binding to various compounds
Increased presence of glucose in the filtrate of the kidney leading to osmotic diuresis
Ketogenic states (due to the fact cells are unable to uptake glucose)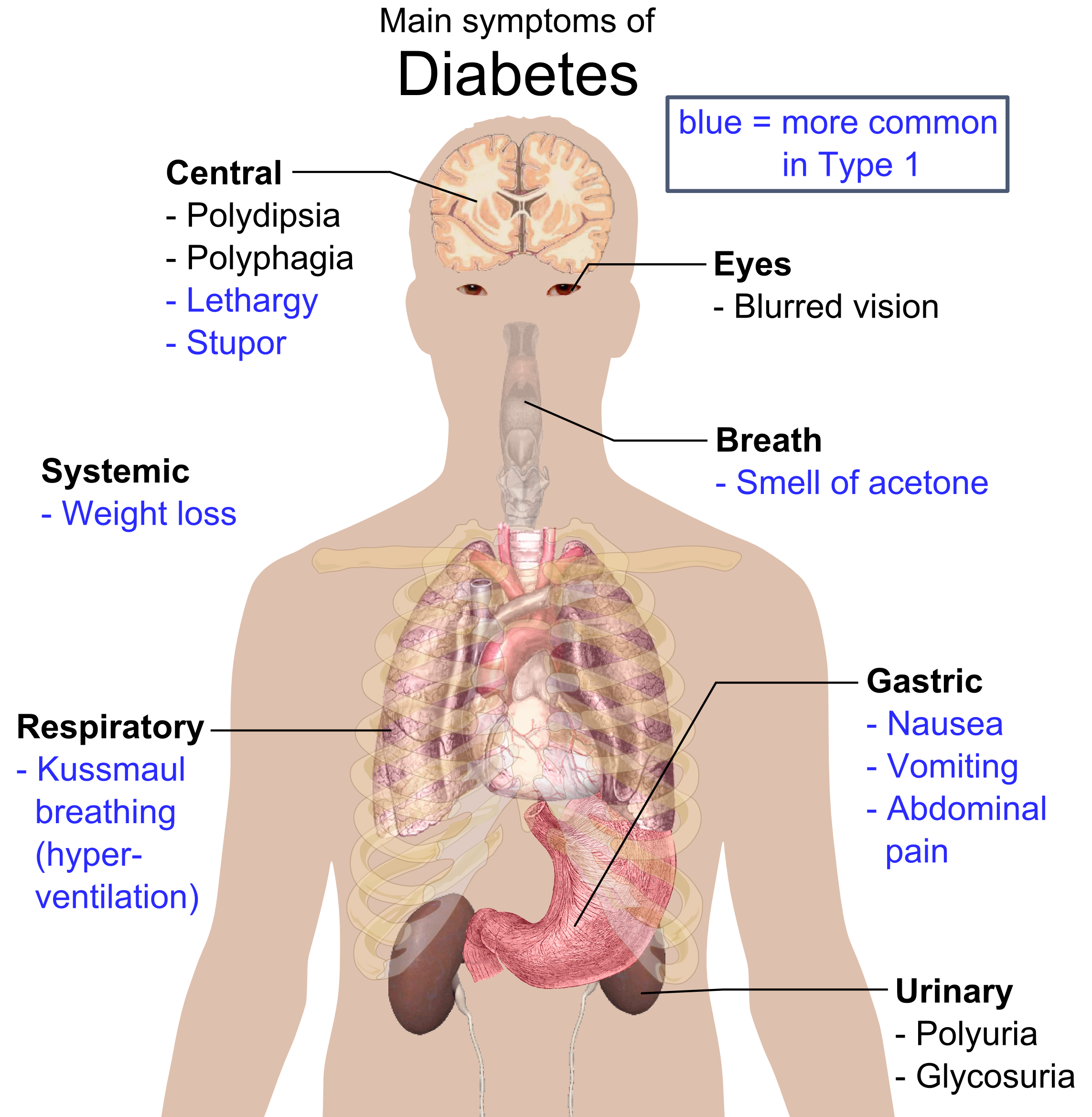 WHAT MAKES US SUSPECT IT?
Risk factors: presentation <30 years of age, HLA-DR3 and DR4, family history (not as strong as type 2 DM)
Classic symptoms: polyuria, polydipsia, polyphagia, weight loss (patients are typically thin unlike type 2 DM)
Low muscle mass can also be observed (because of decreased glucose uptake by muscle tissues)
HOW DO WE CONFIRM A DIAGNOSIS?
Expected laboratory findings in type 1 DM:
Decreased serum insulin levels
Elevated blood sugar
Elevated hemoglobin A1C (HbA1c, which is glycosylated hemoglobin)
Auto-antiboides against insulin, islet cells, or glutamic acid decarboxylase can be present in the serum.
Histological findings: 
Decreased presence of β cells in the islets of the pancreas
Leukocytic infiltrate on histology (due to immune mediated destruction of pancreas)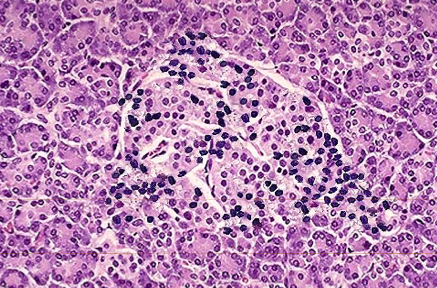 Clinical tests for diagnosing diabetes:
Fasting serum glucose: refers to measuring a patients blood sugar first thing in the morning (before the patient has had anything to eat). Patients with DM will have higher fasting serum glucose.
Oral glucose tolerance test: a set amount of glucose is given to a patient, and the subsequent spike in blood sugar (and clearance of blood sugar) is assessed. Patients with DM will have an larger increase in blood sugar, and it will take longer for their blood sugar to return to lower levels.
Type 1 DM Diagnostic Criteria (American Diabetes Association, source): one of these 4 criteria must be met on TWO separate days
Random plasma glucose ≥ 200 mg/dL in tandem with symptoms of diabetes (polyuria, polydipsia)
Fasting plasma glucose ≥ 126 mg/dL
Glucose tolerance test: two-hour plasma glucose level after 75 g of oral glucose administered
HbA1c of 6.5% or higher
HOW DO WE RULE OTHER DIAGNOSES OUT?
Diabetes insipidus can present similarly to DM, however urine analysis can demonstrate the presence of glucose which is specific to DM.
HOW DO WE TREAT IT? 
Insulin treatment is almost always needed for patients with type 1 diabetes. This missing hormone must be replaced.
*Low carbohydrate diet can also be very beneficial with insulin therapy 
HOW WELL DO THE PATIENTS DO?
The specific prognosis of a patient depends on many different factors, however almost all patients will require lifelong insulin treatment.
*The more adherent patients are to treatment strategies, the better managed their disease! 
WAS THERE A WAY TO PREVENT IT? 
This genetic condition is not preventible (unlike type 2 DM)
WHAT ELSE ARE WE WORRIED ABOUT? 
***DIABETES HAS MANY ASSOCIATED COMPLICATIONS! Not all of them will be listed on this page, however there is a specific section dedicated to diabetic complications on the USMLE outline (seen in the endocrinological section)****
Diabetic ketoacidosis is a serious complication that can occur in those who have very low levels of intracellular glucose
Diabetic nephropathy can occur in patients when elevated levels of blood glucose can damage tissues of the kidney
Renal papillary necrosis is as it sounds: necrosis of the renal papillae. This can be caused by diabetes.
Arteriolosclerosis (hyaline type) refers to the thickening of vessel (arteries/arterioles) that is seen in diabetes mellitus
Cataract are associated with DM. These are bilateral (painless) opacification of the eye's lens.
OTHER HY FACTS?
Type 1 DM is not associated with obesity
Type 1 DM has  a relatively weak genetic predisposition
FURTHER READING
Page Updated: 02.16.2016