WHAT IS IT?
Prolactinoma: this is the most common type of pituitary adenoma (benign tumor formed from glandular structures in epithelial tissues) that leads to the excessive production of the hormone prolactin.
WHY IS IT A PROBLEM?
Prolactin is responsible for decreasing activity of the Gonadotropin-releasing hormone (GnRH). GnRH is released by the hypothalamus, acts on the pituitary, and is responsible for increasing levels of both follicle stimulating hormone (FSH) and luteinizing hormone (LH). Constant secretion of prolactin will ultimately lead to decreased levels of LH, and FSH. These hormones are important puberty and fertility, so patients with a prolactinoma will have amenorrhea, hypogonadism, and subsequent infertility.
WHAT MAKES US SUSPECT IT?
Risk factors: female, acromegaly/gigantism, family history of MEN1
Galactorrhea (milk production outside of normal lactation) can be seen in these patients (given that prolactin will stimulate milk production). Gynecomastia can also be present as well.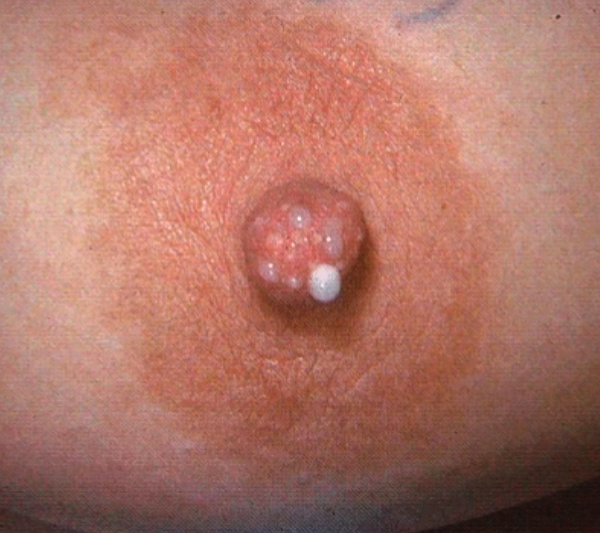 Amenorrhea (females): given the inhibitory affect of prolactin on GnRH, female patients will present with absent menstruation.
Decreased libido (males): as a result of hypogonadism induced by high levels of prolactin
Headache can be common given the increase in size of the pituitary
Bitemporal hemianopsia: testing of the second cranial nerve can reveal loss of the temporal visual fields caused by impingement of the optic chasm (by the an enlarged pituitary organ)

HOW DO WE CONFIRM A DIAGNOSIS?
Serum analysis: elevated levels of prolactin will be present in the patient's serum.
MRI: upon suspicion of of a pituitary adenoma (clinical presentation and serum levels of prolactin) an MRI can help visualize the casual tumor. Keep in mind very small adenomas may not show up on MRI!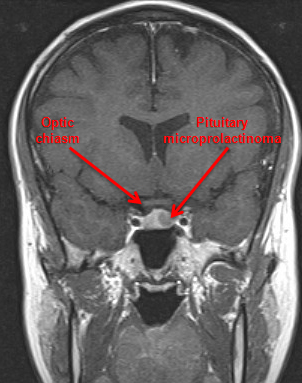 HOW DO WE TREAT IT?
Watchful waiting may be employed for asymptotic prolactinomas.
Dopamine agonists (bromocriptine/cabergoline): dopamine inhibits the secretion of prolactin.
Surgical resection for larger prolactinomas may be appropriate.
HOW WELL DO THE PATIENTS DO?
These prolactinomas are typically indolent and do not progress/metastasize.
WAS THERE A WAY TO PREVENT IT?
Prolactin levels can be screened in patients who are at higher risk for developing prolactinoma (such as those with a known family history of MEN1)
WHAT ELSE ARE WE WORRIED ABOUT?
Acromegaly/gigantism: tumors that make growth hormone sometimes can also make prolactin leading to hyperprolactinemia
Osteoporosis can be caused due to the lack of hormone signaling (not unlike the mechanisms observed in menopause)
OTHER HY FACTS?
Prolactinomas are tumors composed of lactotroph cells from the anterior pituitary
ARCHIVE OF STANDARDIZED EXAM QUESTIONS
This archive compiles standardized exam questions that relate to this topic.
FURTHER READING
Page Updated: 02.13.2016