WHAT IS IT?
Multiple sclerosis (MS): is an autoimmune disorder (type IV hypersensitivity reaction) that causes demyelination of the axons in the central nervous system (both in the brain and the spinal cord).
WHAT CAUSES IT?
The immune system is to blame here. Antibodies are formed against oligodendrocytes (myelin producing cells of the CNS) which lead to the their destruction (and ultimately the loss of myelin from nerve axons). It is important to appreciate that the antibodies do not affect the myelin in the peripheral nervous system, because they only target the myelin producing cells of the CNS.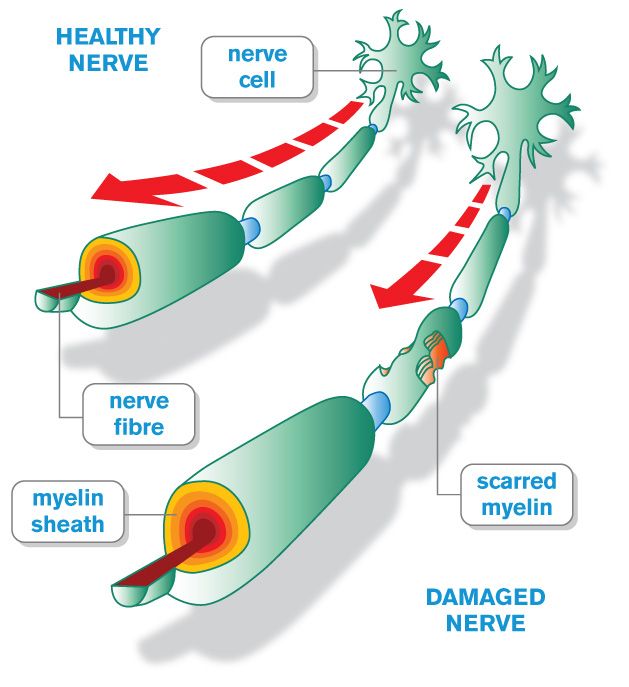 WHY IS IT A PROBLEM?
As axons lose myelin they are impaired in their ability to send electrical signals (myelin is important for reducing permeability and decreasing capacitance across the axon). The speed at which electrical signals are carried will decrease in the affected axons, leading to the neurological deficiencies outlined below (which are specific to the CNS). It is important to appreciate that the symptoms of MS are dictated by the location of disease.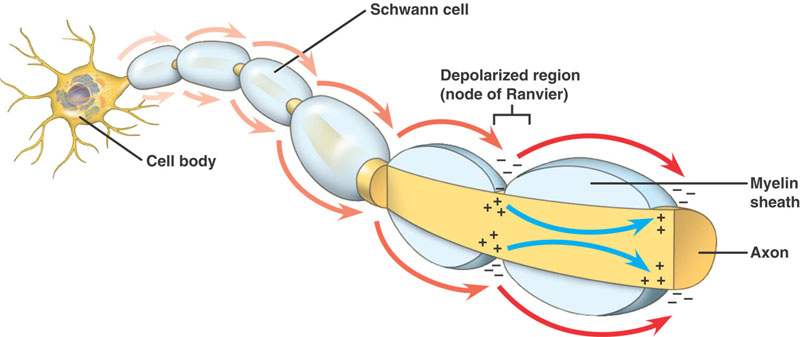 WHAT MAKES US SUSPECT IT?
Risk factors:
Young adults (initial onset), female sex, HLA-DR2
Initial Presentation: Will Vary Depending On Lesion Location In CNS
Chief Complaints can include:
Vision changes: such as blurry vision or diplopia (vision loss can be painful)
Bladder dysfunction is present in most patients with MS
Paralysis (typically hemiparesis)
Associated symptoms can include:
Bowel dysfunction
Sexual dysfunction
Lower extremity weakness
Vertigo and scanning speech: lesions in the midbrain can cause

this presentation that might mimic acute alcohol intoxication.

Cognitive dysfunction is a later stage symptom that may or may not be present
Trigeminal neuralgia may occur in some patients
Physical Exam: Will Vary Depending On Lesion Location In CNS
Cranial nerve exam might include the following findings:
Internuclear ophthalmoplegia (INO) due to medial longitudinal fasciculus (MLF) involvement
Nystagmus
Painful eye movements
Relative afferent pupillary defect
Motor exam can show the following patterns of weakness/paralysis:
Hemiparesis due to leisions in the cerebral white matter (often periventricular lesions)
Lower extremity weakness due to involvement of spinal cord
Sensory exam can show the following patterns of sensory loss:
Unilateral loss of sensation due to leisions in the cerebral white matter (often periventricular lesions)
Lower extremity sensory loss due to involvement of spinal cord
Fundoscopy can show optic neuritis which can be characterized by:
Inflamed/swollen optic disk
Optic disk pallor
HOW DO WE CONFIRM A DIAGNOSIS?
The EXACT diagnostic criteria are discussed in the paper attached below. With that in mind (in combination with a suggestive clinical exam), MS can be more definitively diagnosed with MRI and CSF immunoglobulin analysis.
MRI (with and without contrast) reveals plaques (areas of white matter demyelination). Periventricular plaques most common. These often will be seen on T2 MRI series (lesions are described as being hyper-intense on T2 imaging). The brain lesions may also enhance with contrast (suggesting a more acute inflammatory process. In many cases an MRI might be clear, and CSF analysis may not be required.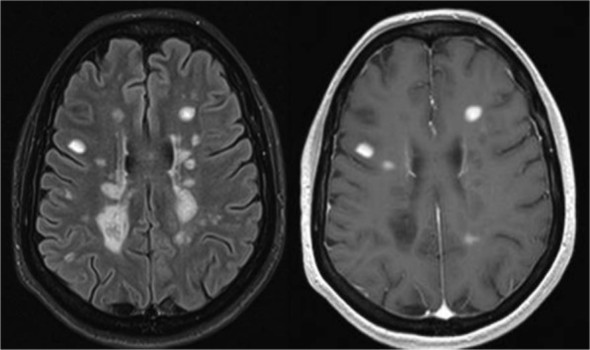 Lumbar puncture can be useful if MRI is unclear/there is any uncertainty in the diagnosis of MS. Initial analysis (before immunoglobulin assays are conducted) shows:
Increased protein
Slightly increased lymphocytes
CSF serology/analysis: can show increased immunoglobulins with oligoclonal IgG bands (antiboides in the CSF thougth to target oligodendrocytes) on high resolution electrophoresis, and myelin basic protein.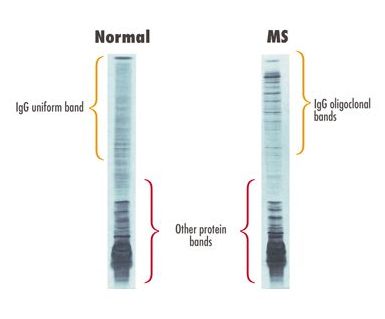 HOW DO WE RULE OTHER DIAGNOSES OUT?
The lumbar puncture (and assay for oligoclonal IgG) will ultimately help characterize the lesions that are found on the MRI.
HOW DO WE TREAT IT?
Immunosuppressive therapies: are used to treat multiple sclerosis given the pathophysiology of the disease. These vary on clinical scenario
Initial therapy to reduce progression:
Interferon beta (both 1a/1b): interferons are antiviral glycoproteins normally synthesized by virally infected cells. For some reason it helps with MS.
Glatiramer acetate: this is a random polymer of four amino acids that are found in myelin basic protein. The mechanism of this drugs effect is unknown.
IVIG has been shown to have some utility in certain contexts.
Acute attacks/relapse:
High dose steroids (such as methylprednisolone) can be used in the acute setting to quickly suppress the immune
Plasmapheresis can be used to remove autoantibodies from the patient's serum
Other:
Natalizumab (α4-integrin targeting antibody) also used as an autoimmune therapy for MS
Baclofen (GABA-B receptor agonist): effective montherapy in treating spasticity by decreasing the excitability of spinal reflexes.
HOW WELL DO THE PATIENTS DO?
Cognitive dysfunction common in patients with MS followed for 10 years (however degree of disability is variable)
Relapse is common in patients with MS
WAS THERE A WAY TO PREVENT IT?
Increased vitamin D intake associated with reduced risk of MS (however clear methods of prevention are not clear)
WHAT ELSE ARE WE WORRIED ABOUT?
Patients of MS have a high risk for psychiatric complications:
Anxiety disorders
Adjustment disorders
Psychotic disorders
Increased risk of suicide (may be at least twice as common)
Pseudobulbar affect (sudden episodes of laughing or crying)
Patients with multiple sclerosis often develop a spastic bladder a few weeks alter developing an acute lesion of the spinal cord. These patients present clinically with increased urinary frequency and urge incontinence. Urodynamic studies show the presence of bladder hypotonia.
OTHER HY FACTS?
Type IV hypersensitivity reaction that is also antibody mediated
Oligodendroglia (cells responsible for making myelin in CNS) are damaged in CNS
Standardized Exam Buzzwords:
Dawson's fingers can be seen on an MRI and are commonly referenced in MS cases
Lhermitte phenomenon can be experienced by patients with MS
ARCHIVE OF STANDARDIZED EXAM QUESTIONS
This archive compiles standardized exam questions that relate to this topic.
FURTHER READING
Page Updated: 07.14.2016