WHAT IS IT? 
Heparin-induced thrombocytopenia (HIT) is a condition that is self descriptive: it is an inducible form of thrombocytopenia that results from the administration of heparin. It is a life treating complication from the utilization of heparins.
WHAT CASUES IT?
Heparin (or similar medications) are the root cause of this condition. Unfractionated heparin is the most common cause, fractionated low molecular weight heparin carriers a lower risk, and synthetic pentasaccharide fondaparinux (anticoagulant similar to heparins) carries the lowest risk of HIT.
WHY IS IT A PROBLEM?
As a result of heparin (anticoagulant) administration the body develop autoantibodies that cause thrombocytopenia. The autoantibodies formed from heparin administration bind to a complex of heparin and platelet factor 4. This antibody-antigen complex then binds Fc receptors on platelets and triggers their activation. The common result is then mild/moderate thrombocytopenia (because of platelet consumption/aggregation). This thrombocytopenia is further exacerbated but he removal of platelets by splenic macrophages. Furthermore in many patients both arterial/venous thrombosis can be caused by these activated platelets and paradoxically HIT can cause/exacerbate thrombosis.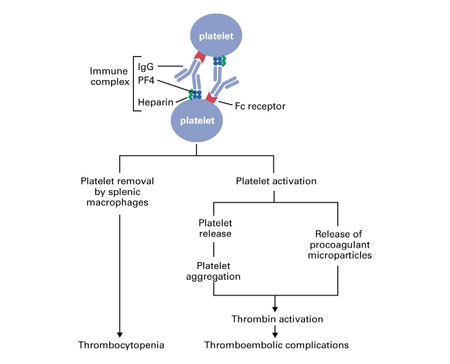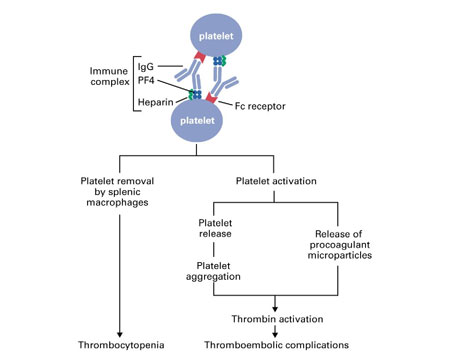 WHAT IS THE INTIAL PRESENTATION?
Patient Chief Complaints:
Signs of new/worsening thrombosis: this can have a variable presentation (depending on the location of the thrombosis). Deep vein thrombosis (leg swelling/pain) and pulmonary embolism (tachypnea, tachycardia, chest pain) can be possible presentations.
Skin necrosis at site of heparin injection: this should immediately arise suspicions for HIT.
Detected Medical Problems:

Thrombocytopenia: the most common manifestation of HIT. Must of course occur in the setting of heparin usage.
Large drop in platelet count (>50% of baseline): even if the absolute platelet count is within normal limits, such a pronounced drop should raise suspicions for HIT.
WHAT ARE IMPORTANT ELEMENTS OF THE MEDICAL HISTORY?
Risk Factors:
Recent heparin usage:

often times occurs within 5-10 days of heparin (or heparin-like drug) usage
Medical History:
Acute systemic reactions after IV heparin bolus admisntration: these can include 

fever/chills,

tachycardia, hypertension, dyspnea, cardiopulmonary arrest
Evaluate for other possible causes of patient's platelet drop/thrombocytopenia: this can be challenging, but generally speaking other possible causes of a patient's thrombocytopenia should be considered (consumptive coagulopathy, etc).
WHAT ARE IMPORTANT FEATURES OF THE PHYSICAL EXAM?
Vital Signs:
These can be variable depending upon the location of thrombosis (if it is present, such as a pulmonary embolism). It is also possible that patients can have completely normal vitals with HIT.
Dermatological Exam:
Skin erythema (red)/necrotic skin lesions at site of heparin injection: these can occur in some patients and should greatly raise the suspicions for HIT
Other Physical Exam Findings:
Other physical findings will be specific to where a thrombus has formed (such as leg swelling/tenderness in patients with deep vein thrombosis). 
CLINICAL WORKUP: EPIDEMIOLOGCIAL ANALYSIS (4T SCORE)
Because many patients receive heparin, and many of them will also develop thrombocytopenia (either due to HIT or other causes), a clinical calculator has been created to try and stratify patients based upon their statistical risk of HIT which generates a "4T score". All patients with suspected HIT should have their 4T score calculated so that further aspects of the workup can be tailored to the perceived risk of HIT. The calculator can be found here.
Generally speaking, patients found to have a score of 3 points or lower (low probability of HIT) are not worked up further for it while those with a score of 4 points or higher (intermediate and high probability of HIT) are.
*It is important to note that the 4T score should not be used in isolation. Patients with a low score may still be worked up for HIT if the proper clinical suspicions are present. 
CLINICAL WORKUP: SERUM STUDIES
Complete Blood Count (CBC): patients will likely already have this study (and it may have been what prompted the workup for HIT).
Thrombocytopenia: the most common manifestation of HIT.
Large drop in platelet count (>50% of baseline): even if the absolute platelet count is within normal limits, such a pronounced drop can be seen in HIT.
Coagulation Studies: patients may have this study ordered as well which can be useful for evaluating if other aspects of coagulation are compromised. In HIT the following results should be expected (unless other coagulopathies are present in the patient).
Normal PT time: this coagulation pathway is not affected by this condition
Normal PTT time: this coagulation pathway is not affected by this condition
HIT Antibody Testing: patients thought to be at moderate/high risk of HIT are often times tested for the presence of HIT antibodies. Various different types of assays can be used to this end including ELISA or functional assays for HIT antibodies.
The presence of platelet-activating anti-PF4 antibodies help make the diagnosis of HIT
CLINICAL WORKUP: IMAGING
While the diagnosis of HIT itself is not informed directly by imaging, thrombotic events caused or exacerbated by HIT can be evaluated radiologically (such as DVTs and PEs).
HOW DO WE CONFIRM A DIAGNOSIS?
The diagnosis of HIT is confirmed if a patient tests positive for HIT antibodies (see above)
PATIENT MANAGEMENT: DISEASE TREATMENT
Discontinue all heparin treatments: this should be done immediately after HIT is diagnosed.
Direct thrombin inhibitors (argatroban, hirudin, lepirudin) should be used for further anticoagulation: patients with HIT will still need anticoagulation. These drugs do not require antithrombin-III for their desired effect, and are the drugs of choice in HIT.
Platelet transfusion: can be done in severe cases if indicated.
HOW WELL DO THE PATIENTS DO?
Depends on if a thrombus has formed and where it has formed. With this said, HIT can be a life threatening condition.
WAS THERE A WAY TO PREVENT IT? 
This is a rare event and can be difficult to anticipate. With this in mind patients who develop thrombocytopenia and/or a dramatic drop in platelets should be evaluated for HIT before complications of the condition occur.
WHAT ELSE ARE WE WORRIED ABOUT? 
Thrombotic events: as explained above, HIT will often times cause a pro-thrombotic state. Patients may develop one or more thrombosis and should be evaluated closely for any signs of life threatening clot formation (such as a pulmonary embolism).
ARCHIVE OF STANDARDIZED EXAM QUESTIONS 
This archive compiles standardized exam questions that relate to this topic.
Page Updated: 03.22.2018