WHAT IS IT?
A hydatidiform mole (molar pregnancy) is a abnormal (but noncancerous) trophoblastic growth in the uterus that develops as a result of a non-viable pregnancy.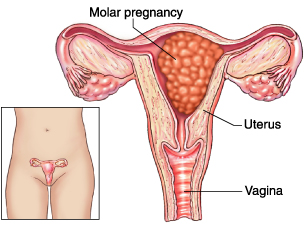 There are 2 amor types of molar pregnancy:
Complete molar pregnancy: 
Usually diploid
No fetus, amnion, or fetal red blood cells
Partial molar pregnancy: 
Usually triploid
Fetus is often present with amnion and red blood cells
WHAT CAUSES IT?
An error in fertilization ultimately is the cause of this condition. This can inlcude:
Fertilization of a nuclear ovum
Normal ovum fertilized by 2 spermatozoa
WHY IS IT A PROBLEM?
WHAT MAKES US SUSPECT IT?
Risk factors
Young (<20 years old) or old (> 40 years old) maternal age
Initial Presentation
Chief Complaints:
Vaginal bleeding
Passage of molar vesicles
History Of Present Illness

Physical Exam Findings
CLINICAL WORKUP
Elevated hCG levels are characteristic of this condition.
Ultrasound can show different findings based upon the type of molar pregnancy.
"Snowstorm" patter of echogenic material common
AT WHAT POINT DO WE FEEL CONFIDENT IN MAKING THE DIAGNOSIS?
WHAT ELSE ARE WE WORRIED ABOUT?
HOW DO WE TREAT IT? 
Suction dilation and curettage is the preferred treatment for this condition.
HOW WELL DO THE PATIENTS DO?
WAS THERE A WAY TO PREVENT IT?
ARCHIVE OF STANDARDIZED EXAM QUESTIONS 
This archive compiles standardized exam questions that relate to this topic.
FURTHER READING
UpToDate
Page Updated: 09.12.2016