WHAT IS IT?
Iron deficiency anemia is a disorder of heme/hemoglobin production that is caused by a deficiency of iron within the body. This can be caused by a dietary deficiency of iron (malnutrition/malabsorption), through loss of iron via chronic bleeding, or even through increased iron demand (such as in pregnancy).
WHY IS IT A PROBLEM?
Iron is an important component of proper heme/hemoglobin synthesis without it RBC precursors can not produce sufficient amounts of hemoglobin, the patient will become anemic, and ultimately the oxygen carrying capacity of the blood will be come compromised.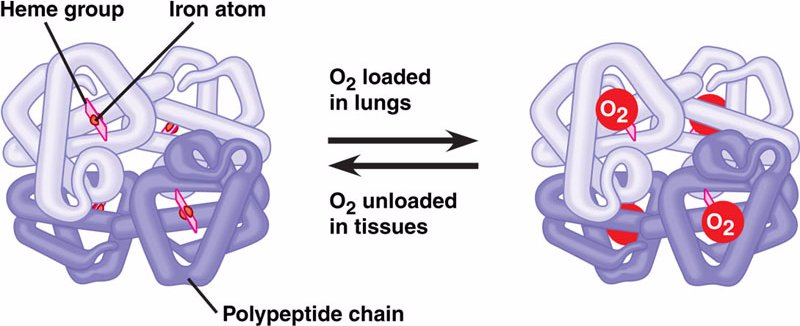 WHAT MAKES US SUSPECT IT?
Risk factors: vegetarian/vegan diet, chronic bleeding, women (especially pregnant), young children, hospitalized patients with frequent blood sampling.
Chief complaint can often be of generic symptoms of anemia (fatigue, weakness, and dyspnea).
Pica: People with pica crave to ingest certain things that have no nutritional value, most commonly ice, but sometimes a substance that is not food (dirt, paint, clay, or chalk.).
Pallor: paleness of the skin and even the conjunctiva (mucous membrane that lines the eyelids) can be seen in anemia (including in iron deficiency anemia).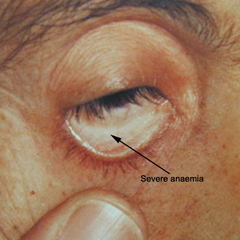 Spoon nails (koilonychia): abnormally thin nails that can become concave in shape.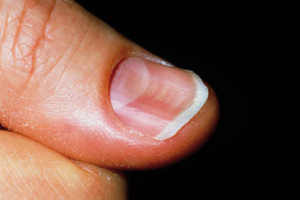 Glossitis: inflammation of the tongue can be seen in iron deficiency anemia even to the point that it loses its rough texture and appears smooth or "bald" in appearance. The tongue can also appear "beefy red" due to the inflammation.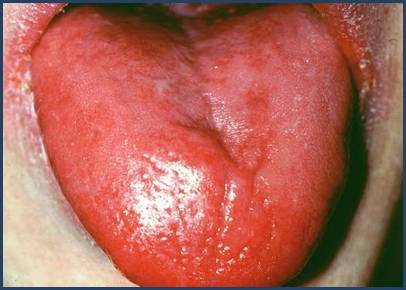 HOW DO WE CONFIRM A DIAGNOSIS?
Complete blood count (CBC): patients will initially have normocytic anemia, however as more and more iron is lost, smaller RBCs will be produced by the marrow leading to a microcytic anemia. Red cell distribution width (RDW) will be increased (this is the earliest sign given the transition from normal to microcytic RBC production).
Blood smear: Microcytosis and hypochromic RBCs can be seen (loss of central pallor in cells due to iron deficinecy). Elongated "pencil cells" can also be visualized.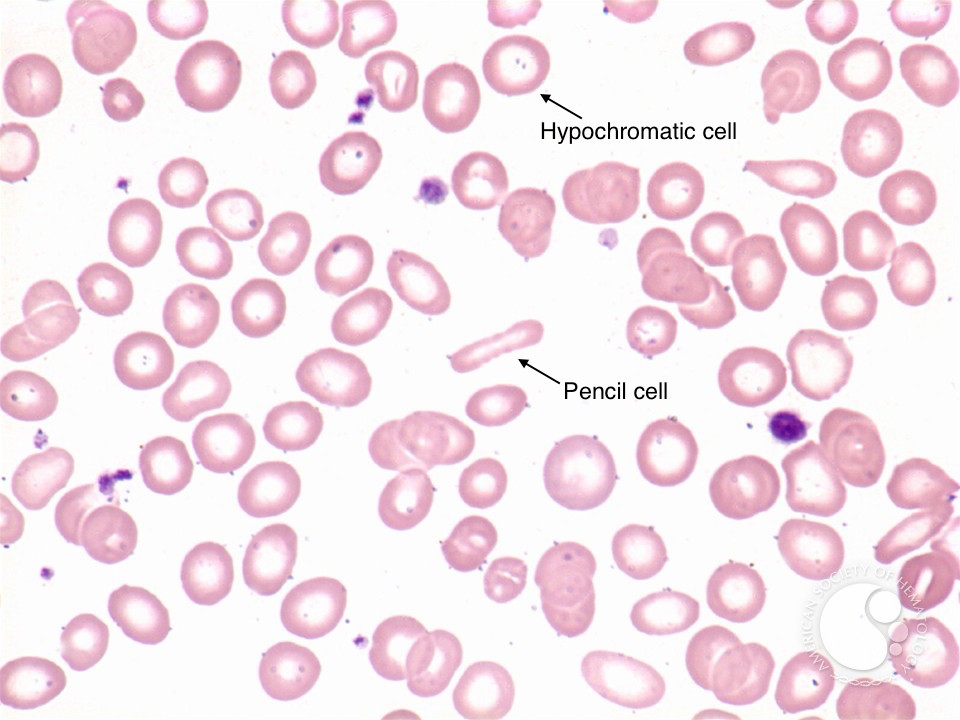 Iron studies: decreased serum iron, increased total iron binding capacity/TIBC (due to decreased iron in blood), decreased ferritin, and decreased % saturation of iron.
??Free erythrocyte protoporphyrin (FEP): patients with iron deficiency will have increased protoporphyrin in the blood. Protoporphyrin normally complexes with iron to produce heme, however a shortage of iron leads to an accumulation of protoporphyrin and increased FEP.
HOW DO WE TREAT IT?
*If deficiency is caused by bleeding, address the source of this bleeding first!
Iron supplementation: patients can be given oral iron supplementation. To those who do not reasond to oral therapy intravenous/parenteral iron therapy is also available.
HOW WELL DO THE PATIENTS DO?
Complete resolution is expected if the underlying cause is identified and properly treated.
WAS THERE A WAY TO PREVENT IT?
Eating a well balanced diet that has plenty of iron in it (meat!) or supplementing a vegetarian/vegan diet with oral iron therapy can help prevent dietary causes of iron deficiency anemia.
Similarly iron supplementation in pregnant women can prevent pregnancy induced iron deficiency anemia.
WHAT ELSE ARE WE WORRIED ABOUT?
Colon cancer (colorectal carcinoma) specifically of the ascending portion of the colon can present with iron deficiency anemia. It is always important to assess for risk factors for colon cancer and follow up on investigating if this disease is the possible cause of a patient presenting with iron deficiency anemia.
Peptic ulcer disease: if patients are bleeding chronically from ulcers, this can cause an iron deficiency anemia.
Celiac disease: this condition can cause intestinal mucosal damage to the point where the absorption of iron is compromised.
OTHER HY FACTS?
Vitamin C reduces Fe3+ (from plants in one's diet) to Fe2+ (the form we can absorb intestinally). Vitamin C deficiency (i.e. scurvy) can cause iron deficiency anemia.
Plummer-Vinson syndrome: This is a triad of iron deficiency anemia, esophageal webs, and atrophic glossitis (beefy red tongue). Patients will have difficulty swallowing.
On Step 1 a microcytic anemia also with an increased RDW very likely refers to iron deficiency anemia.
ARCHIVE OF STANDARDIZED EXAM QUESTIONS
This archive compiles standardized exam questions that relate to this topic.
Page Updated: 08.09.2016