OVERVIEW
This page is meant to provide a quick reference to a practical "work-up" of hypertension. Often patients may present with elevated blood pressures (> 140/90 mm Hg) however the cause may require some investigation.
IMPORTANT POINTS TO COVER IN THE HISTORY
While it can be impossible to DEFINITIVELY prove that hypertension is caused by a specific lifestyle choice there are a few important aspects of a patient's history that can very likely contribute to an elevated blood pressure.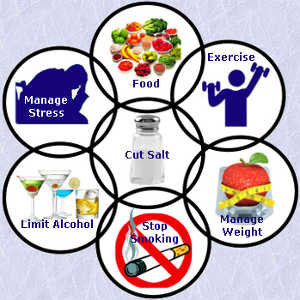 Diet: it is easy to overlook this element of a patient. There are a few dietary habits that have been thought to be associated with an increased blood pressure.
High salt intake
Excessive alcohol consumption
Lack of exercise: 
Smoking: 
SERUM CLINICAL STUDIES: CLUES ON CAUSES OF HYPERTENSION
Basic Metabolic Panel (BMP): this study can provide evidence of the following disease processes.
Kidney disease: obviously this is a very broad category (and can include many different disease processes) however one of the first signs of renal pathology can be an elevated creatine and a decreased glomerular filtration rate.
Primary hyperaldosteronism can be suspected in patients with hypokalemia (in the setting of metabolic alkalosis).
Thyroid hormone studies (TSH): 
Hyperthyroidism can be responsible for causing hypertension.
Hypothyroidism can also be responsible for causing hypertension (generally in older individuals).
Page Updated: 09.07.2016