WHAT IS IT?
Gestational diabetes mellitus (GDM) refers to diabetes (characterized by elevated blood sugar levels) that is commonly diagnosed in the 2nd/3rd trimester of pregnancy. It is clearly NOT overt diabetes (women diagnosed with diabetes in the first trimester are given the diagnosis of type 2 diabetes mellitus).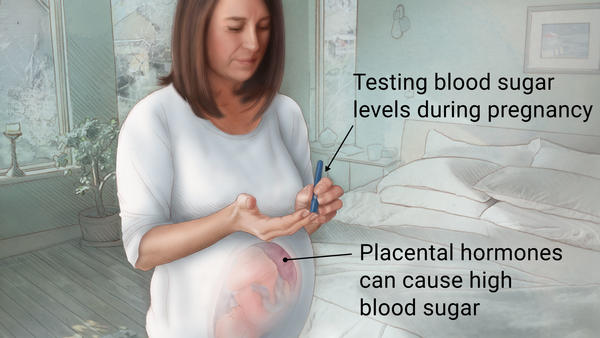 WHAT CAUSES IT?
Insulin resistance is the most common cause of GDM (although other forms of this condition also exist but are rare, such as pancreatic beta-cell dysfunction). While the exact cause is not well understood, it is thought that some component of the hormone changes experienced by pregnant women decreases insulin sensitivity.
Human placental lactogen (hPL) is thought to contribute to this condition by stimulating pancreatic beta cell production. this peptide hormone is elevated in the mother's body during pregnancy.
WHY IS IT A PROBLEM?
Pathological insulin resistance in a pregnant mother will lead to hyperglycemia, and then fetal hyperinsulinemia. These changes in hormone signaling will result in increased fetal growth.
WHAT MAKES US SUSPECT IT?
Risk factors
Initial Presentation
Common Chief Complaints:
History Of Present Illness

Physical Exam Findings
CLINICAL WORKUP
Glucose tolerance test: 
AT WHAT POINT DO WE CONFIDENT IN MAKING THE DIAGNOSIS?
WHAT ELSE ARE WE WORRIED ABOUT?
Type 2 diabetes mellitus: patients who are diagnosed with gestational diabetes have a higher risk of developing type 2 diabetes mellitus in their future lifetimes.
HOW DO WE TREAT IT? 
HOW DO WE SCREEN FOR IT?
All women gestation ages 24-28 weeks should receive the 1 hour (50g glucose) glucose tolerance test.
FURTHER READING
Page Updated: 09.06.2016