WHAT IS IT?
Warm autoimmune hemolytic anemia/warm immune hemolytic anemia (WAHA/WIHA) occurs when autoantibodies within the body target host red blood cells. WAHA is caused by warm reactive IgG auto-antiboides that have optimal activity against red blood cells and at 37°C (warm agglutinin syndrome). This is a type II hypersensitivity reaction that can occur as a response to many different types of medications (penicillin/cephalosporins), and lupus is also a common cause. Many cases are also idiopathic.
WHY IS IT A PROBLEM?
The targeting of these red blood cells by autoantibodies will ultimately cause their destruction leading to hemolytic anemia, and diminished oxygen carrying capacity within the blood.
WHAT CAUSES IT?
A few different things can cause this condition:
Medications: penecillin
Infections: viral infections
Autoimmune conditions: lupus
Immunodeficiency:
Lymphoproliferative disorders:
WHAT MAKES US SUSPECT IT?
Risk factors: Lymphoproliferative disorders (i.e. lymphoma/leukemia), immune diseases.
Chief Concern: fatigue, breathlessness, dizziness (symptoms of anemia)
Dark urine: this may occur if hemoglobin is present in the urine (hemoglobinuria)
Skin: may be pale (due to anemia) or jaundiced (due to hemolysis)
HOW DO WE CONFIRM A DIAGNOSIS?
Complete blood count (CBC): demonstrates normocytic or macrocytic anemia, increased red cell distribution width (RDW), increased reticulocyte count, elevated lactate dehydrogenase, and increased indirect bilirubin may all be present (in different combinations). These all suggest a hemolytic anemia and can support the diagnosis of autoimmune hemolytic anemia.
Positive direct Coombs test: in warm AHA patient sample will be positive for direct coombs test (using anti IgG antibodies). It can also be positive using anti-complement antibodies, however if it is ONLY positive for complement coating of RBCs (and NOT for IgG) consider cold autoimmune hemolytic anemia.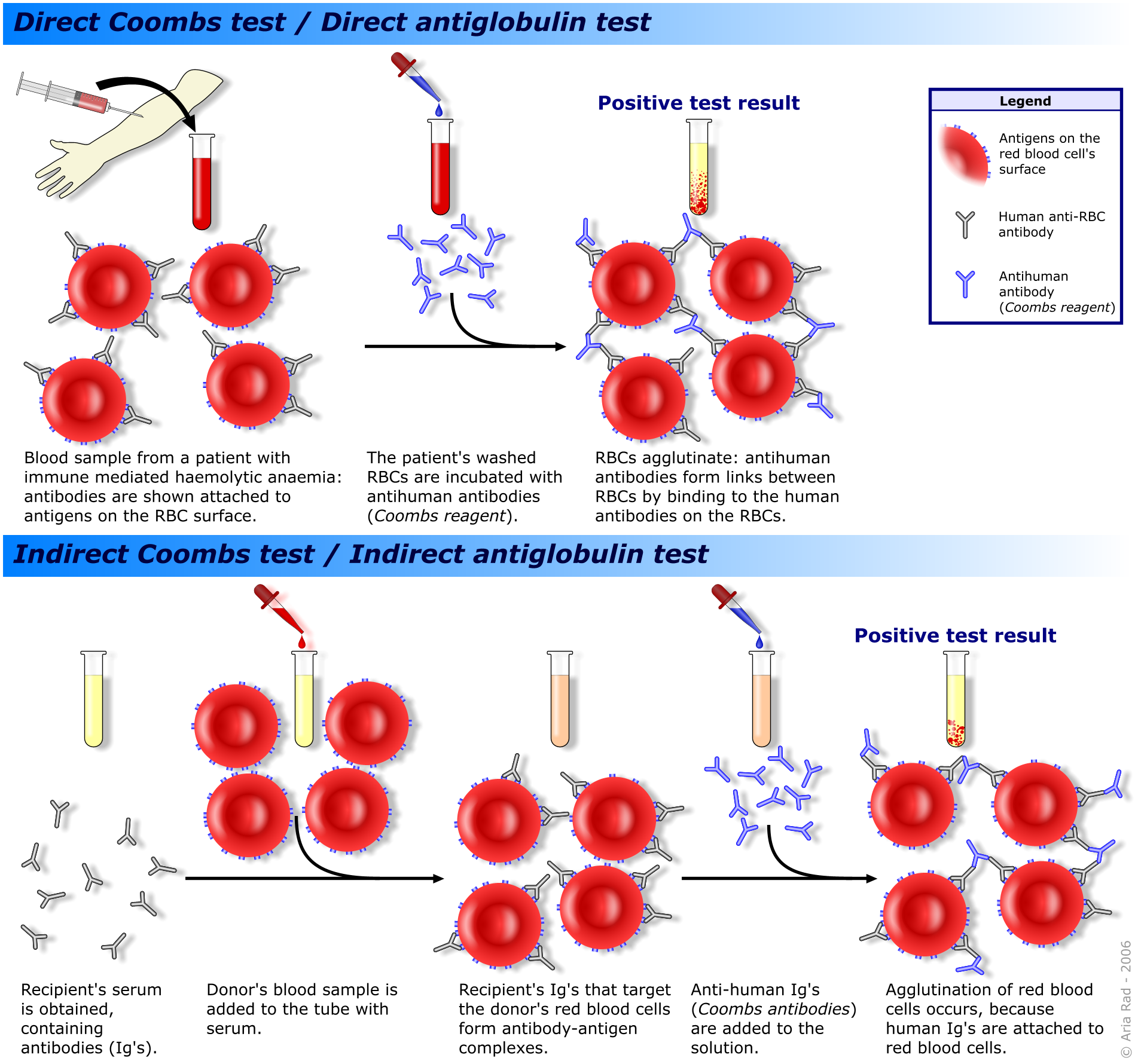 HOW DO WE TREAT IT?
*Blood transfusion may be needed acutely in sever cases until hemolysis can be controlled.
Steroids/prednisone are considered first-line therapy for most patients.
Rituximab: considered second-line treatment in many patients refractory to steroids. Monoclonal antibody that targets CD20 (found on B-cells).
Splenectomy: considered second-line treatment in patients with warm IHA.
HOW WELL DO THE PATIENTS DO?
Patients typically have frequent relapses and remissions with this condition (source).
WAS THERE A WAY TO PREVENT IT?
Avoiding the usage of drugs known to cause this reaction can prevent its occurrence, however these reactions are not easy to anticipate.
WHAT ELSE ARE WE WORRIED ABOUT?
This condition can be seen in patients with systemic lupus erythematosus (SLE) as well as chronic lymphocytic leukemia (CLL). Addressing a possible clinical suspicion of these conditions might be beneficial.
OTHER HY FACTS?
Cephalosporins/penicillins can cause immune hemolytic anemia by the hapten mechanism. Essentially this process is where the drug in question binds the RBC membrane, leading to the production of an antibody agains the drug-membrane complex.
ARCHIVE OF STANDARDIZED EXAM QUESTIONS
This archive compiles standardized exam questions that relate to this topic.
Page Updated: 01.08.2016