WHAT IS IT?
This is the molecular process by which the body forms clots to avoid hemorrhage. There are two major pathways by which coagulation occurs: the intrinsic and extrinsic pathways that will be discussed more here.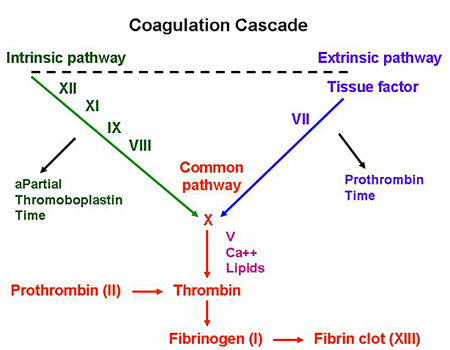 Intrinsic pathway: this pathway is activated by damage inside the vasculature. Platelets, exposed/damaged endothelium,collagen, and other chemicals can activate this arm of the pathway. It ultimately joins with the extrinsic pathway down the common arm of the cascade. While slower than the extrinsic pathway, this is thought to generate a more robust coagulation response.
Extrinsic pathway: this pathway is thought to be activated by trauma that causes blood to leave the vasculature. Tissue factor is activated and sets off the cascade (which ultimately comes to the common pathway shared with the intrinsic pathway). Quicker than the intrinsic pathway (less steps).
COAGULATION FACTORS:
Vitamin K Dependent: this co factors require vitamin K for proper function.
Factor II
Factor VII
Factor IX
Factor X
BLEEDING TIME
Bleeding time (BT): A normal bleeding time indicates adequate platelet hemostatic function. A incision is made under the forearm (standard size with an automatic device) and the amoutn of time it takes for the bleeding to stop is recorded.
Reference range: 3-9 minutes
ACTIVATED PARTIAL THROMBOPLASTIN TIME (aPTT)/PARTIAL THROMBOPLASTIN TIME (PTT)
aPTT/PTT testing is used to assess if the intrinsic pathway is intact. Blood is drawn and coagulation time is calculated in the absence of tissue factor (which is why it can assess the intrinsic pathway). An activator (like silica) is used to set off the intrinsic clotting factor cascade.
Reference range: 30-50 sec.
PROTHROMBIN TME (PT)
The prothrombin time (PT) along with its derived measures of prothrombin ratio (PR) and international normalized ratio (INR) — are assays evaluating the extrinsic pathway of coagulation. in order to activate the extrinsic / tissue factor clotting cascade pathway, tissue factor (also known as factor III) is added and the time the sample takes to clot is measured optically.
Reference range: INR of 0.8-1.2 is normal (2.0-3.0 desired for patients on Warfarin).
THROMBIN TIME (TT)
Thrombin time (TT) is used to assess if the common clotting cascade is intact downstream of both the extrinsic and intrinsic pathways (after their intersection at Factor Xa). Blood is isolated and the time to clotting is calculated after bovine thrombin is added.
Reference range: less that 22 seconds (~14-16 seconds).
CLINCIAL PRESENTATION OF VARIOUS DISEASES
The below table shows the lab values one would would expect for various diseases: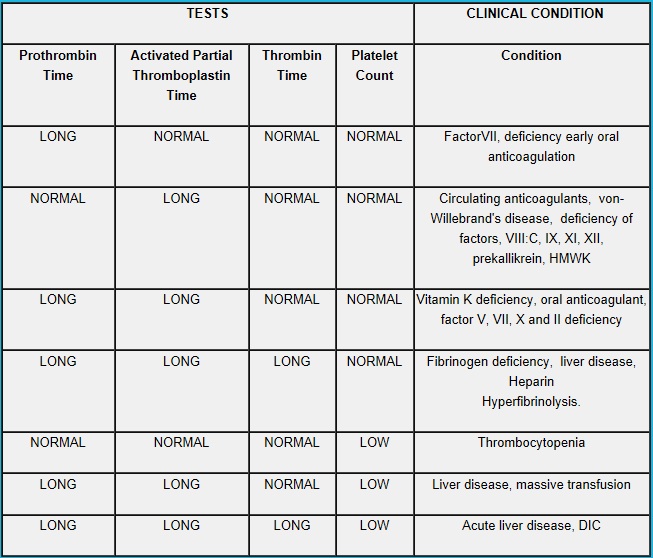 FIBROLYSIS
How clots are broken down (fibrolysis) is important to consider when thinking about the coagulation cascade. The process is often started by tissue plasminogen activator (tPA).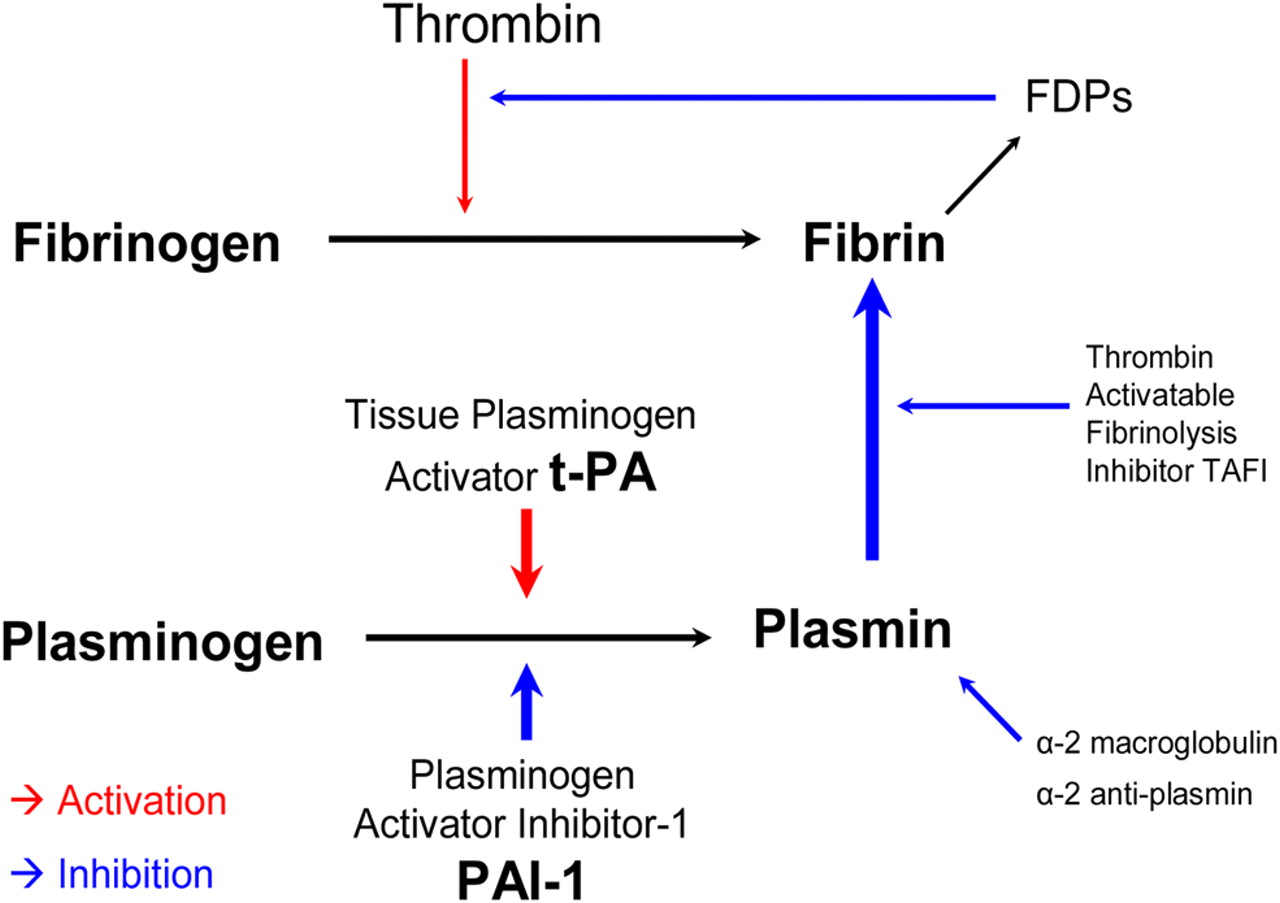 As the above figure shows, tPA will activate Plasminogen to form Plasmin. This in turn will break down fibrin (the meshwork of the clot) into fibrin degradation products that can be measured in the blood. An example of an FDP that is used clinically is D-dimer. Conditions such as deep vein thrombosis and disseminated intravascular coagulation (DIC) will have elevated D-dimer levels in the blood, because previously formed clots (which are pathological in these conditions) are broken down endogenously.
MEDICAL INTERVENTIONS THAT LEVERAGE THESE PATHWAYS
Unfractionated heparin:
Binds and activates antithrombin III
This complex inhibits factor Xa
This in turn neutralizes thrombin (indirectly)
Factor Xa Inhibitors:
Rivaroxaban (direct)
Apixaban (direct)
Fondaparinux (indirect)
Direct thrombin inhibitors:
Argatroban
Bivalirudin
Dabigatran
Page Updated: 01.06.2016