WHAT IS IT?
Disseminated intravascular coagulation (DIC) is a widespread activation of clotting factors which can be caused by a variety of different things. These include Sepsis (gram-negative bacteria common), trauma, obstetric complications, acute pancreatitis, malignancy, nephrotic syndrome, and transfusions.
WHY IS IT A PROBLEM?
This activation of clotting factors (often by the release if massive amounts of tissue factor) in such a diffuse manner will actually lead to a deficiney of clotting factors within the patient's blood. This ultimately will predispose patients to bleeding states and hemorrhaging/associated shock causes serious problems for patients.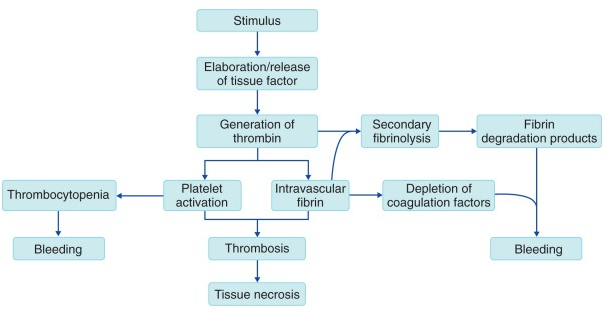 WHAT MAKES US SUSPECT IT?
Risk factors: severe infection, trauma, burns, malignancy, intravascular hemolysis/massive transfusions
Chief Concern: diffuse bleeding often oozing from vein puncture sites and/or intra arterial lines. Wound bleeding (i.e. post surgery) and subcutaneous hematoma (collection of blood outside the vasculature) are common as well.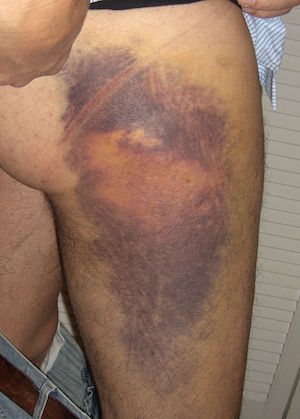 Petechiae/purpura found in most patients as well: both of these refer to red spots on the skin that represent hemorrhage in smaller vessels (non blanching) however petechiae are small (1-2 mm in size) and purpura are larger (but still below 1 cm in size). While the semantics are not the most important, recognizing this finding and its relation to DIC is!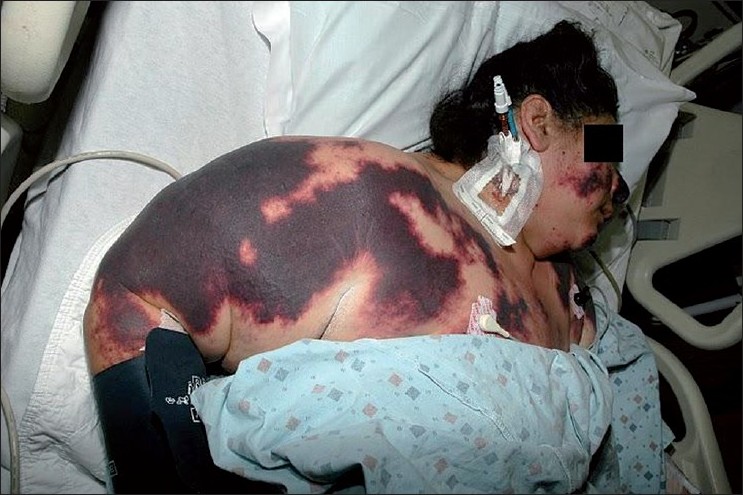 Other commons symptoms on presentation: fever, hypertension, hypoxia, and multiple organ failure, hemorrhage of mucosal surfaces, and any sign of hemorrhage!
HOW DO WE CONFIRM A DIAGNOSIS?
*No single laboratory test or set of tests sensitive or specific enough to make definitive diagnosis, instead the whole clinical picture must be taken into account! Such tools like this DIC score calculator can be useful as is this scoring guide (summarized in table below). Keep in mind even low scores can be suggestive of DIC (and one should not use the scores as a definitive cutoff).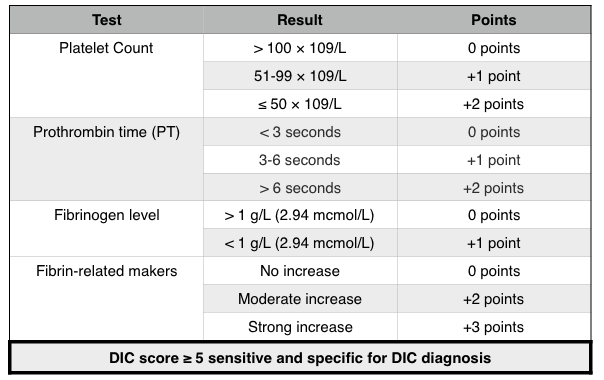 Hematological analysis:
Decreased platelet concentration (given consumption in diffuse clots)
Increased bleeding time (due to decreased platelets)
Increased prothrombin time (deficiency of clotting factors increase this value)
Increased partial prothrombin time (deficiency of clotting factors increase this value)
Increased D-dimers in blood: due to the large presence of clots, D-dimers/fibrin split products will be present in the blood. (*One of the best screening tools)
Decreased fibrinogen: this is the precursor to fibrin that is activated by thrombin. Given coagulation state, this will be decreased given its rapid conversion.
Decreased clotting factors present in blood
Blood smear: schistocytes (fragmented RBCs) can be observed on peripheral blood smears due to microangiopathic anemia (physical shearing of RBCs that pass through clot occluded vessels.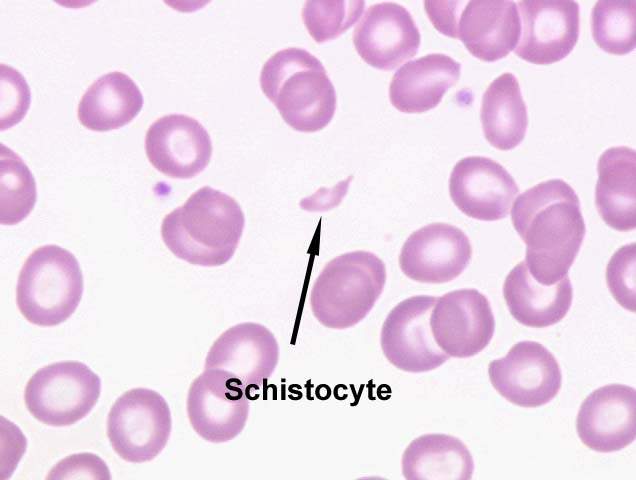 *In select cases imaging (CT scan) can be useful in assessing clinical suspicion of a specific type of hemorrhage (intrathoracic, pulmonary, intracerebral, or intraabdominal hemorrhage)
HOW DO WE TREAT IT?
Fresh frozen plasma: acutely giving fresh frozen plasma will replenish the missing coagulation factors in the blood.
Supportive therapy: this is the largest component of treatment in tandem with treating the underlying cause of the DIC.
HOW WELL DO THE PATIENTS DO?
Prognosis is variable (given DIC score/severity of DIC) and underlying condition. The most important thing to keep in mind is that the presence of DIC does increase mortality (respective to underlying cause), and it should be treated quickly!
WAS THERE A WAY TO PREVENT IT?
If the underlying condition of DIC had a clear prevention, DIC could potentially be avoided.
WHAT ELSE ARE WE WORRIED ABOUT?
Infarction of organs: the formation of these diffuse clots can occlude vessels leading to important organs such as the brain, heart, lung, kidneys, adrenals, spleen, liver
Acute Respiratory Distress Syndrome (ARDS): ARDS can occur as a result of DIC because diffuse alveolar damage/leakage of fluid into the alveoli can occur secondary to DIC (increased vascular permeability can lead to pulmonary edema).
Acute myelogenous leukemia (AML): a very common presentation for AML is DIC. Abnormal promyelocytes (seen in acute promyelotic leukemia/APL) have numerous primary granules that increase risk for DIC.
Waterhouse-Friderichsen syndrome: this condition is marked by adrenal gland failure, due to bleeding in the adrenals, often caused by infection (Neisseria meningitidis). It commonly presents with DIC.
OTHER HY FACTS?
Clotting factors II,V, and VIII are decreased in DIC
Amniotic fluid emboli can lead to DIC (especially postpartum). This embolus can ender maternal circulation during labor or delivery and can cause DIC due to the thrombogenic nature of amniotic fluid.
Acute pancreatitis can lead to DIC
Page Updated: 01.06.15