NEURAL PATHWAY
The radial nerve carries fibers from the ventral roots of spinal nerves C5, C6, C7, C8 & T1.
Branches of C5, C6, C7, C8, & T1 →Posterior Cord (Brachial Plexus) → Radial Nerve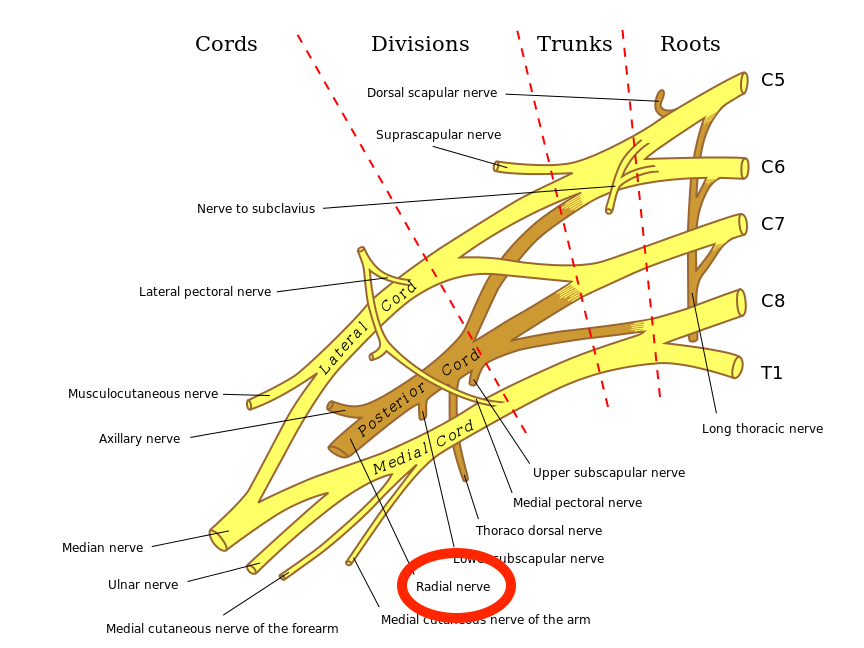 After leaving the brachial plexus the radial nerve will travel down the arm in the general path outlined below. it enters the forearm anterior to the latter epicondyle (near the humeroraidal articulation (where it divides into the superficial and deep branches).
After passing through the supinator canal (between the superficial and deep parts of the supinator muscle) the deep branch continues to the wrist to become the posterior interosseous nerve.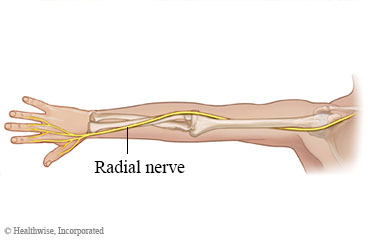 FUNCTION
Motor Function:
Extension of the arm/elbow: the radial nerve innervates the 3 heads of the triceps muscle.
Wrist extension: the radial nerve innervates the muscles in the posterior compartment of the forearm (that are generally responsible fro wrist extension).
Sensory Distribution: the territories of sensory innervation are outlined in the image below.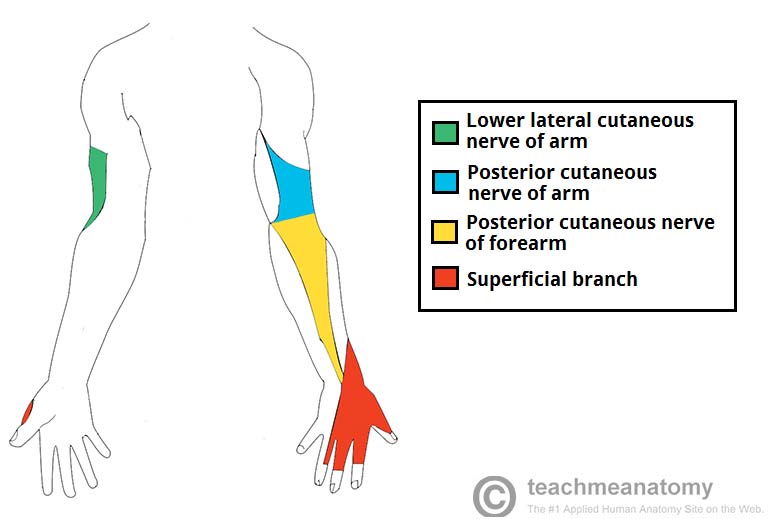 CAUSE OF INJURY
Repetitive pronation/supination of the forearm can damage the nerve where it passes through the supinator canal. Examples of this can include:
Direct trauma
Dislocation of the radius
CLINICAL PRESNENTATION
Figner drop: weakness on finger and thumb extension.
OTHER INFO
ARCHIVE OF STANDARDIZED EXAM QUESTIONS
This archive compiles standardized exam questions that relate to the injury of this nerve.
Page Updated: 08.21.2016