WHAT IS IT?
Streptococcal pharyngitis (strep throat) is a infectious process that involves the pharynx.
WHAT CAUSES IT?
Group A beta hemolytic Streptococcus are ultimately responsible for the development of this condition. Streptococcus pyogenes is often the organism responsible.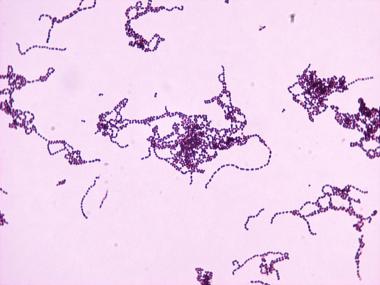 WHY IS IT A PROBLEM?
This infection can leave patients feeling unwell, and can result in a painful sore throat.
WHAT MAKES US SUSPECT IT?
Risk factors
Known sick contacts that have strep throat
Initial Presentation
Common Chief Complaints:
Sore throat
Fever
Odynophagia
History Of Present Illness

Abrupt onset of symptoms is typical for this condition.
Fever often lasts 4-5 days
Associated symptoms might include: 
Recent exposure to strep infection (past 2 weeks) can be a common element in the HPI.
Physical Exam Findings
Vitals: patients may have a fever.
HEENT exam: 
Pharyngitis/exudative pharyngitis

can be observed

Enlarged red tonsils

are often present. Exudative tonsillitis can also be seen.

Swollen uvula

 is a possible finding.

Enlarged/tender lymph nodes

can be palpated on the exam (anterior cervical nodes).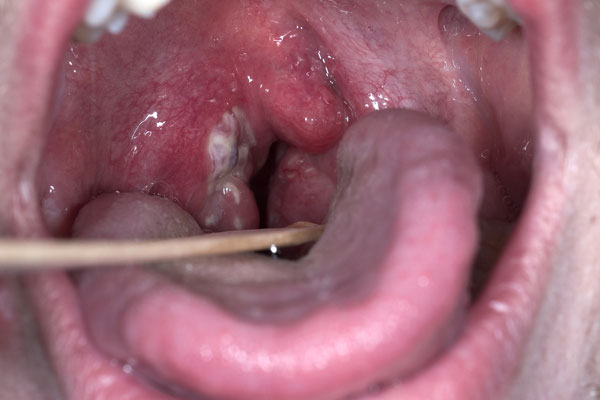 CLINICAL WORKUP
Raid strep test: this test is quick and only requires a throat swab. It is important to note that the sensitive of this test is poor, but it does have decent specificity. This means this test (when negative) is not effective in ruling out a strep infection, but when positive, is fairly convincing that the patient does indeed have a strep infection.
Monospot test can also be done quickly to assess for the likelihood of EBV infection (which presents similarly to strep throat)
Throat cultures can be sent (but will take a few days to give their results.
AT WHAT POINT DO WE CONFIDENT IN MAKING THE DIAGNOSIS?
If the rapid strep test is positive often this will be enough to make the diagnosis of strep throat.
If the rapid strep test is negative backup cultures will be sent to assess for a strep infection. In certain (more serious) cases patients may be started on antibiotic treatment before the cultures return back.
WHAT ELSE ARE WE WORRIED ABOUT?
Acute rheumatic fever: this complication can occur in patients who are not treated with antibiotics (although its development is rare).
Post streptococcal glomerulonephritis: this can occur in patients regardless of their treatment with antibiotics.
HOW DO WE TREAT IT?
For a more detailed explanation regarding the treatment of Strep throat read this page dedicated to picking the correct antibiotic for Streptococcus pharyngitis.
If patients do not have a penicillin allergy:
Penicillin V is given as a first-line treatment
Amoxicillin can also be used as a first-line treatment (more palatable to children)
If patients do have a penicillin allergy, but not an immediate-type hypersensitivity reaction:
If patients do have a penicillin allergy that is an immediate-type hypersensitivity reaction:
HOW WELL DO THE PATIENTS DO?
This condition is generally not serious and is often self limited.
WAS THERE A WAY TO PREVENT IT?
Avoiding exposure to others with a strep infection can prevent this condition in certain cases.
FURTHER READING
Page Updated: 08.15.2016