WHAT IS IT?
Fetal alcohol syndrome (FAS) is a congenital condition observed in children with mothers that drank during pregnancy.
WHAT CAUSES IT?
Alcohol usage during pregnancy is the reason for this condition. Somehow it results in the failure of cell migration during important periods in development.
WHY IS IT A PROBLEM?
Alcohol is dangerous to the developing fetus and FAS often results in congenital abnormalities/intellectual disability.
WHAT MAKES US SUSPECT IT?
Risk factors
Alcohol usage during pregnancy
Initial Presentation
Developmental delay/intellectual disability 
History Of Present Illness

Alcohol usage during pregnancy: the mothers of patients will have some history of alcohol usage.
Physical Exam Findings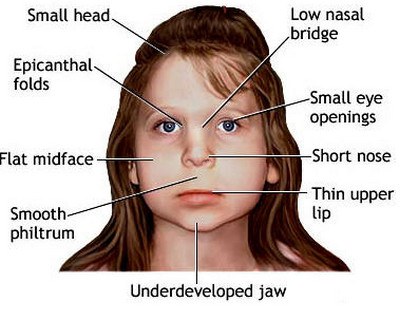 HEENT exam can reveal the following findings:
Microcephaly
Smooth philtrum
Thin vermillion border (thin upper lip)
Small palpebral fissures
Saddle shaped nose
Maxillary hypoplasia
AT WHAT POINT DO WE CONFIDENT IN MAKING THE DIAGNOSIS?
This is a clinical diagnosis that is made based upon the history and physical.
WHAT ELSE ARE WE WORRIED ABOUT?
Congenital cardiac defects are associated with FAS: 
VSD
PDA
ASD
Tetralogy of Fallot
HOW DO WE TREAT IT? 
This condition can not be treated.
WAS THERE A WAY TO PREVENT IT?
Avoiding alcohol intake during pregnancy can prevent FAS from occurring.
OTHER FACTS?
This condition is the leading cause of intellectual disability in the US
Holoprosencephaly can be seen in FAS. This is the failure of the left and right hemispheres of the brain to separate.
FURTHER READING
Page Updated: 08.13.2016