WHAT IS IT?
Olanzapine (Zyprexa) is a second generation (atypical) antipsychotic medication.
WHEN DO WE USE IT?
Acute psychosis: this medication is one of the more effective antipsychotics for patients who present with acute psychosis.
Schizophrenia: this medication is effective for treating chronic psychotic conditions
Acute management of acute mania (bipolar disorder): because mood stabilizers may take some time to reach their effect, antipsychotics like this one can be given in the interim to manage acute mania.
WHEN DO WE AVOID USING IT?
In patients who do not wish to gain weight.
HOW IS IT ADMINISTERED?
Orally or by IM injection.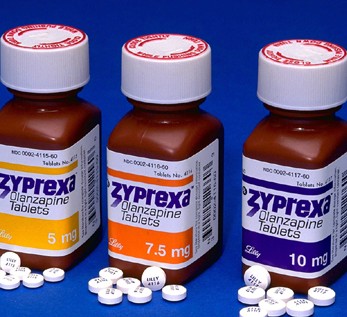 WHAT ARE THE SIDE EFFECTS/TOXICITY?
Metabolic syndrome: this medication has been most strongly linked to the development of metabolic syndrome (compared to other atypical antipsychotics).
Sedation is a another notable side effect of this medication.
FURTHER READING
Effectiveness Of Antipsychotic Drugs In Patients With Chronic Schizophrenia
Page Updated: 08.08.2016