WHAT IS IT?
Atropine is an antimuscarinic anticholinergic medication.
WHAT IS THE NET PHYSIOLOGICAL EFFECT OF USING THIS MEDICATION?
The action of atropine will depend on the site of action:
Eye: pupil dilation/cycloplegia
Airway: decreased decretions
Stomach: decreased acid secretion
Gut: decreased motility
Bladder: decreased urinary urgency (in cystitis).
WHEN DO WE USE IT?
Bradycardia: this medication can help elevate the patient's heart rate. It blocks the vagal influence on the SA and AV nodes.
Cholinesterase inhibitor poisoning: if acetylcholine signaling is overstimulated (by the over-administration of cholinesterase inhibitors)
Pupillary dilation: this medication can be used to induce mydriasis and cause cycloplegia
WHEN DO WE AVOID USING IT?
In older individuals: medicaiotns with anticholinergic activity are typically avoided in older patients due to side effects.
Closed-angle glaucoma: patients with condition should avoid anticholinergic medications due to their effect of dilating the eyes.
HOW IS IT ADMINISTERED?
Eye drops, subcutaneously, IM, IV injection.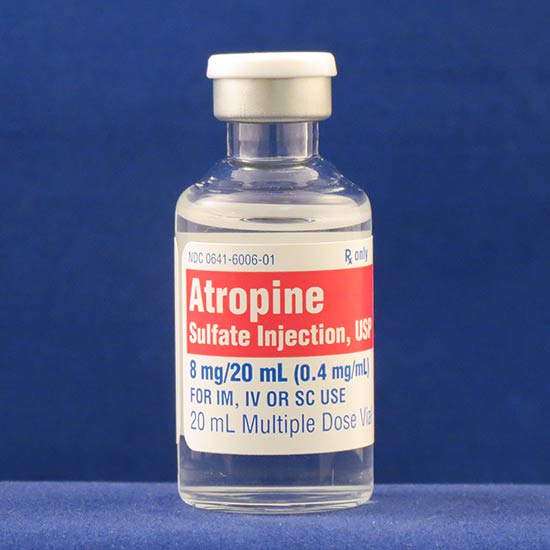 WHAT ARE THE SIDE EFFECTS/TOXICITY?
Anticholinergic toxicity that can manifest as:
Facial flushing
Dry mouth
Mydriasis/vision changes
Delirium/confusion
Urinary retention/constipation
Closed-angle glaucoma can be precipitated by this medication (because it will cause mydriasis)
Increased body temperature can be caused by this medication (due to decreased sweating)
ANYTHING ELSE TO KEEP IN MIND?
Physostigmine (anticholinesterase) can be used to treat atropine overdose.
FURTHER READING
Page Updated: 08.06.2016