WHAT IS IT?
Primidone is a barbiturate medication that works by agonizing GABA signaling. It is the structural equivalent of phenobarbital.
WHEN DO WE USE IT?
Anticonvulsant: this medication can be used for seizures, but is typically more reserved for things like prophylactic management of tonic-clonic grand mal seizures that are refractory to other anticonvulsant therapy. It is typically no longer a first line anti-convulsant medication.
Essential tremor: other then the beta-blocker propranolol, this medication is the first-line treatment for this condition.
WHEN DO WE AVOID USING IT?
Anticonvulsant first line therapy: this medication typically will only be used if the patient has not responded to other anti-epileptic medications.
HOW IS IT ADMINISTERED?
This medication is administered orally.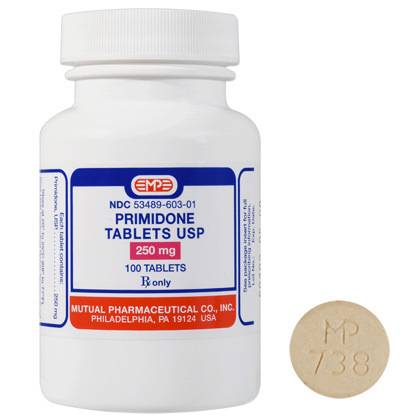 WHAT ARE THE SIDE EFFECTS/TOXICITY?
Acute intermittent porphyria may be caused by this medication. This will manifest as abdominal pain, confusion, headaches, hallucinations, and dizziness.
FURTHER READING
Page Updated: 08.03.2016