WHAT IS IT?
[glossary_exclude] Delirium [/glossary_exclude] tremens (DTs) refers to a life treating alcohol withdrawal syndrome.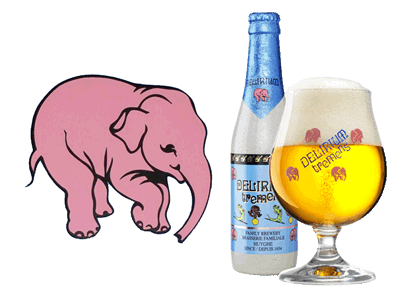 WHAT CAUSES IT?
This condition can be caused by the sudden stop in alcohol drinking by individuals who are alcoholics. Patients who are longstanding alcohol abusers will have a loss of inhibitory GABA signaling in their brain (the underlying cause of alcohol withdrawal symptoms).
WHY IS IT A PROBLEM?
The loss of GABA signaling in the abrupt absence of alcohol/benzodiazepines (both of which are GABA-ergic) can result in the lack of inhibitory signaling in the brain. This can lead to various autonomic hyperactivities that can be fatal to the patient.
WHAT MAKES US SUSPECT IT?
Risk factors
Sudden halt in drinking, alcoholism
Initial Presentation
Delirium is intuitively a component of this condition.
Autonomic hyperactivity are the initial signs/symptoms of this condition.
Seizures
Tremors
Anxiety
Tachycardia
Alcoholic hallucinosis: This is a distinct condition that is characterized by visual hallucinations 12-48 hours after the patient's last drink.
History Of Present Illness

Common scenario: can include the hospitalized alcoholic patient who si no longer able to drink.
Onset: this withdrawal syndrome will peak 2-4 days after the patient's last drink.
CLINICAL WORKUP
This is typically a clinical diagnosis that does not have its own workup. Patients are treated for suspected DTs given how sever of a condition it is.
HOW DO WE TREAT IT? 
Benzodiazepines are sued to treat this condition (due to their GABA-ergic properties).
HOW WELL DO THE PATIENTS DO?
Even when treated DTs carry a 10-15% mortality.
WAS THERE A WAY TO PREVENT IT? 
Avoiding an abrupt halting of alcohol intake can prevent this from occurring. Alcoholics should never quite "cold turkey"
Using benzodiazepine mediations prophylactically in patients who are at risk for developing DTs can prevent it from occurring.
TIPS FOR STANDARDIZED EXAMS
Alcohol and benzodiazepines tend to produce the same kind of effect in withdrawal (disinhibition/hypertension) that cocaine/amphetamines/stimulants do in intoxication.  The opposite is true as well—alcohol/benzo intoxication looks like cocaine/speed/stimulant withdrawal (lethargy/depression/hypersomnia)
FURTHER READING
Page Updated: 07.30.2016