WHAT IS IT?
Diphenhydramine (Benadryl) is a first generation antihistamine medication. It works by reversibly blocking H1-histamine receptors. This medication also has anti-cholinergic activity.
WHEN DO WE USE IT?
General: Allergies, anaphylaxis, motion sickness, sleep aid
Acute dystonia: anticholinergic medications like this one are used to treat acute dystonia.
WHEN DO WE AVOID USING IT?
In older patients due to its anticholinergic activity.
HOW IS IT ADMINISTERED?
This medication can be administered orally, IV, or by IM injection.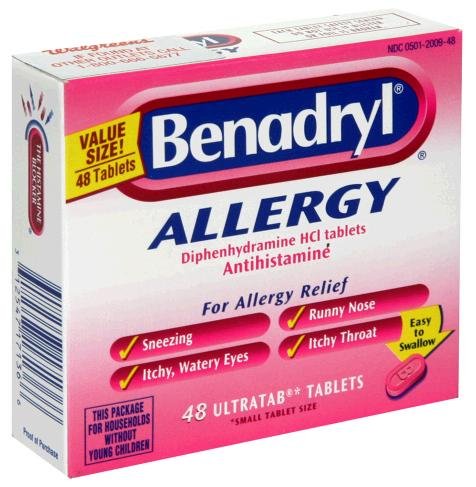 WHAT ARE THE SIDE EFFECTS/TOXICITY?
Sedation
ANYTHING ELSE TO KEEP IN MIND?
First generation anti-histamines names contain "-en/-ine" or "-en/-ate."
FURTHER READING
Page Updated: 07.30.2016