WHAT IS IT?
Toxoplasma gondii is a infectious and parasitic protist that can infect macrophages of the host.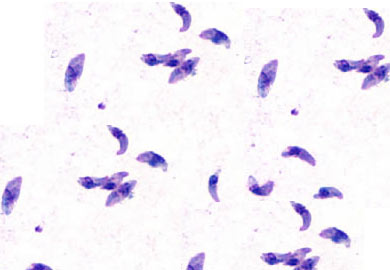 TRANSMISSION
This protist is orally ingested in the following ways;
Oocysts that are found in

cat feces

Cysts that are present in

undercooked meat

(such as pork or lamb)
Transplacental transmission occurs from a pregnant mother to her fetus.
CONDITIONS CAUSED
Primary infection: flulike illness with lymphadenopathy
Congenital: congenital toxoplasmosis (triad of hydrocephalus, intracranial calcifications, chorioretinitis)
Immunocompromised: toxoplasmosis (reactivation)
TREATMENT
Sulfadiazine + pyrimethamine is used to treat infection with this pathogen
OTHER HY FACTS
In pregnant mothers the highest risk of exposure occurs at 10–24 weeks' gestation.
Page Updated: 07.23.2016