WHAT IS IT?
Hepatits B refers to a inflammation of the liver that is caused by a viral infection.
WHAT CAUSES IT?
The hepatitis B virus (HBV) is ultimately responsible for this condition. This virus can be transmitted parenterally/sexually:
During childbirth (mother to child)
Unprotected intercourse (partner to partner)
IV drug use (user to user)
WHY IS IT A PROBLEM?
HBV preferentially infects the hepatocytes of the liver leading to their damage (and subsequent inflammation of the liver). This can ultimately result in fibrosis of the liver (cirrhosis), and the impaired ability of the liver to conduct its usually physiological tasks (such as conjugating bilirubin). Furthermore, HBV infection increases the risk for hepatocellular carcinoma.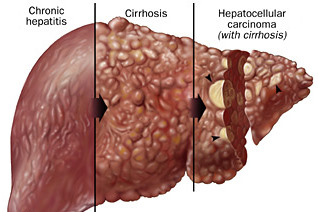 WHAT MAKES US SUSPECT IT?
Risk factors
High risk sexual practices (multiple partners/no protection), IV drug use, born to mother with hepatitis B infection
Initial Presentation: HBV infection is often asymptomatic. If symptoms do present they usually occur 2-3 months after primary exposure.
Common Chief Complaints: 
Fatigue
Loss of appetite 
Abdominal pain in the right upper quadrant
Physical Exam Findings
General appearance: 
Jaundice can be appreciated
HEENT exam: 
Scleral icterus may be seen before jaundiced skin is noticed.
Abdominal exam: 
Hepatosplenomegaly might be appreciated in patients with active hepatitis.
Signs of portal hypertension: spider angioma, caput medusa, ascites
Neurological exam: 
Mental status changes/delirium can be a result of hepatic encephalopathy secondary to liver cirrhosis (that can be caused by chronic hepatitis B infection).
Asterixis might be present in patients with hepatic encephalopathy
HOW DO WE CONFIRM A DIAGNOSIS?
Liver function tests (LFTs) can show:
Elevated liver function enzymes. Typically ALT is more elevated then AST in viral hepatitis.
Elevated bilirubin 
Serology studies can be used to:
Assess for the presence of viral hepatitis B antigens
Look for the presence of antibodies against the hepatitis B virus
Ultrasound of the liver can show signs of liver cirrhosis in patients.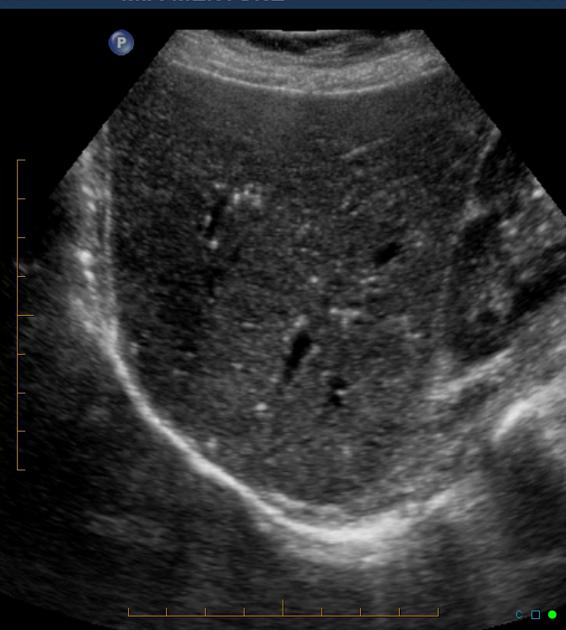 Viral PCR can detect the presence of the HBV genome in the patient. This is the most sensitive and specific way to assess if a patient is currently infected (and also to assess for the patient's "viral load").
**Look to this guide to testing for hepatitis B for a more detailed explanation on how testing can be done for hepatitis B**
HOW DO WE TREAT IT? 
Interferon-alpha (IFN-α) is used to treat chronic HBV infection.
Lamivudine can also be used to treat chronic hepatitis B
HOW WELL DO THE PATIENTS DO?
Most patients with infection will not develop sequelae: this this in mind ~5-10% of patients will develop chronic hepatitis that may progress to liver cirrhosis.
WAS THERE A WAY TO PREVENT IT?
Hepatitis B Vaccine: this is a 3 part vaccine series that is given at 0,1, and 6 months typically (usually first dose is given at birth).
Post-exposure prophylaxis: Hepatitis B immunoglobulin (HBIg) is given after exposure. This includes cases such as a needle-stick injury from an infected patient, or to a newborn of infected mothers. The first inoculation of the vaccine also is given concurrently.
Life style changes may also help prevent HBV transmission.
WHAT ELSE ARE WE WORRIED ABOUT?
Liver cirrhosis can be the end result of chronic HBV infection.
Portal hypertension can be the consequence of liver cirrhosis.
Hepatocellular carcinoma (HCC) can be associated with liver cirrhosis (which can be caused by hepatitis B infection)
Less common disease associations: 
Polyarteritis nodosa is a medium vessel vasculitis that is associated with seropositivity for hepatitis B.
Membraneous glomerulonephritis can also be caused by hepatitis B infection.
Aplastic anemia can be the result of HBV infection
OTHER HY FACTS?
Hepatitis B is much more infectious then HIV
Hepatitis D virus requires the presence of replicating hepatitis B virus to infect the human body.
HBV is a Hepadnaviridae virus that has the following characteristics:
Icosahedral capsid
Enveloped
Double stranded circular DNA
FURTHER READING
Page Updated: 07.22.2016