WHAT IS IT?
Essential tremor (ET) is a movement disorder that is characterized by a high frequency tremor.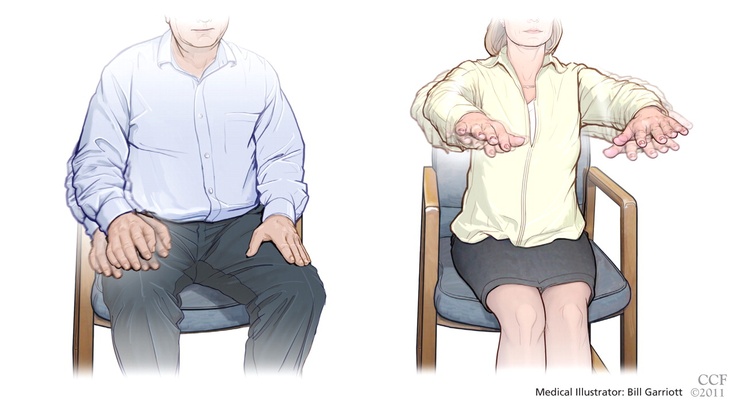 WHAT CAUSES IT?
This condition has a mysterious etiology (its cause is unknown). It does NOT arise form any disease or medication.
WHY IS IT A PROBLEM?
While this condition is not dangerous, an essential tremor can negatively impact the quality of the patient's life.
WHAT MAKES US SUSPECT IT?
Risk factors
Family history of ET
Initial Presentation
Common Chief Complaints:
Tremor of the hands, legs, and/or face (often bilateral)
Isolated tremor of the head is a possible presentation.
History Of Present Illness
Disease course: this condition may occur at any age and generally is slowly progressive.
Tremor is improved by:
Rest: patients are not tremulous when they are resting
Alcohol: patients may often self medicate with alcohol (which decreases tremor amplitude)

Tremor is worsened by:
Sustained postures: such as outstretching the arms
During periods of anxiety
Physical Exam Findings
Tremor that is postural in nature (worsens when the arms are outstretched. The tremor can also affect the voice of the patient.
HOW DO WE CONFIRM A DIAGNOSIS?
This condition usually is diagnosed clinically from the exam/history: generally speaking (while many different criteria exist) the diagnosis is made in the absence of any neurological signs/other probably causes of tremor in the patient (i.e. tremor causing diseases/medications). It often is a diagnosis of exclusion.
HOW DO WE RULE OTHER DIAGNOSES OUT?
Parkinson disease is an important diagnosis to rule out in people presenting with a tremor. The tremor in Parkinson disease is different then ET in that it is a resting tremor, often is unilateral, and responds to dopaminergic medications.
HOW DO WE TREAT IT?
Beta-blockers are used to treat ET with propranolol being the classically used medication.
Barbiturates are also used in treating this condition, and primidone is the commonly used medication.
HOW WELL DO THE PATIENTS DO?
This is not a dangerous condition.
WAS THERE A WAY TO PREVENT IT?
N/A
WHAT ELSE ARE WE WORRIED ABOUT?
Hearing impairment is more common in patients with ET (compared to patients with Parkinson disease, source).
OTHER HY FACTS?
This is the most common cause of a postural tremor.
FURTHER READING
Page Updated: 07.21.2016