WHAT IS IT?
Subacute combined degeneration (Lichtheim disease) refers to a condition that is characterized by the demyelination of the dorsal columns, corticospinal tracts, and spinocerebellar tracts.
WHAT CAUSES IT?
This particular condition is caused by vitamin B12 (cobalamin) deficiency. The lack of vitamin B12 in some way seems to impair/result in the decrease of myelin.
WHY IS IT A PROBLEM?
The nerves of the dorsal columns, corticospinal tracts, and spinocerebellar tracks can become demyleniated. The location of this demyelination (occurs in a patchy random distribution in this disease) will dictate the patter of symptoms seen (including personality changes, weakness, sensory loss). This condition becomes most problematic when it is not treated and the patient develops irreversible nerve damage.
WHAT MAKES US SUSPECT IT?
Risk factors
Alcohol abuse, pernicious anemia
Initial Presentation
Common Chief Complaints:
Paresthesias/tingling/numbness can be felt in the legs, arms, and trunk
Weakness/paresis can occur in the legs, arms, and trunk
Vision loss 
Bladder/bowel dysfunction 
Associated Symptoms:
Personality changes such as dementia, psychosis, and memory loss may also occur
Fatigue secondary to the anemia caused by vitamin B12 deficiency.
Sore tongue  
Physical Exam Findings
HEENT exam can show glossitis
Motor exam can show
Weakness in the upper and lower extremities.
Spasticity
Sensory exam can demonstrate:
Impaired vibration and position sense
Loss of fine touch sensation
Can have stocking-glove pattern.
Reflex exam can be notable for:
Hyperreflexia OR hyporefflexia is possible
Babinski sign
Gait ataxia can be observed
Romberg test can be positive (due to damage of the dorsal columns which results in tabes dorsalis)
HOW DO WE CONFIRM A DIAGNOSIS?
**Important to realize that this should be a diagnosis of exclusion! The below diagnostic testing is for vitamin B12 deficiency  however this does not definitively PROVE the neurological symptoms outlined above are caused by this deficiency**
Complete blood count can reveal a macrocytic anemia (due to vitamin B12 deficiency)
Blood smear will also show megaloblastic anemia and hyperhsegmented neutrophils (more then 5 lobes)
Serum studies can reveal:
Increased serum homocysteine and methylmalonic acid levels these will rise before serum B12 is decreased
Decreased serum vitamin B12/cobalam (ALTHOUGH SOMETIMES SERUM B12 IS NORAML!)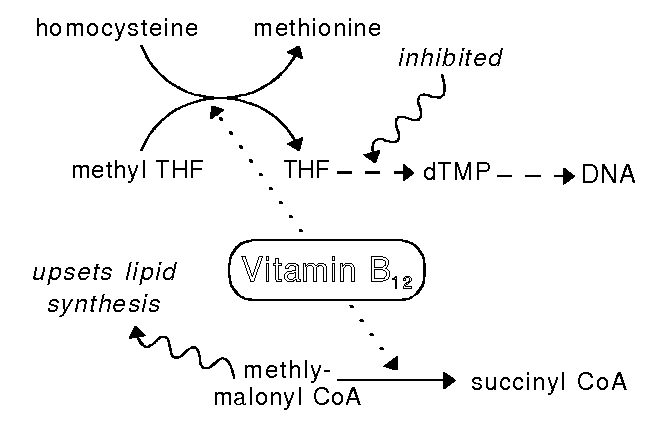 Bone marrow aspirates (if performed) can show the presence of megaloblastic cells.
Magnetic Resonance Imaging (MRI) can show findings of increased T2-weieghted signal intensity in the spine.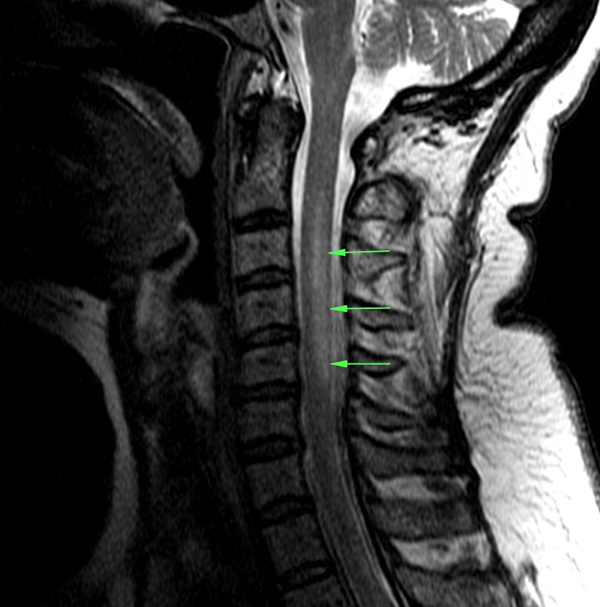 HOW DO WE RULE OTHER DIAGNOSES OUT?
Methylmalonic acid levels can help distinguish between folate and vitamin B12 deficiencies (both will have elevated homocysteine, but only vitamin B12 causes increased methylmalonic acid levels.
HOW DO WE TREAT IT? 
Replenish vitamin B12 levels: 
Vitamin B12 injections 
Large oral doses of vitamin B12
HOW WELL DO THE PATIENTS DO?
This will depend on how quickly this deficiency is detected and corrected. It can cause irreversible damage if left untreated.
WAS THERE A WAY TO PREVENT IT? 
In patients with both b12 and folate deficiencies correcting the B12 levels first will avoid precipitating this condition.
Proper diet/vitamin supplementation can help prevent this condition in certain cases (that are caused by a lack of ingesting vitamin B12)
WHAT ELSE ARE WE WORRIED ABOUT?
Pernicious anemia can be the cause of this vitamin deficiency. Testing for parity cell antibody's can help diagnosis this condition. The Schilling test is a test of vitamin B12 absorption that can also be used to try and diagnose pernicious anemia.
Irreversible neurological damage if this condition is allowed to progress long enough.
Macrocytic, megaloblastic anemia is a result of vitamin B12 deficiency.
OTHER HY FACTS?
Methylmalonic acid is only elevated in cobalamin deficiency.
ARCHIVE OF STANDARDIZED EXAM QUESTIONS 
This archive compiles standardized exam questions that relate to this topic.
FURTHER READING
Page Updated: 07.18.2016