WHAT IS IT?
Glaucoma refers an eye disease that causes damage to the optic nerve because of increased pressure in the eye (increased intraocular pressure). Closed-angle glaucoma/angle-closure glaucoma is a specific type of glaucoma where the pressure/aqueous fluid is built up BEHIND the iris. It is not to be confused with open-angle glaucoma (which is much more common).
Closed-angle glaucoma can either occur acutely (MEDICAL EMERGENCY!!!) or be a chronic disease process that progresses over time.
WHAT CAUSES IT?
Increased intraocular pressure BEHIND the iris is ultimately the cause of this condition: It is thought that enlargement/forward movement movement of lens against the central iris (pupil margin) leads to the obstruction of normal aqueous flow through the pupil. This ultimately leads to the accumulation of fluid behind the iris, which in turn, pushes the peripheral iris aghast the cornea. This then will impede the flow of aqueous fluid through he trabecular network. This processes can be incited by:
Medications such as atropine (muscarinic antagonist) by causing mydriasis (acute angle closure).
Hypoxia from retinal disease (such as diabetes mellitus or vein occlusion) can induce vasoproliferation in the iris that will contract the angle/impede fluid outflow.
WHY IS IT A PROBLEM?
This increased pressure within the eye will lead to optic disk atrophy, that is marked by cupping (thinning of the outer rim of the optic nerve head). The ultimate end result of this is progressive perisperhal visual field loss.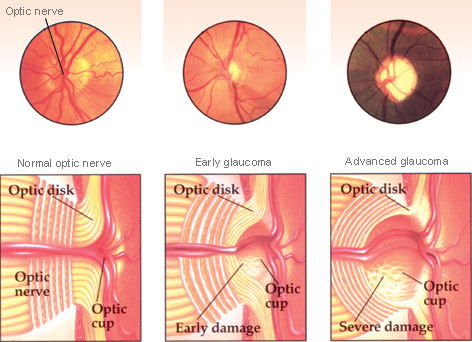 WHAT MAKES US SUSPECT IT?
Risk factors
Older age, asian ethnicity, pupillary dilation (prolonged time in dark, stress, medications that dilate), anterior uveitis, lends dislocation, Sturge-Weber syndrome
Initial Presentation
Acute angle-closure:
Sudden vision loss/blurry vision that is painful.
Halos seen around lights
Frontal headache that might be accompanied by nausea/vomiting
Typically unilateral: it is unlikely that both eyes would have an acute closure at the same time.
Chronic angle-closure:
Vision loss (peripheral) that is chronic and progressive.
History Of Present Illness
Halos around lights may be seen by patients experience acute angle-closure glaucoma.
Physical Exam Findings
Acute angle-closure:
Red eye
Firm (rock-hard eye)
Tender eye
Pupil dilated and non-reactive to light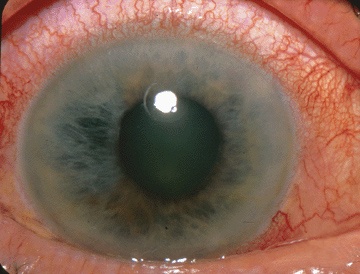 Chronic angle-closure:
Eye exam can demonstrate visual field defects
Fundoscopy can show an increased cup-to-disk ratio when looking a the optic disk (i.e. optic disk cupping).
HOW DO WE CONFIRM A DIAGNOSIS?
Tonometry can be used to measure the intra-oclualr pressure (which is increased in glaucoma).
Visual field testing (non-acute setting) can be done (typically by an eye specialist) that is much better then the clinical exam at characterizing extend of visual field loss.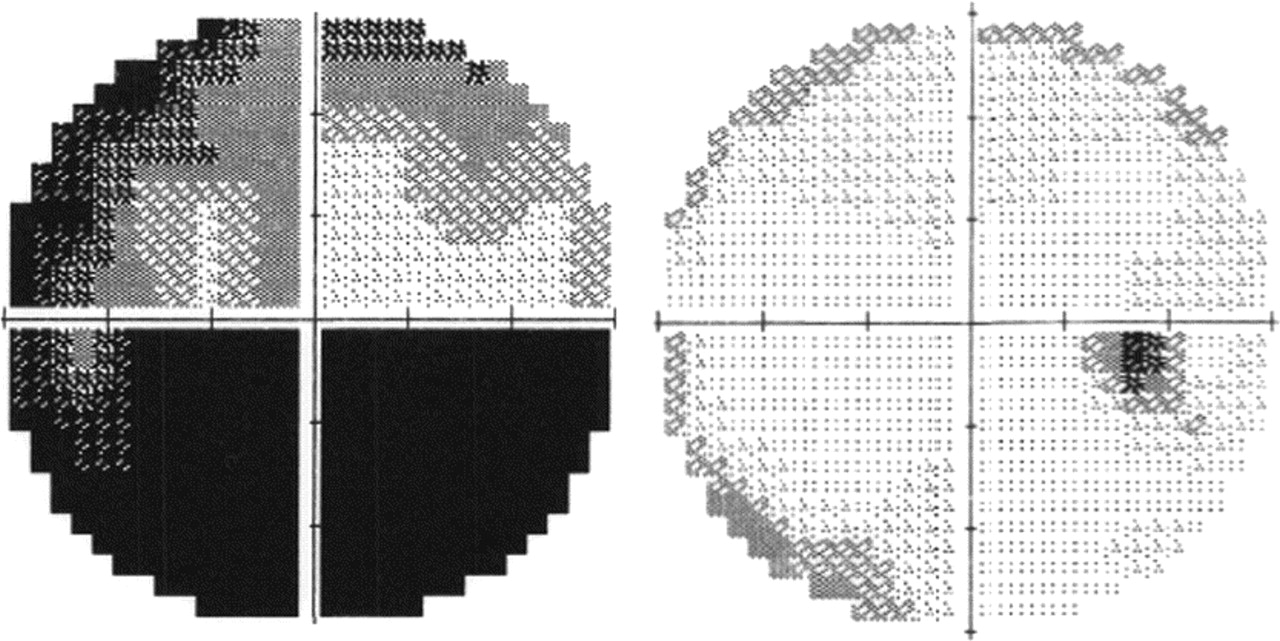 HOW DO WE TREAT IT?
Therapeutic goal is to decrease intra-ocular pressure by either decreasing about of aqueous humor production, or by increasing its drainage. This can be done in a number of ways.
Beta-blockers:
Timolol is used to decrease secretion of aqueous humors
Carbonic anhydrase inhibitors:
Acetazolamide can decrease aqueous humor synthesis via its inhibition of carbonic anhydrase.
Cholinomimetic agents:
Charbachol constricts the pupil and releives intraocular pressure in glaucoma (it is essentially a carbon copy of acetylcholine)
Pilocarpine (emergencies) constricts ciliary muscles of the eye (open-angle glaucoma) and pupillary sphincter (closed-angle glaucoma). It is resistant to acetylcholinesterases.
Prostaglandins:
Latanoprost can increase outflow of aqueous humor
*Don't give alpha agonists (i.e. epinephrine) in closed-angle glaucoma because of its mydriatic effect
If medical management fails surgery may be required:
Laser iridotomy is curative for this condition.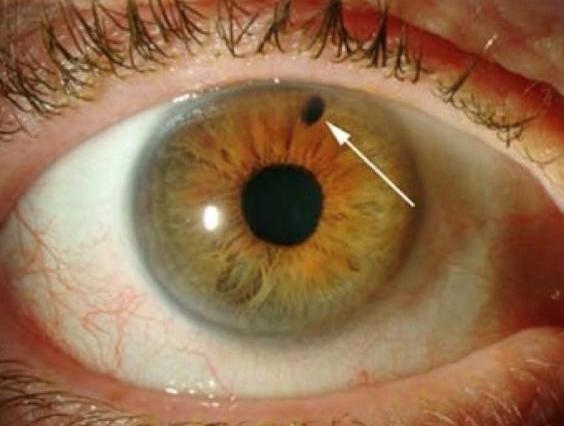 Other surgical options include:
Iridectomy
Canaloplasty
Trabeculectomy
Trabeculoplasty
HOW WELL DO THE PATIENTS DO?
Acute angle-closure is a medical emergency. Patient prognosis depends on the speed at which it is diagnosed and the pressure in the eye is decreased.
WAS THERE A WAY TO PREVENT IT?
Avoiding situations/medications that tonically dilate the eyes might help in the prevention of this condition.
WHAT ELSE ARE WE WORRIED ABOUT?
Permanent blindness in the affected eye(s) is very possible especially in the setting of the acute angle-closure.
ARCHIVE OF STANDARDIZED EXAM QUESTIONS
This archive compiles standardized exam questions that relate to this topic.
FURTHER READING
Page Updated: 07.16.2016