WHAT IS IT?
Bulimia nervosa is an eating disorder that is characterized by binge eating with recurrent compensatory mechanisms (which include: self induced vomiting, overuse of laxatives/diuretics, excessive exercise, and fasting). Thought to be caused by issues with mood and self control.
WHY IS IT A PROBLEM?
Repeated vomiting can cause a variety of medical problems (some of which can be detected on the physical examination).
WHAT MAKES US SUSPECT IT?
Risk factors: adolescent girls
Chief complaint: often patients will not complain directly of of eating disorders, but instead will complain of (source):
bloating
fatigue
constipation
abdominal pain
swelling of hands or feet
Russell sign: callouses on the knuckles may be found on patients who repeatedly stick their fingers in their mouths to induce vomit.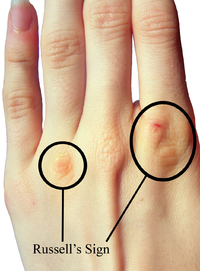 Parotitis: inflammation of the parotid gland is often associated with bulimia (repeated vomiting).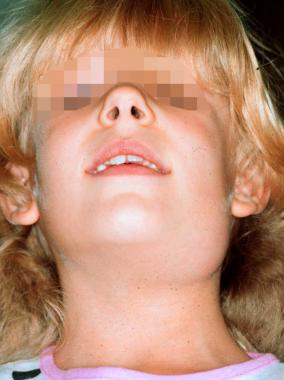 Enamel erosion: repeated vomiting will commonly erode the enamel from the patient's teeth.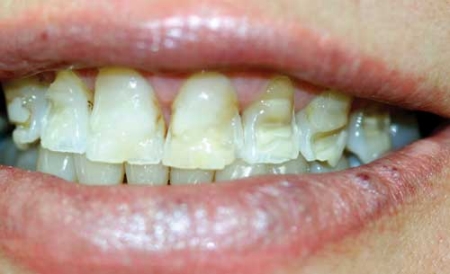 *Body weight is often maintained within normal range
HOW DO WE CONFIRM A DIAGNOSIS?
Diagnosis is based on history of recurrent episodes of binge eating and compensatory behaviors (usually going on longer than 3 months)
HOW DO WE RULE OUT OTHER DIAGNOSIS?
Bulimia nervosa can be distinguished from binge eating disorder by the presence of compensatory behaviors. Those with binge eating disorder do not attempt any compensatory behaviors.
HOW DO WE TREAT IT?
Cognitive Based Therapy (CBT): this is a form of behavioral therapy that is designed to give the patient tools/strategies to address their current problems (i.e. coping strategies, reconditioning though processes, etc).
Selective seretonin re-uptake inhibitors (SSRIs): these medications inhibit the re-uptake of serotonin in the neural cleft, resulting in increased serotonin signaling. Given the association with mood/self control SSRIs can be helpful for some patients. Fluoxetine is often considered the drug of choice.
HOW WELL DO THE PATIENTS DO?
Most women with bulimia will eventually have resolution of symptoms (source)
WAS THERE A WAY TO PREVENT IT?
Limited evidence supporting the usage of prevention programs in adolescents, however proper screening can be an important first step in making sure patients receive appropriate support:
SCOFF acronym may be useful for screening for eating disorders: 2 or more positive questions suggest an eating disorder.
1.) Do you make yourself Sick because you feel uncomfortably full?
2.) Do you worry you have lost Control over how much you eat?
3.) Have you recently lost Over 10 lbs in a 3 month period (original description was One stone = 14 lbs = 6.3 kg)?
4.) Do you believe yourself to be Fat when others say you are too thin?
5.) Would you say that Food dominates your life?
WHAT ELSE ARE WE WORRIED ABOUT?
Electrolyte disturbances: such as alkalosis can commonly become an issue in patients that repeatedly vomit (and expel acidic components).
Mallory-Weiss Syndrome: longitudinal laceration of the mucosa at the gastroesophageal junction which presents with painful vomiting of blood. Caused by repeated vomiting.
OTHER HY FACTS?
Technically speaking there are both purging and non purging forms of the disease (not all patients with bulimia purge).
If patients ever drop 15% below normal body weight, the diagnosis is changed to anorexia.
Bulimic patients do not have amenorrhea
Page Updated: 12.13.15