WHAT IS IT? 
Anorexia nervosa is a condition that is characterized by excessive dieting that can also be associated with purging. This condition is most directly caused by a fear of gaining weight combined with body image distortion.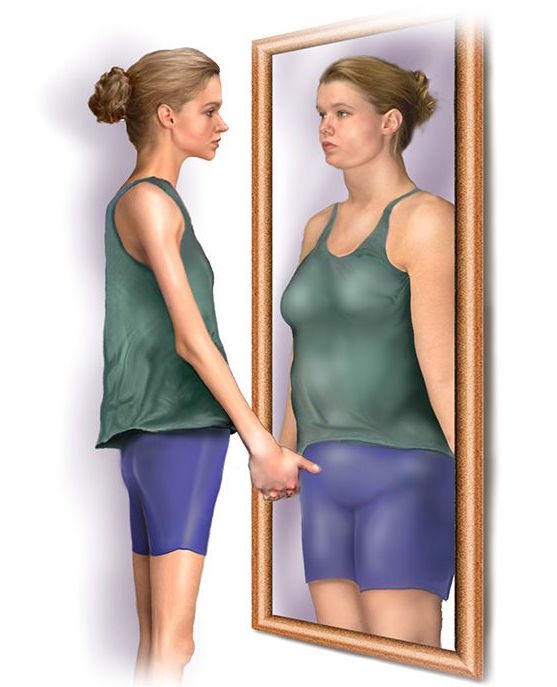 WHY IS IT A PROBLEM?
Patents whose fear of gaining weight leads them to excessvie dieting that can impair a wide variety of physiological processes. Lack of nutrient intake is the central cause of issues experienced by anorexic patients.
WHAT MAKES US SUSPECT IT?
Risk factors: adolescent females, compulsive exercise, social isolation
Presentation: dry skin, fine body hair (lanugo), eroded teeth (from purging), low blood pressure, slow heart-rate
Russell sign: callouses on the knuckles may be found on patients who repeatedly stick their fingers in their mouths to induce vomit.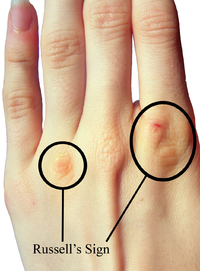 Metatarsal stress fractures: a lack of proper nutrition can cause decreased bone density leading to an increased incidence of fractures (specifically of the metatarsals).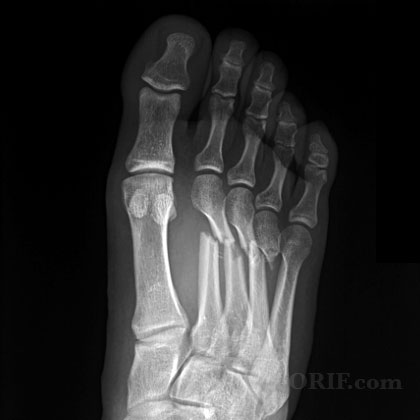 BMI: suspect anorexia in patients with a BMI less than 18.5.
Amenorrhea: patients may also have abnormal menstrual patterns.
HOW DO WE CONFIRM A DIAGNOSIS?
DSM criteria for diagnosis: 
Body weight less than 15% of expected (typically a BMI < 18.5 is used as a cutoff)
Intense fear of gaining weight (in light of being underweight)
Misinterpretation of self body image/denial of seriousness of body weight issue.
Absence of 3 consecutive menstrual cycles (in females)
*This criteria may not be effective in diagnosing anorexia nervosa in children (source)
HOW DO WE TREAT IT? 
*Consider hospitalization if body weight under 75-85% of ideal body weight.
Psychotherapy, nutritional counseling, and nutritional rehabilitation are treatment options for patients. 
*No clear evidence supporting the usage of medication to treat anorexia
HOW WELL DO THE PATIENTS DO?
Anorexia is often treatment resistant, however patients often do recover (source)
WAS THERE A WAY TO PREVENT IT? 
Limited evidence supporting the usage of prevention programs in adolescents, however proper screening can be an important first step in making sure patients receive appropriate support:
SCOFF acronym may be useful for screening for eating disorders: 2 or more positive questions suggest an eating disorder.
1.) Do you make yourself Sick because you feel uncomfortably full?
2.) Do you worry you have lost Control over how much you eat?
3.) Have you recently lost Over 10 lbs in a 3 month period (original description was One stone = 14 lbs = 6.3 kg)?
4.) Do you believe yourself to be Fat when others say you are too thin?
5.) Would you say that Food dominates your life?
WHAT ELSE ARE WE WORRIED ABOUT? 
Refeeding syndrome: in severely malnourished patients, hypophosphatemia can be caused by re-feeding patients too quickly.
Depression: patients with anorexia are at high risk for depression as well ass suicide.
Osteoporosis: malnutrition often channeled these patents to develop osteoporosis.
Excessive exercise: patients commonly will exercise excessively given the fear of excessive weight gain.
Heart complications: electrolyte abnormalities can be caused by unhealthy dieting that ultimately can lead to QT prolognation and arrhythmias.
OTHER HY FACTS?
Amphetamine intoxication can cause anorexia
Page Updated: 12.13.15