WHAT IS IT?
Cauda equina syndrome refers to the compression of multiple lumbosacral nerve roots in the cauda equina (generally at L4, L5, or S1).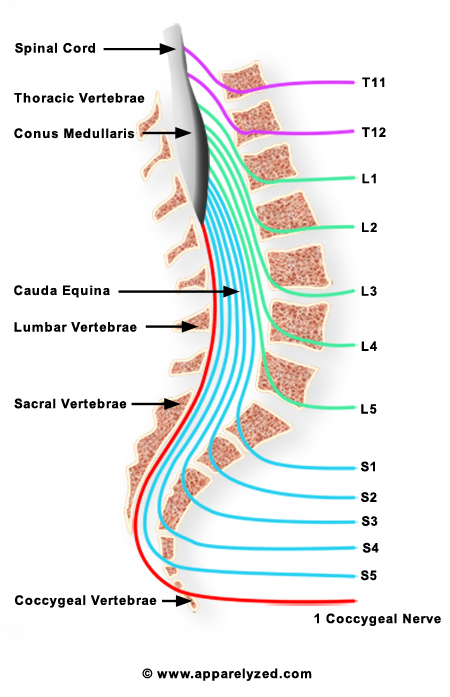 WHAT CAUSES IT
Mass occupying disease processes: disk herniations (central/centrolateral disk herniation most common), epidural hematoma, malignancy, epidural abscess
Other: lumbar spinal stenosis, infections (meningitis, tuberculosis, cytomegalovirus (CMV), iatrogenic (post surgical complications), trauma
WHY IS IT A PROBLEM?
As these nerves are compressed they can become damaged (leading to presentation outlined below). If this condition is not surgically corrected quickly, this nerve damage can be irreversible.
WHAT MAKES US SUSPECT IT?
Risk Factors:
Trauma to the lumbar spine
Initial Presentation:
Chief complaints can include:
Lower back pain
Unilateral/bilateral sciatica
Impotence
Associated symptoms can include:
Urinary retention/overflow
Bladder/bowel incontinence
Physical Exam:
Weakness can be detected in the lower extremities (usually asymetical)
Loss of sensation (saddle anesthesia) in the area of the buttocks, perineum and inner surfaces of the thighs. This generally involves all sensory modalities.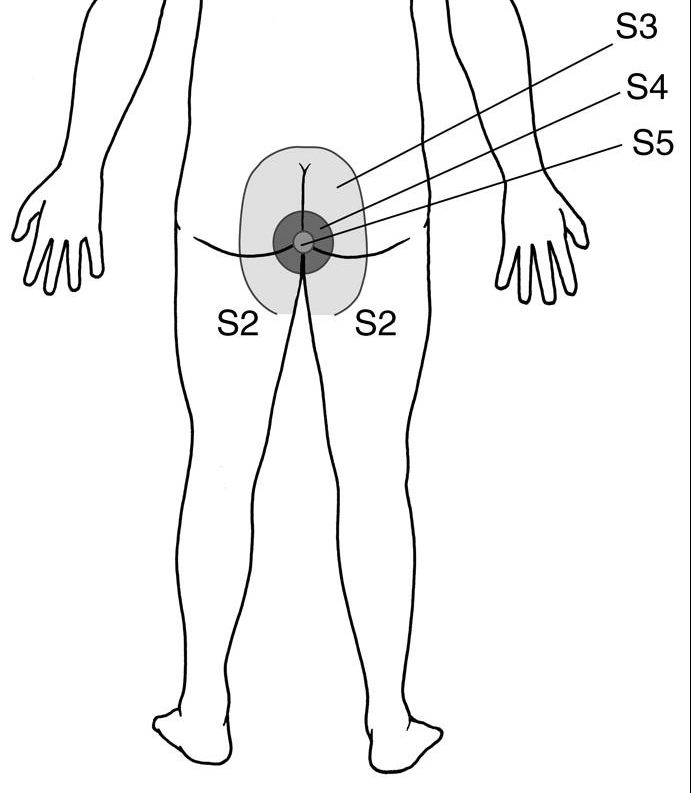 Decreased or absent reflexes: patellar and ankle reflexes are affected.
Heel (L5, some L4) and toe (S1) walking can be impaired in some patients with cauda equina syndrome.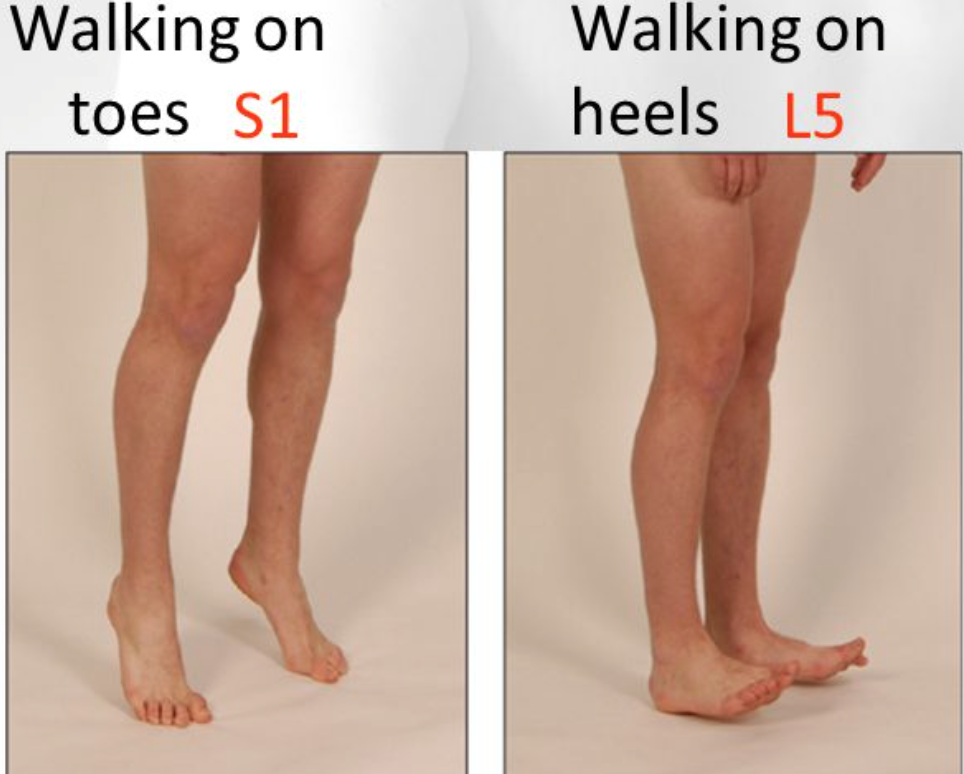 Distended bladder may be present due to urinary retention.
Rectal exam can real decreased anal sphincter tone.
HOW DO WE CONFIRM A DIAGNOSIS?
MRI can show the pathological cause of this syndrome.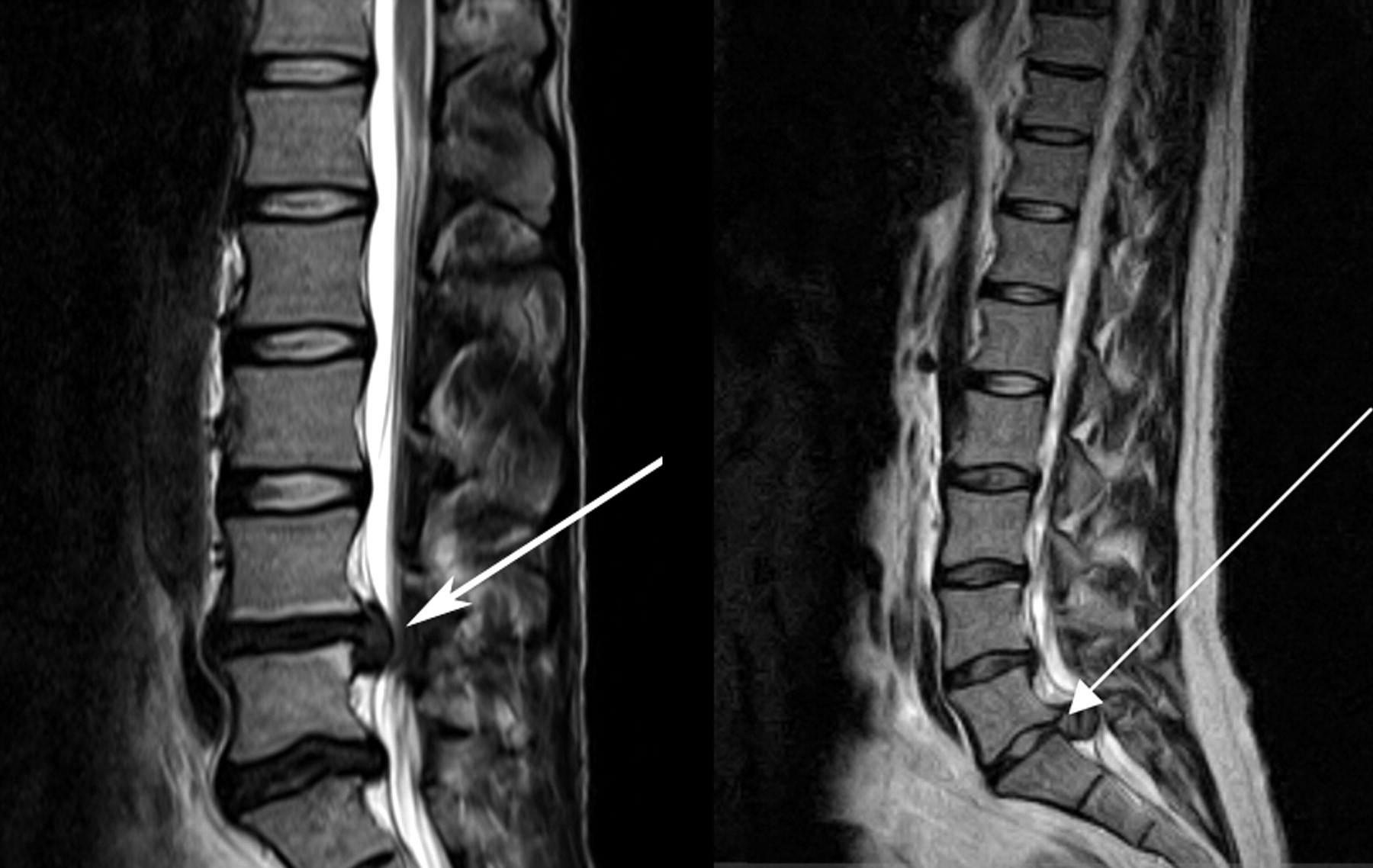 HOW DO WE RULE OTHER DIAGNOSES OUT?
MRI generally will help give perspective on what the cause of this condone is.
HOW DO WE TREAT IT?
Surgical decompression can help prevent permanent neurological deficits. Exact methodology depends on etiology of the condition (i.e. discectomy for a herniated disk)
HOW WELL DO THE PATIENTS DO?
This condition is a surgical emergency. If it is not addressed quickly irreversible nerve damage can occur.
WAS THERE A WAY TO PREVENT IT?
Avoiding unnecessary trauma to the lumbar spine can prevent this condition in certain cases (but is not always practical as accidental causes exist…)
WHAT ELSE ARE WE WORRIED ABOUT?
Permanent nerve damage is a huge concern for this condition. The many of the symptoms seen in the initial patient presentation may not be reversible if this condition is not corrected quickly.
OTHER HY FACTS?
Cauda equina means "horse's tail" in Latin.This is because the bundle of nerves that leave the spinal cord actually look like a (you guessed it…) horse's tail.
ARCHIVE OF STANDARDIZED QUESTIONS
This archive collects question examples of how this condition will appear on standardized exams.
FURTHER READING
Page Updated: 07.13.2016