WHAT IS IT?
Ankylosing spondylitis (AS) is a a chronic inflammatory disease of the spine/sacroiliac joints that leads to ankylosis (this is a stiff spine due to the fusion of joints).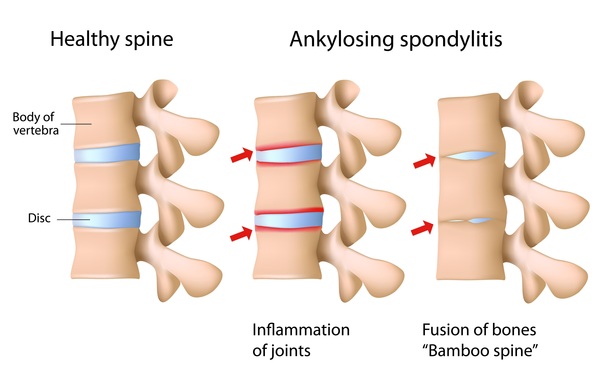 WHAT CAUSES IT?
It is thought that this disease is caused by inflammatory cells destroying cartilage and pannus formation.
WHY IS IT CONCERNING MEDICALLY?
The fusion of the spinal vertebrae will lead to back pain and limited mobility. Whats more this condition has extra-articular manifestations that can include:
Uveitis:
Aortitis: this inflammation can manifest as aortic regurgitation
Restrictive lung disease: structural restriction on the lungs can occur in severe ankylosing spondylitis.
that include uveitis and aortitis. The aortitis can lead to aortic regurgitation.
WHAT IS THE INTIAL PRESENTATION?
Patient Chief Complaints:
Detected Medical Problems:

WHAT ARE IMPORTANT ELEMENTS OF THE MEDICAL HISTORY?
Risk Factors:
Onset of backspin at a young age
Male Sex
Family history
HLA-B27
Medical History:
Back pain/stiffness is the typical chief complaint for this condition: Patients have limited mobility and their pain improves with exercise, is worse in the mornings or with inactivity, and is not releived by rest
WHAT ARE IMPORTANT FEATURES OF THE PHYSICAL EXAM?
Vital Signs:
HEENT Exam:
Uveitis can be observed in some patients with this condition.
Cardiovascular Exam:
Musculoskeletal Exam:
There will often be sacroiliac tenderness to palpation
Hip pain can also be present as well
CLINICAL WORKUP: SERUM STUDIES
ESR: this value will be elevated in patients
CRP: is typically elevated in patients with AS
Serum Serologies:
ANA: often negative
Rheumatoid factor: often negative
CLINICAL WORKUP: IMAGING
Spinal X-ray can show a straight "bamboo spine" where the vertebrae have fused together.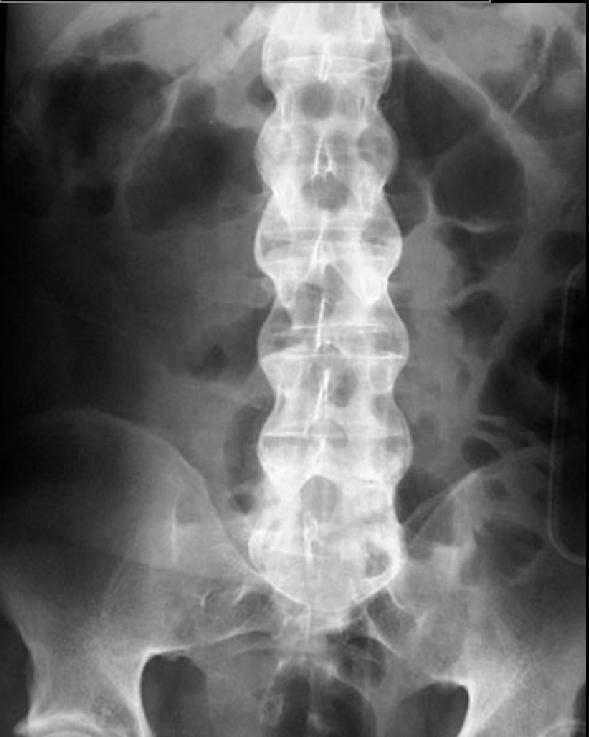 CLINICAL WORKUP: OTHER
HLA Typing:
Most all patients who have this condition are HLA-B27 positive.
HOW DO WE NARROW THE DIFFERENTIAL?
Conditions that present similarly and how to exclude them:
WHAT IS OUR THRESHOLD FOR DIAGNOSING THIS CONDITION?
PATIENT MANAGMENT: SYMPTOM RELEIF
Exercise can help improve posture and breathing.
NSAIDs (indomethacin) are typically first line for pain.
PATIENT MANAGEMENT: DISEASE TREATMENT
TNF inhibitors are traditionally used to treat this condition (for more refractory cases).
Adalimumab, Infliximab: these are therapeutic antibodies that target soluble TNF-α that can be used in this condition.
Etanercept is a fusion protein that inhibits TNF-α.
PATIENT MANAGEMENT: PROPHYLACTIC MEASURES
COULD THIS HAVE BEEN PREVENTED?
ARCHIVE OF STANDARDIZED EXAM QUESTIONS
This archive compiles standardized exam questions that relate to this topic.
Page Updated: 02.19.2017