WHAT IS IT?
Mycobacterium tuberculosis (TB) is a mycobacterium. These organisms (like all mycobacteria) are acid-fast organisms (and show up as pink rods).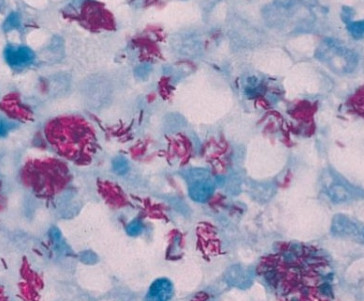 CULTURE CHARACTERISTICS
Löwenstein-Jensen agar is used to culture this pathogen.
Aerobic bacteria 
MOLECULAR CHARACTERISTICS
Mycelia acid is in the cell wall of these pathogens and prevents phagocytosis.
TRANSMISSION
Inhalation of aeriosoloized Mycobacterium tuberculosis
CONDITIONS CAUSED
Pulmonary tuberculosis, tuberculous meningitis, Pott disease (osteomyelitis of vertebrae)
TREATMENT
**TB is often resistant to multiple drugs**
Prophylaxis: Isoniazid
Medications for treating: Rifampin, Isoniazid, Pyrazinamide, Ethambutol
OTHER HY FACTS
Reactivation of TB has a tendency to occur at the apices of the ling because this is where there is the highest PO2.
This pathogen causes necrosis of tissues.
Page Updated: 07.12.2016