WHAT IS IT? 
Osteonecrosis/Avascular necrosis (AVN): is a bone degenerative condition that is caused by reduced blood flow to portions of the skeletal system (often times the hip/femoral head). Can often times be caused by chronic steroid use or alcohol usage, trauma/fracture that impairs blood flow.
WHY IS IT A PROBLEM?
The loss of blood flow to living bone will cause osteoclast cell death and necrosis which can lead to pain and a debilitating condition for the patient.
WHAT MAKES US SUSPECT IT?
Risk factors: chronic corticosteroid use, alcohol abuse, smoking, hip trauma.
Stage dictates symptoms: 
Early stages often asymptomatic
Initial presentation of more advanced stage presents with limited motor movement and pain in affected bone/joint
More throbbing pain that radiates to other portions of the body may be experienced in more advanced stages of AVN
HOW DO WE CONFIRM A DIAGNOSIS?
Plain X-rays: can be used to detect changes in advanced disease.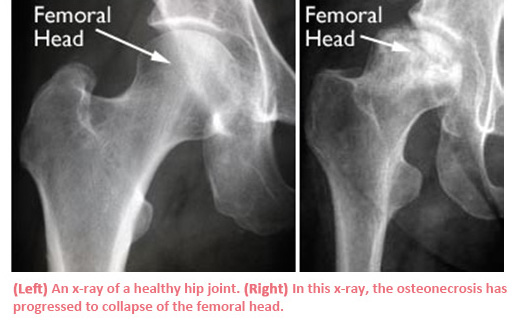 MRI: this imaging can be used to pick up disease that can't be visualized on X-ray (earlier stage disease).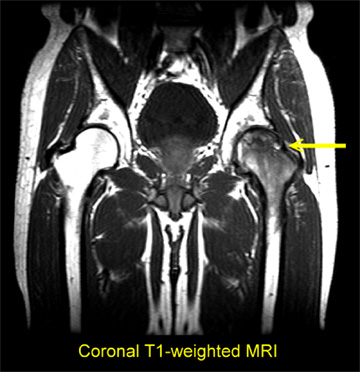 HOW DO WE TREAT IT? 
Core decompression surgery: removing the necrotic core from the patient and then (sometimes) replacing empty core with vascularized bone.
HOW WELL DO THE PATIENTS DO?
This will depend based upon the patient as well as the stage of the AVN. Typically prior to collapse of bones (such as the femoral head) some of the damage can be reversible.
WAS THERE A WAY TO PREVENT IT? 
Avoiding chronic corticosteroid use and alcohol abuse can prevent a large number of AVN events.
WHAT ELSE ARE WE WORRIED ABOUT? 
Fracture: damage to the bone can ultimately result in a fracture.
Osteoarthritis: can be caused by AVN
Sickle cell anemia: this can sometimes cause avascular necrosis so one should keep their eye open for symptoms of sick cell in patients presenting with AVN.
OTHER HY FACTS?
Bisphosphonates (used to treat osteoporosis) can cause osteonecrosis of the jaw.
Caisson disease/decompression sickness/the bends can cause AVN
Slipped capital femoral epiphysis (SCFE) if left untreated can put patients at risk for AVN of the femoral head.
ARCHIVE OF STANDARDIZED EXAM QUESTIONS 
This archive compiles standardized exam questions that relate to this topic.
Page Updated: 02.09.2017