WHAT IS IT?
Cytomegalovirus (CMV) is a human DNA virus (also called human herpesvirus-5/HHV-5).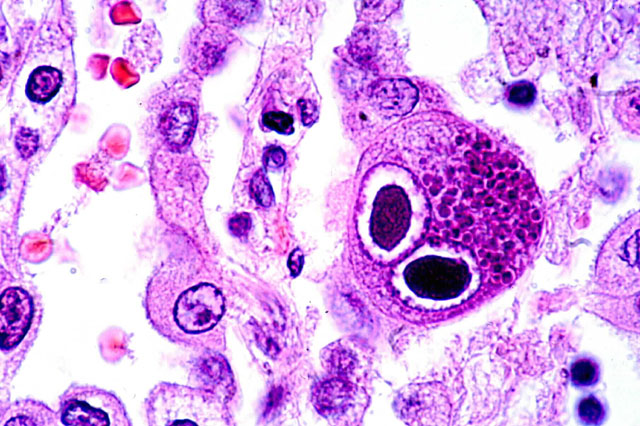 DIAGNOSIS
Giant cells (megalocytes) with the owl eye intranuclear inclusions can help aid in the diagnosis. These might be found in the tissues or urine.
Culture of buffy coat (WBC fraction) from whole blood can ultimately be diagnostic.
PCR can detect the presence of the virus in samples (such as blood)
TRANSMISSION
Transmitted through close contact: sexual contact, body fluids (including breast milk), organ transplant, transplacental
CONDITIONS CAUSED
**Most primary infections are asymptomatic, however the virus REACTIVATES when host is immunocompromised**
HEENT: infectious esophagitis (mononucleosis-like)
Respiratory: atypical pneumonia (seen in patients who are immunosuppressed post transplant)
AIDS patients: encephalitis (CD4 count below 50), retinitis, colitis, and viremia
Bone marrow transplant recipients: pneumonitis, colitis ,and viremia (no retinitis)
Intrauterine infection: this can cause fetal growth restriction.
Fetal infection (congenital CMV): microcephaly, deafness, seizures, hepatomegaly, purpuric rash ("blueberry muffin baby") and it is the leading viral cause of mental retardation.
TREATMENT
Ganciclovir or foscarnet
OTHER HY FACTS
Viral characteristics: icosahedral capsid, enveloped, double stranded linear DNA genome.
This virus crosses the placenta
Page Updated: 06.28.2016