WHAT IS IT?
Strongyloidiasis is a parasitic gastrointestinal disease caused by the nematode (roundworm/threadworm) Strongyloides stercoralis. 
WHY IS IT A PROBLEM?
The larvae in the soil penetrate the soles of bare feet and migrate to the lung, and then to the intestine when they are eventually coughed up and swallowed. Strongyloides are able to lay eggs and hatch directly into the intestine, further perpetuating the infection. Given these characteristics infection with this parasite can lead to a variety of clinical symptoms outlined below.
WHAT MAKES US SUSPECT IT?
Risk factors: travel/residence in tropical/subtropical regions of the world as well as the southeastern United States
Pruritic rash seen at the site of parasite entry
Pneumonitis given replication in the patient's lungs.
Chief complaints can include:
Diarrhea due to colonization of the intestines.
Vomiting is seen in some patients with this infection.
Epigastric pain that can mimic peptic ulcer disease.
Abdominal pain may also be present.
HOW DO WE CONFIRM A DIAGNOSIS?
Eosinophilia may be seen on CBC
Stool sample (O&P) can reveal the presence of larvae under microscopy.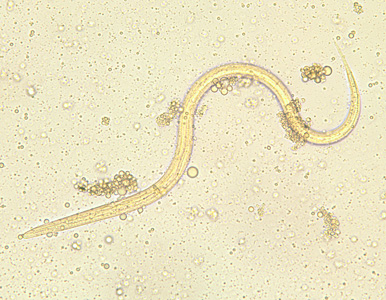 Serology can reveal the presence of antibodies against this parasite.
HOW DO WE TREAT IT?
Ivermectin or bendazoles  are commonly used to treat this condition.
HOW WELL DO THE PATIENTS DO?
This infection is generally mild and not life threatening.
WAS THERE A WAY TO PREVENT IT?
The larvae of this condition are found in the soil and will penetrate the skin of the soon to be host. Avoiding skin contact with contaminated soil can help prevent this infection from occurring.
WHAT ELSE ARE WE WORRIED ABOUT?
Dissemination of the parasite is a concerning possibility (especially in those who are immunocompromised). The migrating larvae may also carry the gut flora with them spreading bacteria throughout the blood stream.
Meningitis may be a (rare) complication of disseminated infection.
OTHER HY FACTS?
ARCHIVE OF STANDARDIZED EXAM QUESTIONS 
This archive compiles standardized exam questions that relate to this topic.
FURTHER READING
Page Updated: 06.25.2016