WHAT IS IT?
Haemophilus influenza is a gram negative cocobacillus bacterium.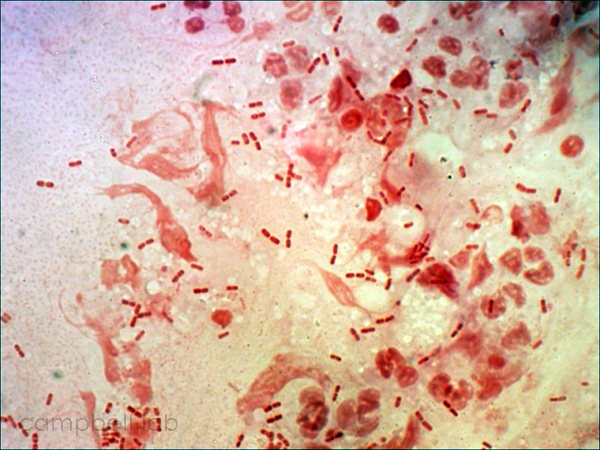 CULTURE CHARACTERISTICS
Facultative anaerobic bacteria
Requires factors V and X for culture.
MOLECULAR CHARACTERISTICS
Encapsulated organism: contains an antiphagocytic polysaccharid capsule (polyribosyl ribitol phosphate capsule).
TRANSMISSION
Direct contact, respiratory droplets
CONDITIONS CAUSED
HEENT: meningitis, epiglottitis, purulent conjunctivitis, otitis externa
Respiratory: secondary pneumonia, pneumonia exacerbated COPD, bronchopneumonia
TREATMENT
Ampicillin, Amoxicillin and second generation cephalosporins (Cefaclor)
Rifampin can be used as prophylaxis for HIB
OTHER HY FACTS
Haemophilus influenza type B (HIB) is often the pathogen that is thought to cause pneumonia/meningitis
A vaccine for HIB exists that has dramatically reduced its incidence. Conjugate vaccine.
Apslenic patients (such as those who have autosplenectomy in diseases such as sickle cell anemia) are predisposed to infection with encapsulated organisms such as HIB.
Page Updated: 06.18.2016