WHAT IS IT?
Endometrial cancer is a gynecological malignancy that involves the endometrium of the uterus. It is believed that estrogen signaling in the uterus (especially unopposed by progesterone) is a cause of endometrial cancer. This malignancy can progress form endometrial hyperplasia, but can also be sporadic. Adenocarcinoma is the most common type of endometrial cancer.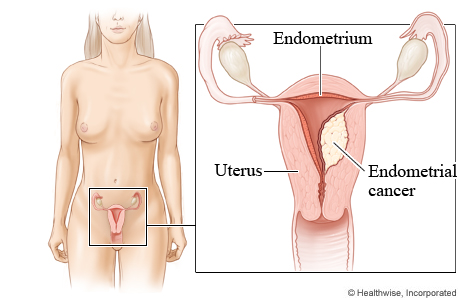 WHY IS IT A PROBLEM?
Endometrial cancer can be an aggressive disease that progresses rapidly.
WHAT MAKES US SUSPECT IT?
Risk factors: Lynch syndrome (HNPCC), tamoxifen usage, polycystic ovarian syndrome, estrogen usage, early menarche/late menopause, nulliparity, infertility with anovulatory cycles, and obesity.
Abnormal vaginal bleeding is a common presentation that can include post menopausal bleeding (PMB)
Other symptoms can include:
Abdominal/pelvic pain
Abdominal bloating/distention
Changes in bowel/bladder function
HOW DO WE CONFIRM A DIAGNOSIS?
Endometrial biopsy is eventually needed to confirm suspicions of endometrial cancer. Cancers derived form hyperplasia are endometrioid in appearance (endometrium-like) while sporadic cancers are often serous and is characterized by papillary structures with psammoma body formation.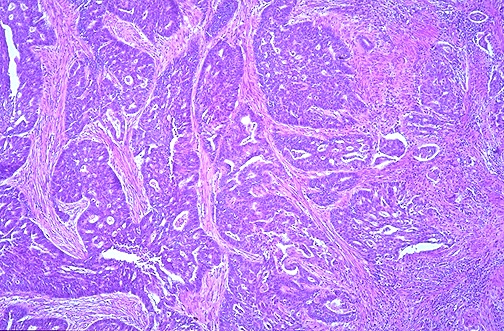 HOW DO WE TREAT IT?
Total abdominal hysterectomy and bilateral salpingo-oophorectomy is the usual primary treatment
HOW WELL DO THE PATIENTS DO?
This is a potentially life threatening condition. Patients have a better prognosis the earlier this disease is diagnosed.
WAS THERE A WAY TO PREVENT IT?
Oral contraceptives can be protective against endometrial cancer.
WHAT ELSE ARE WE WORRIED ABOUT?
Metastasis/spread of the disease is a concern.
OTHER HY FACTS?
Endometrial cancer is the most common gynecological malignancy in the US
p53 mutations are common in sporadic endometrial cancers
FURTHER READING
Page Updated: 06.18.2016