WHAT IS IT? 
Schizophrenia is a chronic mental disorder where patients experience psychotic episodes that last greater then 6 months in time. The timing of these psychotic episodes will dictate the terminology of the disease (brief psychotic disorder is <1 month in time, schizophreniform is 1-6 months).
WHAT CAUSES IT?
Traditionally this condition is has been thought to be caused by increased dopaminergic activity and decreased dendritic branching in the brain. More recently abnormal glutamate signaling has been implicated.
WHY IS IT A PROBLEM?
These types of neural signaling differences will cause behavioral changes (explained more below) that will severely affect the quality of life of the patient, and ultimately cause psychosis. A key component of schizophrenia is that it will impair the functioning of the patient.
WHAT MAKES US SUSPECT IT?
Risk Factors: 
Genetic predisposition, family history, history of cannabis use, born to a father older than 40
Initial Presentation: both patients/those close around them may comment/reveal some of the initial signs of schizophrenia.
Symptoms of psychosis: hallucinations, delusions, disorganized thoughts/behavior

hearing voices which are often critical or abusive (auditory hallucinations)

articulating strange beliefs (delusions)

disorganized speech and thought (thought disorder)

disorganized social behavior

social withdrawal and loss of will (negative symptoms)

flattened affect (negative symptoms) 
History Of Present Illness:
First signs: some of the first signs of schizophrenia (that those around the patient may notice) are:
Social withdrawal
Loss of will
Flattened affect
Hallucinations can be a very common symptom in schizophrenia. They can include various senses:
Auditory hallucinations:

these voices can be critical or abusive
Delusions: patients can have strange beliefs
Disorganization: both thoughts and behaviors can be disorganized in these patients.
Mental Status Exam: the following are some findings on a mental status exam that are consistent with the presentation of schizophrenia.
General: 
Poor grooming/hygiene
Inappropriate dress
Poor eyes contact
Motor disturbances (catatonia, stereotypy)
Mood: anxious, angry, apathetic
Affect: flattened, blunted, constricted
Thought process: tangential, circumstantial, loose associations
Thought content: delusions, hallucinations
Cognition: difficulty with abstraction (understanding metaphors)
Insight/judgement may be lacking
CLINICAL WORKUP
Serum studies: routinely checking patients for the following serum values is useful when suspecting schizophrenia (given that biological causes of psychosis should be ruled out)
Neuroimaging (CT/MRI) may be ordered to help rule out non psychiatric causes of psychosis. While patients with know schizophrenia are not indicated to have neuroimaging to help confirm this diagnosis, patients with schizophrenia often appear to have loss of cortical tissue volume (and ventricle enlargement). Most specifically, lateral ventricular enlargement is the most common finding seen in patients with schizophrenia.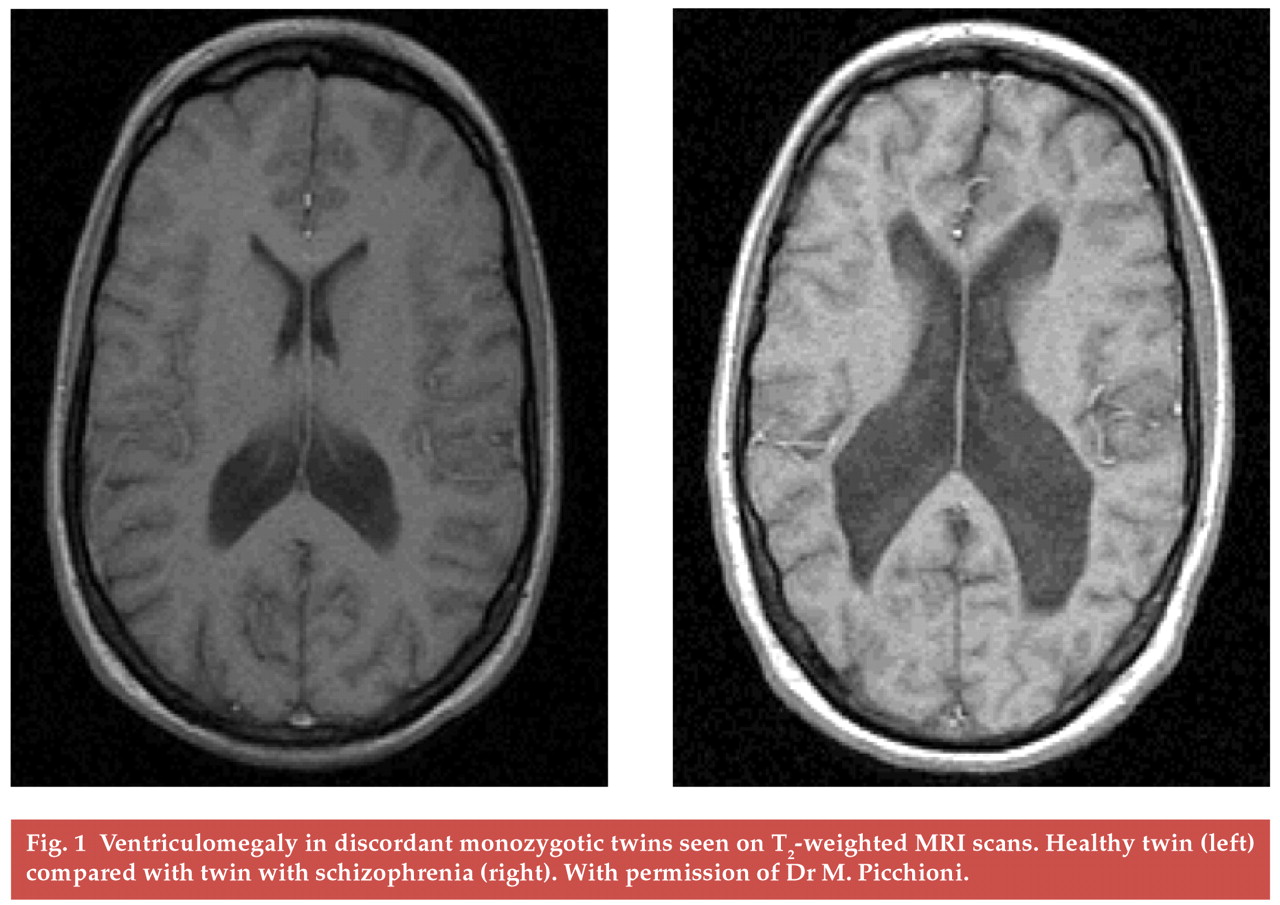 HOW DO WE CONFIRM A DIAGNOSIS?
Diagnosis requires 2 or more of the following (first 4 are "positive symptoms") in the setting of IMPAIRED FUNCTIONING. 
Delusions
Hallucinations—often auditory
Disorganized speech (loose associations)
Disorganized or catatonic behavior
Negative symptoms: flat affect, social withdrawal, lack of motivation, lack of speech/thought
**Only one symptom is necessary if the following pathognomonic symptom is present: presence of a bizarre delusion or auditory hallucination consisting of a running commentary, or of two voices conversing.
HOW DO WE TREAT IT? 
Atypical antipsychotics are first line therapy: these medications (ex. risperidone) treat both the positive and negative symptoms for this disease. The mechanism of these medications is not completely understood but they are thought to modulate dopamine, serotonin, alpha, and H2 receptor signaling.
Typical antipsychotics can be used however these only treat "positive" symptoms of this disease.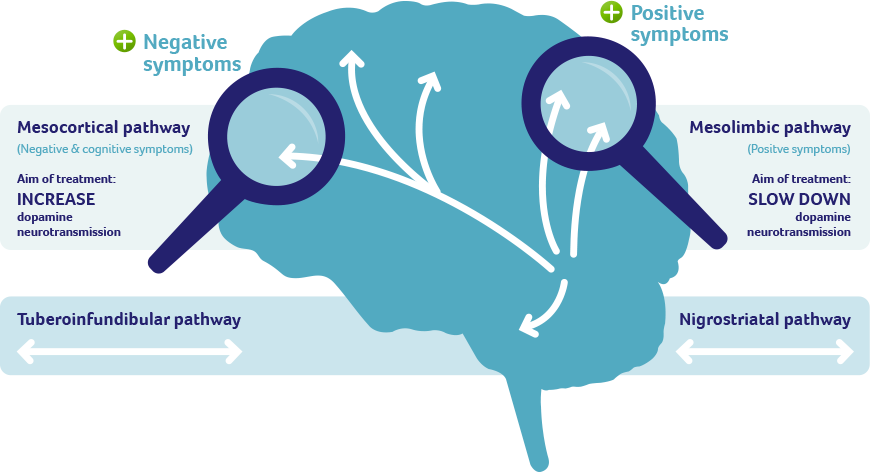 HOW WELL DO THE PATIENTS DO?
Most patients with schizophrenia are affected with the disease for their whole lifetime despite treatment.
Long-term (greater than 1 year) prognosis appears highly variable, with half of patients reporting good outcomes and half reporting poor outcomes in studies of patients (source). 
WAS THERE A WAY TO PREVENT IT? 
There is not clear evidence on how to prevent psychosis in these patients.
WHAT ELSE ARE WE WORRIED ABOUT? 
Suicide: these patients are at increased risk for suicide.
Clozapine induced agranulocytosis: clozapine is an atypical antipsychotic
Delusional disorder: may be difficult to distinguish from schizophrenia. Patients with delusional disorder have delusions, as the name suggests, but they are not bizarre. Such delusions are actually plausible, but unwavering.
OTHER HY FACTS?
Frequent cannabis use is associated with psychosis/schizophrenia in teens.
Both genetics and environment contribute to the etiology of this disease .
TIMING OF SYMPTOMS/EPISODES OF THE DISEASE IS IMPORTANT FOR CLASSIFICATION:
Brief psychotic disorder: lasts less than 1 month, usually stress related
Schizophreniform disorder: lasting 1–6 months.
Schizophrenia: greater than 6 months.
Schizoaffective disorder—lasting greater than 2 weeks. This condition also has elements of mood disorders (mania and or depression) that is present with the psychotic features.
Page Updated: 12.14.2015