WHAT IS IT?
Esophageal perforation refers to the physical rupture of the esophagus. This can be caused by iatrogenic perforation (commonly from upper endoscopy), penetrating injuries/trauma, severe bouts of vomiting, ingestion of caustic substances, or ingestion of foreign bodies.
WHAT CAUSES IT?
This condition can result from a few different underlying processes:
Spontaneous rupture: this is referred to as Boerhaave syndrome and can occur with severe bouts of vomiting
Iatrogenic: can be the result of instrumentation (such as an upper endoscopy)
Trauma: penetrating injuries can be responsible.
Caustic abrasion: ingestion of caustic substances
Ingestion of foreign bodies
WHY IS IT A PROBLEM?
This is a serious condition that can be life threatening. Gastric contents may also spill out of the stomach and into other body cavities leading to irritation/inflammation.
WHAT MAKES US SUSPECT IT?
Risk factors: recent upper endoscopy, recent vomiting, forcing body ingestion
Pain can occur in different locations depending on where the rupture is:
Cervical esophagus: dysphagia, pain with neck flexion
Thoracic esophagus: chest, epigastric, and/or back pain
Distal esophagus: abdominal pain and peritonitis can be present. Epigastric pain referring to the shoulders can occur if diaphragm is irritated by spilled gastric contents.
Signs of shock including tachycardia and hypotension may be present in patients.
HOW DO WE CONFIRM A DIAGNOSIS?
Chest X-ray may reveal mediastinal air, pleural effusion, pneumothorax, and subdiaphragmatic air.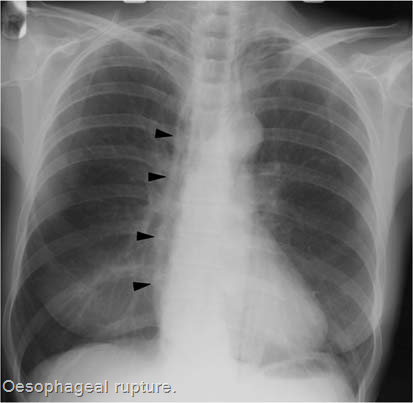 Meglumine diatrizoate (Gastrografin) imaging can show leaking from the esophagus. This study involves the swallowing of the contrast dye and imaging to demonstrate leakage from the esophagus.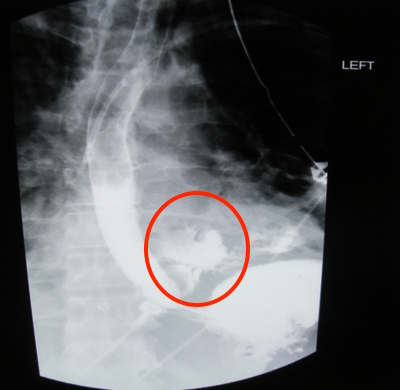 HOW DO WE TREAT IT?
Nonoperative management involves making patients NPO and then repeating contrast study to see if the esophagus has healed.
Surgical repair may be required for many patients who have a more severe tear and show signs of sepsis.
HOW WELL DO THE PATIENTS DO?
Prognosis depends on the extend of the perforation. This can be a life threatening condition.
WAS THERE A WAY TO PREVENT IT?
Avoiding the initial trauma that lead to the esophageal repair (i.e. careful endoscopy, avoiding ingestion of dangerous items/substances) can prevent the development of this condition.
WHAT ELSE ARE WE WORRIED ABOUT?
Septic shock: patients may develop septic shock of the perforation is serious.
OTHER HY FACTS?
This is a very rare condition that can present similarity to a myocardial infarction.
ARCHIVE OF STANDARDIZED EXAM QUESTIONS
This archive compiles standardized exam questions that relate to this topic.
FURTHER READING
Page Updated: 06.15.2016