WHAT IS IT?
Ciprofloxacin (Cipro) is an antibiotic that belongs to the fluoroquinolones class of medications. It works by by inhibiting DNA gyrase (topoisomerase II) which lead to DNA double strand breaks in the genome of the pathogen, ultimately leading to cell death.
WHEN DO WE USE IT?
General: gram negative rods of urinary/and GI tracts. Mycobacterium. Prophylaxis to meningococcal infection.
Conditions: diverticulitis, Crohn disease, pulmonary anthrax, typhoid fever, atypical pneumonia, urinary tract infection.
Pathogens: Neisseria meningitides, Pseudomonas aeruginosa, Bacillus anthracis, M. avium–intracellulare 
WHEN DO WE AVOID USING IT?
Pregnant women
Nursing mothers
Children under 18 years of age: this medication can cause possible damage to cartilage.
HOW IS IT ADMINISTERED?
Orally or by IV infusion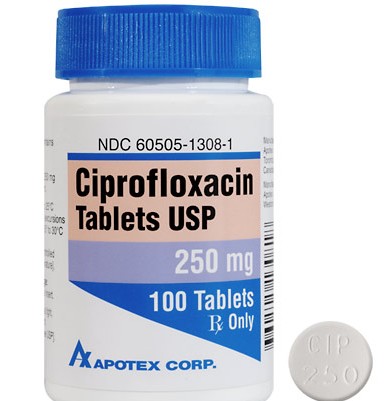 WHAT ARE THE SIDE EFFECTS/TOXICITY?
CNS: headache and dizziness
Cardiovascular: this medication will prolong the QT interval.
GI: upset GI tract can occur due to disruption of biome.
Dermatological: skin rash
Musculoskeletal: leg cramps and myalgia, tendonitis/tendon rupture
Higher risk of tendonitis or tendon rupture in individuals older then 60 years of age and/or in patients taking prednisone.
ANYTHING ELSE TO KEEP IN MIND?
Drug resistance: pathogens can acquire drug resistance by….
Acquiring DNA mutations of their DNA gyrase
Plasmid mediated resistance mechanisms
Efflux pumps
FURTHER READING
Page Updated: 06.11.2016