WHAT IS IT?
Diverticulitis refers to the inflammation of a pre-existing diverticulum/diverticula. It is thought to be caused by obstructing fecal material.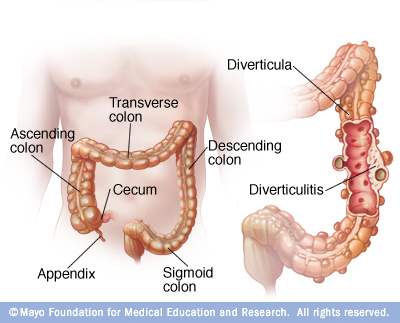 WHY IS IT A PROBLEM?
This condition can be painful for patients and perforation of the diverticula can lead to infection of the peritoneum.
WHAT IS THE INTIAL PRESENTATION FOR THIS CONDITION?
Patient Issues/Chief Complaints:
Abdominal pain: can present variably depending on the location of the disease (cecal diverticulitis presents as LLQ pain, sigmoid diverticulitis presents as RLQ pain).
Nausea and vomiting
Diarrhea is also a possible symptom
Detection On Medical Workup:
Diverticula can be a incidental finding on imaging
WHAT ARE IMPORTANT ELEMENTS OF THE MEDICAL HISTORY?
Risk Factors:
Presence of diverticula, past history of diverticulitis
History Of Present Illness (HPI):
Length of symptoms: typically this condition produces symptoms that last more then 24 hours.
WHAT ARE IMPORTANT FEATURES OF THE PHYSICAL EXAM?
Vital Signs:
Fever may be present in these individuals
CLINICAL WORKUP: SERUM STUDIES
CBC can show leukocytosis that can further suggest diverticulitis
CLINICAL WORKUP: IMAGING
CT scan will ultimately be diagnostic for this condition.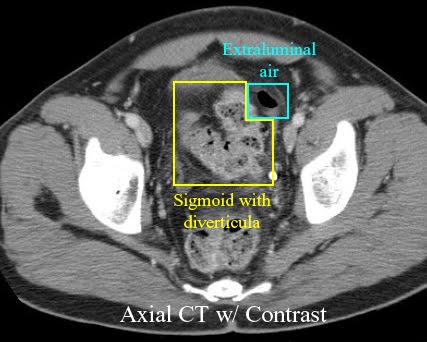 CLINICAL WORKUP: OTHER
Colonoscopy is typically contraindicated during active inflammation (very painful and complications are possible).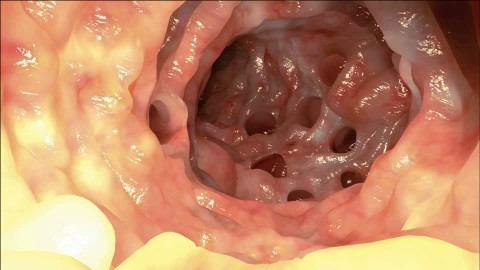 HOW DO WE TREAT IT?
Clear liquid diet is often recommended for patients (for outpatient management)
Antibiotics that are directed against colonic flora (mostly gram-negative rods and anareobes). For this reason the combination of ciprofloxacin and metronidazole is commonly used.
Sigmoid colectomy/left hemicolectomy can be performed if condition recurs and is severe enough.
Small bowel obstruction can also occur in certain cases.
HOW WELL DO THE PATIENTS DO?
The prognosis is variable on extent of disease, however this is usually not an emergent condition. Many patients may undergo elective colectomy.
WAS THERE A WAY TO PREVENT IT?
There is limited evidence for preventative measures of this condition.
WHAT ELSE ARE WE WORRIED ABOUT?
Perforation may occur of the inflamed diverticula.
Peritonitis
Abscess formation
Bowel stenosis
Colovesical fistula may occur that can lead to pneumaturia.
Recurrence is very common in this condition.
OTHER HY FACTS?
Left sided appendicitis is sometimes used to describe this condition due to the overlapping clinical presentation.
ARCHIVE OF STANDARDIZED EXAM QUESTIONS
This archive compiles standardized exam questions that relate to this topic.
FURTHER READING
Page Updated: 06.11.2016