WHAT IS IT?
Lorazepam (Ativan) is a medication that belongs to the benzodiazepine class of medications. This class of medication works by increasing GABA-A signaling by binding the GABA-A receptor and increase the frequency of Cl− channel opening, which also decreases REM sleep.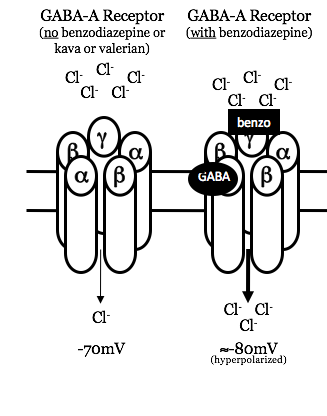 WHEN DO WE USE IT?
Status epilepticus: IV lorazepam is the treatment of choice for patients who are in status epilepticus.
Seizures, anxiety, eclampsia seizures, alcohol withdrawal (delirium tremens), insomnia,
WHEN DO WE AVOID USING IT?
In people who actively use alcohol (together synergistically depress the CNS).
HOW IS IT ADMINISTERED?
This medication can be administered orally, IV, or IM

WHAT ARE THE SIDE EFFECTS/TOXICITY?
Sedation, tolerance, dependence, respiratory depression
ANYTHING ELSE TO KEEP IN MIND?
Long half life: like many other benzodiazepines, this medication has a long half life.
Overdose can be treated with flumazenil (competitive antagonist at GABA benzodiazepine receptor). Blocking too much GABA receptors can lead to seizure activity though.
Benzodiazepines are safer than barbiturates
FURTHER READING
Page Updated: 06.09.2016