WHAT IS IT?
Neisseria gonorrhoeae is a gram negative diplococci bacteria.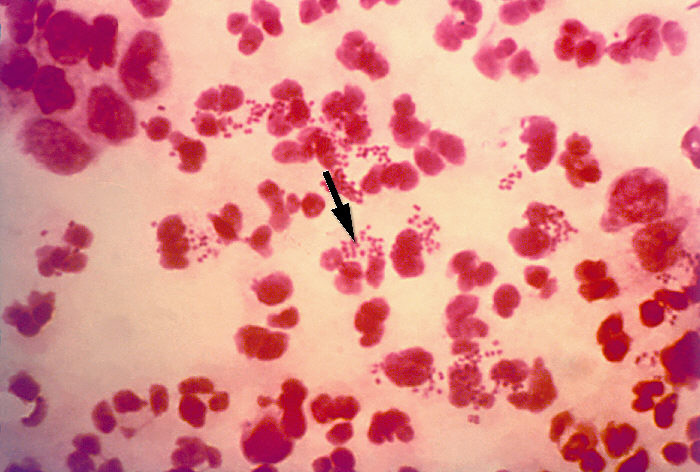 CULTURE CHARACTERISTICS
Thayer-Martin agar is used to culture this pathogen.
Glucose fermenter 
Maltose non-fermenter: this pathogen does not ferment maltose (which distinguishes it from Neisseria meningitides)
MOLECULAR CHARACTERISTICS
IgA protease producer 
Specialized pili on surface that bind epithelial cells. These undergo rapid antigenic variation.
No polysaccaride capsule which is in contrast to Neisseria meningitides
TRANSMISSION
Sexually and perinatally transmitted.
CONDITIONS CAUSED
HEENT: neonatal conjunctivitis/conjunctivitis, ophthalmia neonatorum, oropharyngeal infection
GI: Fitz-Hugh–Curtis syndrome
GU: gonorrhea/urethritis, pelvic inflammatory disease, acute prostatitis, endometritis
Musculoskeletal: septic arthritis, osteomyelitis
DIAGNOSIS
Nucleic acid testing of "first-catch" urine can definitely diagnose urethral infection with this pathogen.
TREATMENT
Treatment involves a single intramuscular dose of ceftriaxone (250 mg) and a single dose of azithromycin (1 gram). This treatment also covers chlamydia.
Erythromycin ointment prevents neonatal transmission of this condition.
OTHER HY FACTS
There is no vaccine for this pathogen due to its high rate of antigenic variation of pills proteins
C5-C9 deficiencies increase risk for Neisseria infections.
Page Updated: 06.08.2016