WHAT IS IT?
Lyme disease is an infectious condition that is most commonly caused by the bacteria Borrelia burgdorferi that is most commonly carried by the tick Ixodes scapularis (also called deer ticks). Much like syphilis there are different stages of Lyme disease:
Early Lyme disease: that is characterized by a single lesion at the site of the tick bite. ~10 days after the bite.
Early disseminated Lyme disease: at this point the infection has spread throughout the body and can cause inflammatory damage in the skin, arthritis, meningitis. This occurs weeks later.
Late disseminated Lyme disease: this occurs when patients are untreated and progress to much later stages. The arthritis becomes chronic and encephalopathy can occur.
WHY IS IT A PROBLEM?
Once the host becomes infected by the bacteria, the pathogen may spread throughout the body (either via tissue or hematogenously). Infection of tissue structures will cause an immune response aimed at destroying the infectious pathogen. This process will invariably destroy infected structures as well (collateral damage) leading to the symptoms of this disease.
WHAT MAKES US SUSPECT IT?
Risk factors: recent camping trips/outdoor activities,
Initial presentation can include a fever, erythema chronicum migrans (target lesion at site of tick bite), and even facial nerve palsy (often bilateral).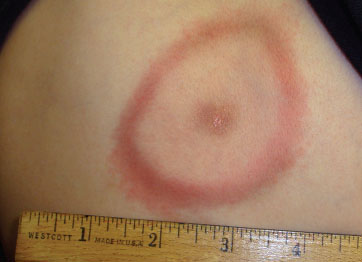 Later symptoms: monoarthritis (large joints) and migratory polyarthritis, cardiac (AV nodal block), neurologic (meningitis, facial nerve palsy, polyneuropathy).
HOW DO WE CONFIRM A DIAGNOSIS?
Culture from the edge of the rash can show Borrelia
Serological testing can be used to confirm a diagnosis of Lyme disease.
HOW DO WE TREAT IT?
Doxycycline, ceftriaxone are common treatments
*Penicillin is sometimes used for stage 1 disease.
HOW WELL DO THE PATIENTS DO?
Depending on when the patient's disease is caught will
WAS THERE A WAY TO PREVENT IT?
Avoiding the initial tick bite can
WHAT ELSE ARE WE WORRIED ABOUT?
3rd degree heart block can be caused by Lyme disease.
OTHER HY FACTS?
Natural reservoir of a pathogen is a mouse,
Ixodes deer tick is also a vector for Anaplasma spp. and protozoa Babesia
This is a reportable disease
ARCHIVE OF STANDARDIZED EXAM QUESTIONS
This archive compiles standardized exam questions that relate to this topic.
FURTHER READING
Page Updated: 06.08.2016