WHAT IS IT?
An direct inguinal hernia is a herniation (often of bowels/omentum) that protrudes through the inguinal triangle (Hesselbach triangle). It bulges directly through the abdominal wall medial to the inferior epigastric artery. This type of hernia is rarely found in the scrotum. It is not to be confused with an indirect inguinal hernia.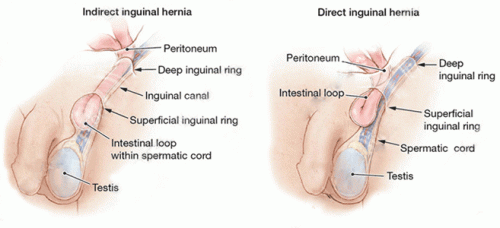 These are thought to be caused due to the weakening of the abdominal wall.
WHY IS IT A PROBLEM?
Hernias can be painful, and can even cause small bowel obstruction.
WHAT MAKES US SUSPECT IT?
Risk factors: younger males
Episodic pain/discomfort may be present in patients.
Visible bulge may be seen on physical exam that enlarges with coughing (and can be felt on palpation/is reducible) in the inguinal area.
HOW DO WE CONFIRM A DIAGNOSIS?
Clinical diagnosis is typically sufficient (especially by an experienced surgeon)
Ultrasound can help aid in the diagnosis if there is any uncertainty from the clinical presentation. It is important to appreciate that some portion of the ultrasound exam must be done when the patient is standing! This is because reducible hernias will not be visible on ultrasound if the patient is supine (because of gravity!). A testicular ultrasound that does not show a hernia does not rule it out if the patient's history and clinical exam suggest that it is present!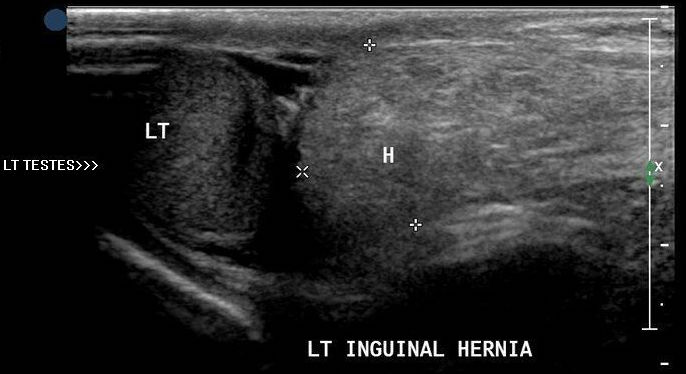 **It is important to realize that diagnosing a direct vs. indirect hernia can really only occur with certainty in the operating room**
HOW DO WE TREAT IT?
Surgery is the standard treatment option for inguinal hernias.
HOW WELL DO THE PATIENTS DO?
This is not a life threatening condition that can be surgically cured. Patients do very well.
WAS THERE A WAY TO PREVENT IT?
Prevention is not always clear, however avoiding excessively heavy lifting may reduce the risk of developing hernias.
WHAT ELSE ARE WE WORRIED ABOUT?
Hypospadias is associated with inguinal hernia
Testicular tumors: inguinal hernias are a risk factor.
Hernia incarceration: this refers to a hernia that is no longer reducible due to the development of adhesions to surrounding structures. It is a sign of an older hernia.
OTHER HY FACTS?
This hernia is only covered by the external spermatic fascia.
Medial to inferior epigastric artery is a direct hernia
Lateral to inferior epigastric artery is a indirect hernia.
FURTHER READING
Page Updated: 06.06.2016