WHAT IS IT?
Torsades des pointes refers to a cardiac dysrhythmia (referred to as a polymorphic ventricular tachycardia). This most often occurs when a ventricular depolarization (QRS complex) is triggered when the heart is attempting to repolarize (T wave). It is for this reason that the inciting event is often termed "R-on-T phenomenon) and also explains why the ventricular tachycardia is polymorphic.

WHAT CAUSES IT?
Given the underlying physiology of torsades, causes can include anything that can prolong the QT interval:
WHY IS IT CONCERNING MEDICALLY?
This is a serious cardiac dysrhythmia that can progress to ventricular fibrillation and death.
WHAT IS THE INTIAL PRESENTATION?
Patient Chief Complaints:
Detected Medical Problems:

WHAT ARE IMPORTANT ELEMENTS OF THE MEDICAL HISTORY?
Risk Factors:
Long QT interval on EKG
Congenital long QT syndrome
QT prolonging medications
Medical History:
WHAT ARE IMPORTANT FEATURES OF THE PHYSICAL EXAM?
Vital Signs:
Other:
CLINICAL WORKUP: SERUM STUDIES
CLINICAL WORKUP: IMAGING
CLINICAL WORKUP: ELECTROCARDIOGRAM
EKG/ECG: sinusoidal waveforms on EKG can be observed that are diagnostic of torsades.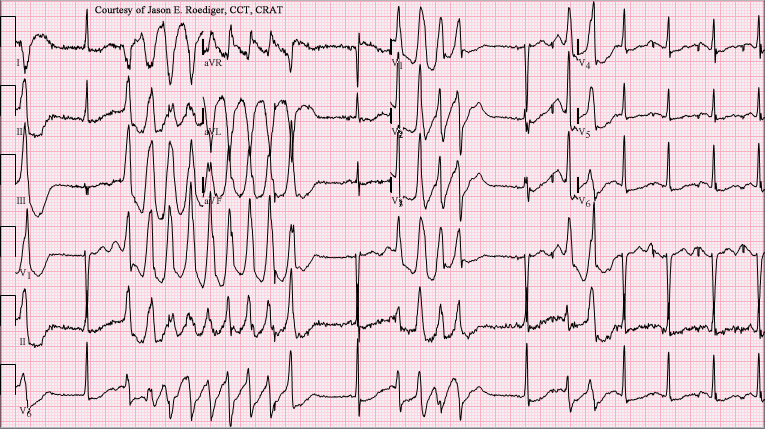 HOW DO WE NARROW THE DIFFERENTIAL?
Conditions that present similarly and how to exclude them:
WHAT IS OUR THRESHOLD FOR DIAGNOSING THIS CONDITION?
PATIENT MANAGMENT: SYMPTOM RELEIF
PATIENT MANAGEMENT: DISEASE TREATMENT
Magnesium sulfate infusion is used to treat torsades
PATIENT MANAGEMENT: PROPHYLACTIC MEASURES
COULD THIS HAVE BEEN PREVENTED?
Avoiding some QT prolonging medications (in the right clinical setting)
ARCHIVE OF STANDARDIZED EXAM QUESTIONS
This archive compiles standardized exam questions that relate to this topic.
Page Updated: 02.18.2017