WHAT IS IT?
Unasyn is a brand name of an antibiotic that combines both ampicillin and the β-lactamase inhibitor sulbactam.
WHEN DO WE USE IT?
In situations where the pathogen causing the infection produces a β-lactamase.
WHEN DO WE AVOID USING IT?
Know hypersensitivity to penicillin.
HOW IS IT ADMINISTERED?
Unasyn is an IV medication often used in an inpatient setting.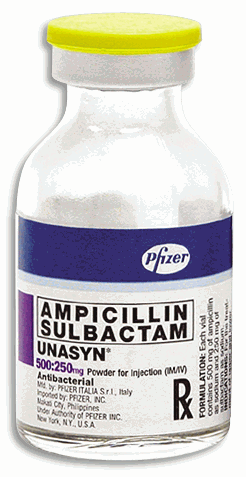 WHAT ARE THE SIDE EFFECTS/TOXICITY?
Pseudomembranous colitis is a very important condition that can be caused secondary to ampicillin usage.
Hypersensitivity reactions can be caused by ampicillin
Rashes can be caused by this antibiotic. Most individuals who have infectious mononucleosis develop a rash when treated with ampicillin 
ANYTHING ELSE TO KEEP IN MIND?
FURTHER READING
Page Updated: 06.03.2016