WHAT IS IT?
Ampicillin is a penicillin derived β-lactam antibiotic that inhibits bacterial peptidoglycan cross-linking (and ultimately inhibits bacterial cell wall synthesis). Its mechanism involves:
Binding penicillin-binding proteins (PBPs), which synthesize peptidoglycan in the bacterial cell wall.
Competitively inhibiting transpeptidase cross-linking of the cell wall.
Activation of autolytic enzymes.
WHEN DO WE USE IT?
Meningitis: if caused by Listeria monocytogenes
Endometriosis under certain circumstances.
WHEN DO WE AVOID USING IT?
Resistance: pathogens that produce penicillinases are resistant to ampicillin because this antibiotic is cleaved by these enzymes.
Known hypersensitivity to penicillin.
HOW IS IT ADMINISTERED?
It can be administered orally, by IV injection/infusion, or by IM injection.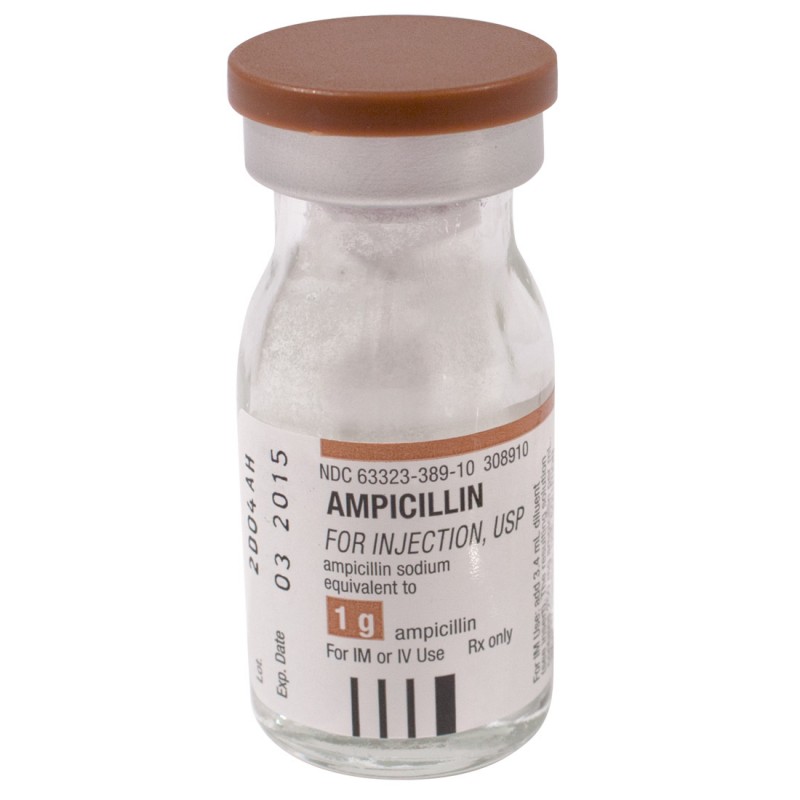 WHAT ARE THE SIDE EFFECTS/TOXICITY?
Pseudomembranous colitis is a very important condition that can be caused secondary to ampicillin usage.
Hypersensitivity reactions can be caused by ampicillin
Rashes can be caused by this antibiotic. Most individuals who have infectious mononucleosis develop a rash when treated with ampicillin
ANYTHING ELSE TO KEEP IN MIND?
Pathogens sensitive to ampicillin: those sensitive to penicillin plus Listeria monocytogenes, H. influenza, H. pylori, E. coli, Porteus mirabilis, Salmonella, Shigella, enterococci.
Penicillinase is a type of β-lactamase that cleaves the β-lactam ring.
"-cillin" ending stands for "peptidoglycan synthesis inhibitor
When ampicillin is combined with sulbactam this becomes the medication Unasyn.
FURTHER READING
Page Updated: 06.03.2016