WHAT IS IT?
Stevens-Johnson syndrome (SJS) is an allergic drug reaction that is triggered by a variety of medications. It presents as a erythematous rash, and results in mucocutaneous and skin lesions that form vesicles and ulcerate.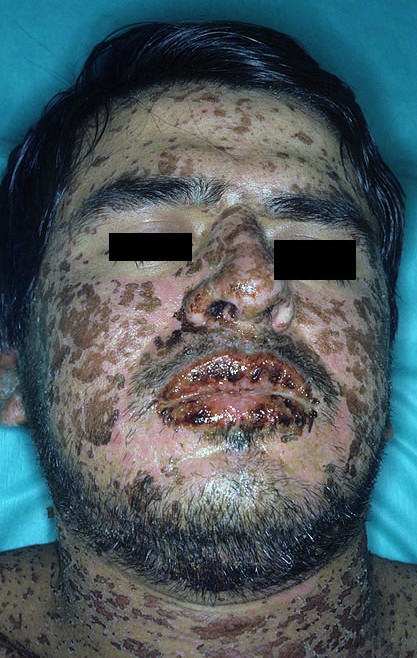 RELEVANT TERMINOLOGY
Erythema multiforme (EM) that involves the oral mucosa/lip is classified as SJS.
Toxic epidermal necrolysis (TEN) is a more severe form of SJS (where >30% of the body is involved).
WHY IS IT A PROBLEM?
SJS can be a life threatening condition. Other than have extremely painful rashes, if the patient has such bad mucocutaneous lesions in the mouth, it can cause their throat to swell and close, needing emergent intubation In addition, these lesions are treated like burns, and with any burns or erosion of the skin we are worried about loss of fluids, electrolyte imbalance, bacteremia (bacteria can now penetrated the skin and make the patient have a worse infection).
WHAT IS THE INITIAL PRESENTATION?
Patient Chief Complaints:
Rash:  a rash that itches and presents throughout the body and face that desquamates. It is erythematous, with macules and possibly pruritic centers.
Prodromal symptoms of Influenza: Prodromal symptoms of influenza, such as fever, cough, sore throat, myalgia's may be present before the appearance of the rash.
WHAT ARE IMPORTANT ELEMENTS OF THE MEDICAL HISTORY?
Medical History: Recent usage of drugs associated with causing SJS are listed below
Phenobarbital
Allopurinol 
Penicillin
Sulfa drugs
Erythromycin 
WHAT ARE IMPORTANT FEATURES OF THE PHYSICAL EXAM?
Vital Signs:
These can be variable however this condition will often times present with vital signs that are normal. The patient may have a fever (sometimes part of their prodromal symptoms).
HEENT Exam:
Injected conjuctivae are common
Ulcers/lesions around the mouth: most SJS patients will have mucousal involvement)
Dermatological Exam:
Erythematous macules/vesicles/bullae can all be presentations of the rash (and this depends a bit on the timing of when it is caught).
Nikolsky's sign may be present: the skin of the patient may be easy to exfoliate/may slough off.
Epidermal necrosis often present: especially during later stages of the condition.
Sparing of scalp, palms, and soles of feet: these regions are rarely involved in SJS
CLINICAL WORKUP: SERUM STUDIES
SJS is more of a clinical diagnosis, not requiring much blood work. With this in mind complications of SJS (such as a superimposed infection) may cause serum abnormalities such as an elevated white count.
CLINICAL WORKUP: CULTURES
Lesion cultures: Bacterial and fungal cultures should be taken from the lesion sites due to high risk of superinfection.
CLINICAL WORKUP: BIOPSY
Skin Biopsy: a biopsy can be used to confirm the diagnosis and excluding other conditions. Inflammatory infiltrates composed of t-lymphocytes may be seen in the dermis. Although this is not diagnostic, it can help narrow down the differential along with your other lab tests and clinical presentation.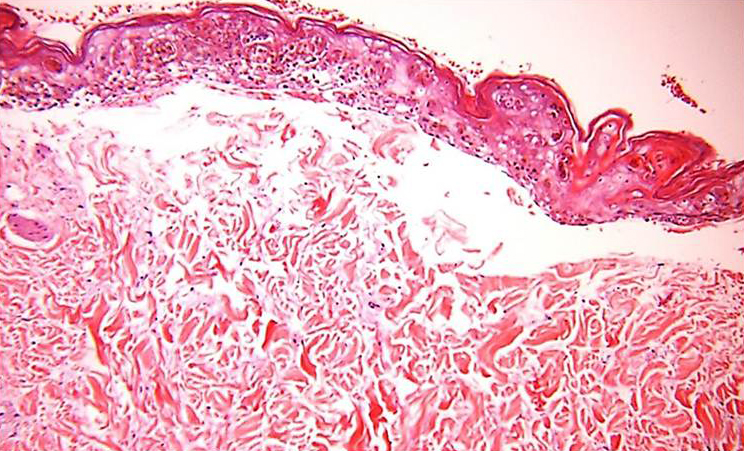 PATIENT MANAGEMENT: DISEASE TREATMENT
Discontinue offending agent: the first therapeutic step will be to stop administering the medication that is believed to be causing the SJS.
Supportive care: often times will involve…
Fluid resuscitation
Nutritional support
Wound care: the process of re-epithelization of the skin begins after a few days and takes around 2-4 weeks before it is completed
WAS THERE A WAY TO PREVENT IT?
Avoiding medications with a high risk for this condition can sometimes prevent SJS from occurring. When possible, taking other comparable drugs (with more favorable side effect profiles) can be advantageous to trying and prevent cases of SJS.
Titrating medications known to cause SJS: this is commonly done with the anti-epileptic lamotrigine when patients begin using it. Close monitoring and careful titration of such medications can prevent SJS from occurring, and can make sure patients who develop symptoms and treated quickly.
WHAT ELSE ARE WE WORRIED ABOUT?
Infection: the loss of skin (due to necrosis) can put patients at higher risk for a superimposed infection. The most common cause of superimposed infections are  S. aureus, P. aeruginosa, and Enterobacteriaceae organisms.
OTHER HY FACTS?
Classic presentation on exams: patient who began a new drug and develops a rash involving the mouth and the body must be considered for SJS.
Epilepsy drugs that cause SJS include: lamotrigine, ethosuximide, phenytoin, carbamazepine,
ARCHIVE OF STANDARDIZED EXAM QUESTIONS 
This archive compiles standardized exam questions that relate to this topic.
ACKNOWLEDGEMENTS
A very special thanks goes to Ben Sinyor for contributing to this page.
Page Updated: 03.27.2018