WHAT IS IT?
Phenytoin (Dilantin) is an anti-epileptic (hydantoin-derivitve antivonvulsant) medication that works by inactivating sodium channels.
*It also can fall into the class IB of antiarrhythmics used for the heart given that it is a sodium channel blocker.
WHEN DO WE USE IT?
Status epilepticus: this medication can be right after an episode of status epilepticus in order to prevent the re-currecne of seizures.
Focal seizures that secondarily generalize after an intracerebral or subarachnoid hemorrhage (can act quickly because it does not have to be titrated like Lamotrigine)
Prophylactic treatment for post-traumatic epilepsy: patients who experience head trauma can be given this mediation to prevent future seizures from occurring.
Epilepsy (tonic-clonic seizures, simple, complex), cardiac arrhythmias (when conventional treatments are ineffective), ventricular tachycardia.
WHEN DO WE AVOID USING IT?
In pregnant women.
HOW IS IT ADMINISTERED?
Traditionally phenytoin is administered orally or IV. IM injection is possible as a last resort (e.g. during neurosurgery) but this is a slow route of administration and can have local side effects (such as necrosis or abscess formation). The therapeutic level of phenytoin in the blood is 10-20 mg/dL.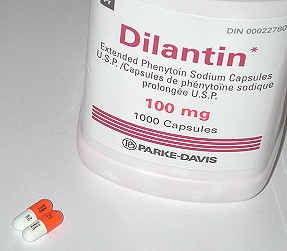 WHAT ARE THE SIDE EFFECTS/TOXICITY?
Folate deficiency, megaloblastic anemia, erythema multiforme, SLE-like syndrome (causes formation of drug induced anti-histone antibodies), nystagmus, diplopia, ataxia, sedation, hirsutism, peripheral neuropathy, Stevens-Johnson syndrome, osteopenia.
Gingival hyperplasia: many patients who are on phenytoin for 3-4 months will develop this condition. Increased PDGF will cause macrophages to stimulate the proliferation of gingival cells and alveolar bone.
Fetal hydantoin syndrome (newborns whose mothers use this drug): mid facial hypoplasia, microcephaly, cleft lip and palate, digital hypoplasia, hirsutism, developmental delay.
Symptoms like nystagmus may occur when levels in the serum are 20-30 mg/dL (but can also occur in the therapeutic range).
ANYTHING ELSE TO KEEP IN MIND?
Zero-order elimination: a constant amount of this drug is eliminated in a given unit of time regardless of the target concentration of the medication in the serum.
Inducer of cytochrome p-450: this medication can cause increased activity of cytochrome P-450 enzymes within the liver.
Inhibitor of intestinal conjugase: this is the enzyme that allows for the absorption of folate in the intestine. Phenytoin inhibits the activity of this enzyme which explains why its deficiency is a toxicity of this medication.
IV administration must be slow! 50 mg/minute in adults and 1-3 mg/kg in pediatric patients.
Abrupt withdrawal can precipitate status epileptics.
FURTHER READING
Page Updated: 06.02.2016